This article is more than 1 year old
Sexy models clash at big bash over catty tweets: Yup, it's HTC v Samsung
Tech titan twits taunt: Doncha wish your mobe was hot like me?
HTC and Samsung engaged in a little Twitter spat this weekend which rapidly turned nasty, while LG happily poked the warring giants with a pointy stick.
The British tweet feeds of the phone firms took turn an unfriendly turn after HTC bagged the "Hottest Phone of 2013" gong at the Mobile Awards for its HTC One. Not content with the quiet dignity of the accolade, HTC decided to taunt Samsung with some gloating.
Last night we won the 'Hottest phone of 2013' at the Mobile Awards #HTCOne twitter.com/o_reilly_garre… Ouch @samsungmobileuk

— HTC UK (@htc_uk) June 7, 2013
Sammy wasn't going to take that lying down, though, and retorted: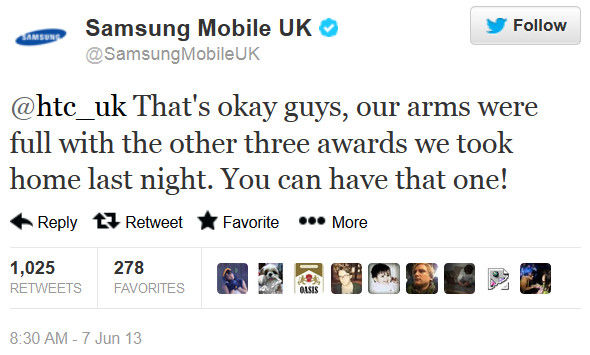 At that point, the tweeting moved from gentle ribbing to something a bit more serious when HTC decided to dig up some Samsung dirt. The firm referenced ongoing investigations in Taiwan into claims that Samsung paid students to post anonymous comments on web forums rubbishing the HTC One phone. There is no suggestion that Samsung has paid shills to anonymously slag off its competitors.

The reference was nasty enough, but it could also turn out very badly for HTC since the investigation has yet to conclude. If Samsung turns out to be innocent, it could decide that HTC's little put-down was actually just a tad libellous.
Samsung is saying nothing more for now, but LG UK decided to weigh in with a little jibe at both firms. ®
@htc_uk @samsungmobileuk lg.com/uk/mobile-phon… twitter.com/LGUK/status/34…

— LG Electronics UK (@LGUK) June 7, 2013