Diebold has been demonstrating its vision for the future of hole-in-the-wall cash machines, and it's one which replaces the plastic card with a cloudy alternative.
Diebold claims to have "re-imagined the automated teller machine experience for the millennial generation", but between the buzzwords are a couple of interesting features and a business model migrating from sale and service to cloud rental.
The concept cashpoint was demonstrated recently at tradeshow European ATMs 2013 in London, and boasts an interface clearly inspired by the iPhone and its ilk. Gone are physical buttons, replaced by one of those touch screens which are so popular with the kids these days, but a good deal of the interaction can take place on the user's phone instead.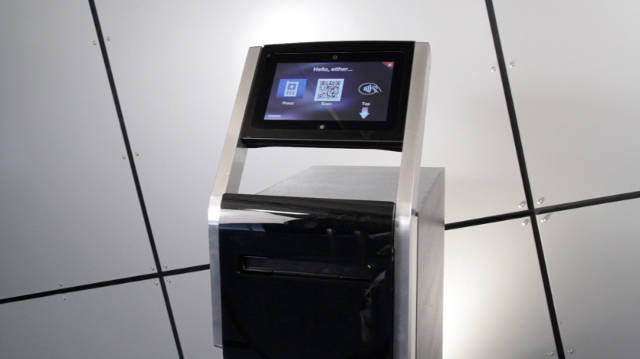 It's a cash point, but not as you'd know it
A smartphone-wielding user scans a QR Code, or NFC tag, to throw the ATM interface onto their handset - via the cloud naturally. The withdrawal amount is selected using the phone, which acts as an identifying token to replace the plastic card. The PIN is entered in the usual way, completing the transaction.
Equally interesting is the use of a mobile app to send cash to a person, who just receives an SMS bearing a six-digit code which can be entered in any compliant cashpoint to dispense the scratch-window cash.
But perhaps most important, in both cases, is the cloudy infrastructure necessary to make it happen, which Diebold is happy to provide. ATM hardware is a commodity market, and one slow to evolve. Even colour screens are a recent innovation, though banks were comparatively quick to implement mobile topup when there was revenue to be gained. Manufacturers need new features to drive the upgrade cycle.
We put it to Diebold that the day of the cashpoint was past, with NFC replacing cash and online banking doing everything else, but the company pointed out that the quantity of Euro notes in circulation increases daily and that cash remains the medium of choice for most transactions, so the death of the cashpoint is still a long way off.
For those who can stomach terms like "millennial inspired" and "consumer relationships" there's a video showing the tech in action, just don't say we didn't warn you:
®