Crusading lawmen want more details on Apple's iOS 7 'Activation Lock'
'Apple Picking' mobe thievery on agenda for Thursday Smartphone Summit
---
The New York State attorney general and San Francisco district attorney are in a wait-and-see mode as to whether Apple's "Activation Lock" theft-deterrent feature in iOS 7 will satisfy their call for smartphone manufacturers to make their devices less attractive to thieves.
"We are appreciative of the gesture made by Apple to address smartphone theft," New York's Eric Schneiderman and San Francisco's George Gascón said in a joint statement. "We reserve judgment on the activation lock feature until we can understand its actual functionality."
Their caution is warranted, seeing how Apple's software engineering chief Craig Federighi gave scant details about the new feature during Monday's keynote at the company's Worldwide Developers Conference keynote presentation.
"Hundreds of millions of us use Find My iPhone to find our phone when it's just lost in the couch or maybe left at Starbucks, but also when it's been stolen," said Federighi. "And now, with Activation Lock, if a thief tries to turn off Find My iPhone, or if they even wipe the device entirely, they will not be able to reactivate it, because they don't know your iCloud username and password."
Apparently, Federighi believes news will spread throughout the miscreant community that stealing iPhones will be somewhat akin to stealing bricks. "We think this is going to be a really powerful theft deterrent," he said.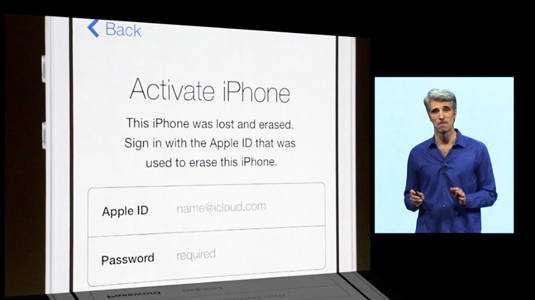 'Without your iCloud username and password, your stolen iPhone is bricked,' says Federighi
The New York and San Francisco lawmen want more detail. "We look forward to having a substantive conversation with Apple and other manufacturers at our Smartphone Summit on Thursday," they write.
That Summit, to be held at Schneiderman's New York City office, is an outgrowth of a series of letters that he sent to the CEOs of Apple, Google/Motorola, Microsoft, and Samsung last month. In those letters, he decried the rise in "violent and dangerous cell phone thefts" – a practice he dubbed "Apple picking".
"Surely we can work together to find solutions that lead to a reduction in violent street crime targeting consumers," Schneiderman wrote in a statement.
Gascón joined Schneiderman shortly afterward. "With 1.6 million Americans falling victim to smartphone theft in 2012," he said, "this has become a national epidemic. Unlike other types of crimes, smartphone theft can be eradicated with a simple technological solution."
That simple solution, Schneiderman and Gascón said in their joint statement, "will imbed persistent technology that is free to consumers that will make a phone inoperable once stolen, even if the device is off, the SIM card is removed, or the phone is modified by a thief to avoid detection."
At Thursday's Smartphone Summit, the two lawmen will have the opportunity to learn whether Apple's Activation Lock can accomplish those goals, or if the other smartphone makers have better ideas. ®
Similar topics
Narrower topics