CEO Meg Whitman said last month that HP knew it has some competitive weakness at the low-end of its x86 server line that rivals were exploiting, and at its Discover customer and partner shindig in Las Vegas this week, the company is rolling out three new entry servers that will help the company compete better against a very aggressive Dell.
Specifically, HP is forging two new ProLiant servers based on Intel's just announced "Haswell" Xeon E3 processors, as well as updating its ProLiant MicroServer – which is not aimed at hyperscale data centers (as the term microserver generally refers to these days), but rather small and medium businesses with modest server needs.
HP was using that term for its entry server brick before it came to mean dense single-socket server. But truth be told, both are single-socket machines that are designed to support modest workloads on a tight budget – and with the minimum amount of power consumption and space.
Entry Gen8 rack and tower boxes
The ProLiant DL320e Gen8 v2 is designed to go into standard server racks and takes up 1U of vertical space (1.75 inches), but at only 15 inches deep (less than half a rack deep), the expectation is for the machine to be used not just in data centers and data closets, but also for digital signs and embedded applications – think servers in Humvees, that sort of thing.
"This machine is pretty much deployable anywhere," says Jim Ganthier, vice president of marketing for the HP Servers division that was formed in late April.
The updated DL320e server has a single Xeon E3-1220 v3 processor, which has four cores spinning at 3.1GHz and 8MB of L3 cache memory. The system, like all Xeon E3 machines, has four memory slots, and in this case HP is slipping in dual-rank memory sticks running at 1.6GHz; 2GB, 4GB, and 8GB sticks are available. You can also get the Xeon E3-1240 v3 processor, which has four cores running at 3.4GHz.

This DL310e racker using Xeon E3 v3 processors is aimed at entry and embedded uses
The machine has two PCI-Express 3.0 peripheral slots, one x8 and one x16, and has a two-port Gigabit Ethernet adapter on the mobo and room for two 3.5-inch drives or four 2.5-inch drives.
If you want the four disk model, you have to shift from a 300-watt power supply to one that burns at 750 watts. You can max it out at 8TB either way, using 4TB fat disks, or at 4.2TB using 1.2TB skinny disks. HP is tossing in its Dynamic Smart Array B120i controller for SATA drives (RAID 0, 1, and 10) and the iLO management controller, the latter of which is available in all other Gen8 machines to make them mind their manners.
The machine with the E3-1220 v3 processor, 4GB of memory, and a 300-watt power supply costs $959. With a 3.4GHz Xeon E3-1240 v3 plus 8GB of disk and the same 300-watt supply, you will pay $1,579.
The machines are certified to run Windows and Linux, and no doubt other x86-based operating systems can be fired up on them. Canonical's Ubuntu Server is apparently popular for embedded uses, according to Ganthier. It seems reasonable that HP will support all thirteen variants of the Haswell Xeon chip range, but only those two options were available as the machine launched on Tuesday.
There is a similar Haswell Xeon box aimed at shops that like to tuck a server under their desk; it's called the ProLiant ML310e Gen8 v2 and comes in four different configurations using both two-core and four-core Haswell Xeons as their single brain.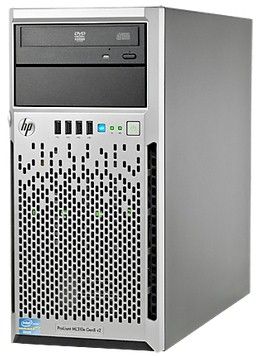 The new uniprocessor ML310e v2 tower server for SMBs
The ML310e Gen8 v2 machine supports four-core Xeon E3 v3 chips running at 3.1GHz, 3.3GHz, 3.4GHz, and 3.5GHz. The box has the same four memory slots all Xeon E3 machines have, and again 2GB, 4GB, and 8GB sticks are available running at 1.6GHz. This machine has two PCI-Express 3.0 x8 slots, but also has two PCI-Express 2.0 x1 slots for legacy peripherals.
The same B120i disk controller is in the box as in the rack machine, and it has room for eight small or four fat disk bays for a variety of SATA and SAS disks in both hot and non-hot plug varieties. You top out at 16TB with the fat SATA disks and 9.6TB with the 1.2TB skinny SAS drives. It has the same two-port Gigabit Ethernet adapter welded to the system board.
Microsoft Windows Server, Red Hat Enterprise Linux, and SUSE Linux Enterprise Server are all supported on this machine, as is VMware's ESXi hypervisor.
The base configuration of the ML310e Gen8 v2 has a 3.1GHz Haswell Xeon processor with four cores; 4GB of memory (one stick), a 500GB DATA disk, and a 350 watt power supply costs $729. Boost that up to the faster 3.4GHz Haswell processor, jack the memory up to 8GB, and put in a juicier 460-watt power supply, then the price jumps to $1,299.
The original MicroServer – so there
The first machine that sported the ProLiant MicroServer brand was launched back in September 2010, and was a little cube that looked more like a modular stereo component without the speakers than it did a server. In that case, the machine was based on a two-core Athlon Neo N36L processor running at 1.3GHz and using two 4GB DDR3 memory sticks running at a mere 800MHz. It had four SATA disk bays in a 3.5-inch form factor and topped out at 8TB.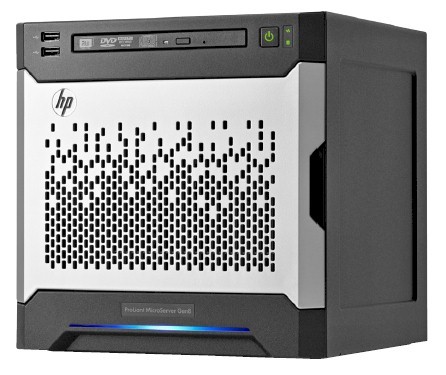 The updated MicroServer is brushed aluminum with a Gigabit Ethernet switch top hat
The MicroServer sequel announced at the Discover event on Tuesday still has the look and feel of a piece of audio equipment, but it is plenty of server for the 5.1 million SMBs who will buy their first server in the next five years if the box counters at AMI Partners are correct – as HP suspects they are. These companies generally have fewer than ten employees and either don't have a shared central machine, or if they do, it is a desktop or laptop that acts a network server.
HP does not provide sales figures for MicroServer sales, but Ganthier tells El Reg that the company sold "several hundred thousand" of the prior generation of MicroServers, and expects to do better with the new machine, which has more oomph and bolt-on networking, thus making it a "converged system" – two of HP's favorite words.
The MicroServer Gen8, as the new machine is called, does not use a Xeon E5 processor, not even the two-core variant, but rather can be equipped with a two-core Celeron G1610T running at 2.3Ghz with 2MB of cache, or a two-core Pentium G2020T spinning at 2.5GHz with 3MB of cache.
This box is based on the "Patsburg" C204 chipset from Intel and has an iLO management controller tossed in, making it a full-fledged Gen8 machine as far as HP is concerned. The box has only two memory slots, and supports 2GB, 4GB, and 8GB sticks running at 1.6GHz. The new MicroServer has one PCI-Express 2.0 x16 peripheral slot, and the same B120i disk controller and two-port Ethernet controller as the other entry machines announced today. It has four 3.5-inch bays and supports 3TB drives for a maximum of 12TB.
The base MicroServer Gen8 with the Celeron chip comes with 2GB of memory and a 150-watt power supply and costs $449. Moving to the slightly faster Pentium chip raises the price to $529. These machines are not configurable at the moment, and an OS is not installed on them. Virtually all customers will want Windows Server 2008 R2 or Windows Server 2012.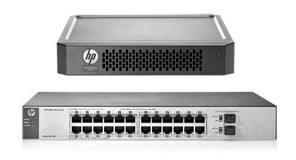 HP has a baby PS1018 switch that matches the MicroServer
In conjunction with the entry servers, HP is also rolling out two baby Ethernet switches. The intent is to put a server with embedded storage and a switch together and have HP basically own the account.
There are two flavors of the new PS1810 switch. The PS1810-8G has eight Gigabit Ethernet ports in the back and fits in a divot in the top of the MicroServer Gen8 machine. You can also mount it on a wall or under a table if you need a baby switch for other purposes. The machine can deliver 16Gb/sec of switching capacity and can process 11.9 million packets per second. The PS-1810-24G model has 24 Gigabit Ethernet ports and offers 52Gb/sec of switching bandwidth and 38.7 million packets per second of throughput. Pricing was not available at press time for these two devices. ®