This article is more than 1 year old
What's HP got under wraps? Looks awfully flash and tape shaped
What happens in Vegas won't stay there - we've got the details
HP Discover HP is indulging in a storage product-fest orgy at HP Discover in Las Vegas with an all-flash 3PAR, deduping VSA software, refreshed backup software, and a new tape library.
StoreServ all-flash array
HP is debuting the 3PAR StoreServe 7450, an all-flasher, with a tad more than half a million IOPS, 550,000 to be precise. We understand that it runs at 520,000 4K random read IOPS.
It uses the same operating software as other 3PAR arrays and the same ASIC-accelerated hardware architecture. HP says it features:
Between two and four 8 core Intel Xeon (Sandy Bridge) E5-2470 2.3GHz processors.
Between 64GB to 1228GB of cache.
From eight to 240 x 100GB, 200GB single-level cell or 400GB multi-level cell, 6Gbit/s SAS interface SSDs providing a maximum raw capacity of 96TB. The 7200 can have 120 SSDs. There are 24 SSDs per 2U enclosure and a 4U enclosure for 3.5in format drives is available.
Adaptive read and write optimisation and autonomic cache offload to dynamically adjust the granularity of cache-to-flash operations based on demand.
Multi-tenant I/O processing and higher-performance mesh-active clustered controllers to ensure all application volumes are active on all disks and controllers simultaneously. Each array controller is active on all volumes and the bus bandwidth between the controllers has been increased compared to other 3PAR arrays.
A flash media wear gauge.
System wide-striped design that evenly spreads load across all drives to extend the flash's working life.
The 7450 has cache operations designed to minimise writes to the SSD media and to tune cache operations according to dynamic conditions. Here's a schematic diagram from a Russian website showing the adaptive cache operation: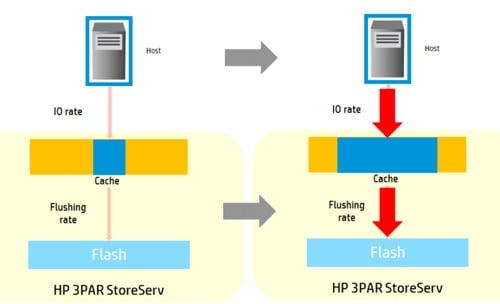 Adaptive Cache operation schematic
The 7450 can have between two and four Fibre Channel and iSCSI controllers, each with its own Gen 4 ASIC. The quad-controller design has "persistent cache, persistent ports, peer-based stretch cluster for data centre failover, and multisite replication capabilities."
HP says the 7450 is fault-tolerant and has high-availability features, including disaster recovery.
Access to this array is via 16Gbit/s Fibre Channel, branded StoreFabric, and there is a 48 to 96-port StoreFabric SN6500B B-Series switch with 4, 8 or 16 Gbit/s bandwidth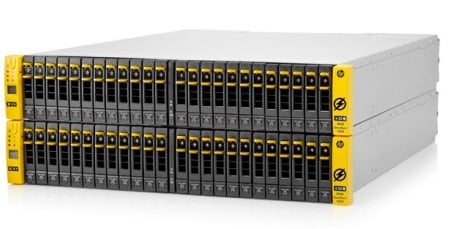 The flash bay front of HP's 3PAR StoreServ 7450
HP suggests the 7450 can be used for on-line transaction processing applications and other IO-centric web 2.0-style applications. VDI is an obvious example, and another is rapid analysis of large amounts of data. Check out a set of QuickSpecs (45-page PDF) over on HP's website.
The software portfolio available for the 3PAR arrays has three new features:
Priority Optimisation Software: helps important apps get the quality of array service they may require
Data at Rest Encryption: uses self-encrypting drives with the supported protocols being AES-128 encryption / RSA-2048 / SHA-256 / RNG FIPS-186 / SP 800-90DRBG
Recovery Manager for Hyper-V: snapshot-based
HP has enabled Android phone users to monitor HP environments with a StoreFront Mobile Access app with which they can:
Monitor storage performance metrics and service-levels through an interface consistent with the 3PAR Management Console
Receive automatic alerts and event notifications in real time
Browser-only access to 3PAR StoreServ Storage utilising the platform's role-based security definitions and encrypted log-ins.
Modular tape library
The StoreEver MSL6480 library grows from 80 to 560 LTO slots with expansion modules providing cartridge slots, drives and continuous robotics. There can be up to 42 drives. HP says the capacity range is from 240TB to 3.5PB and the maximum bandwidth is 60.4TB/hour. It supports up LTO-6 media with a 6.25TB compressed capacity (2.5:1).
The product provides library-based encryption, key management, and write once, read many (WORM) capability. LTFS is supported by HP's StoreOpen management software.
There is a pay-as-you-grow pricing model.
HP has also announced that the larger ESL G3 library has a capacity expansion module taking it from 7,104 slots to 11,600 slots using a drum-style design with slots inside it.
StoreOnce deduped backup
The StoreOnce VSA is deployed as a virtual machine instead of being an actual physical backup appliance and runs the same StoreOnce Catalyst software as the StoreOnce appliance. HP says it is aimed at service providers who can install the StoreOnce VSA at a customer site and backup data to a central StoreOnce VSA installation with multi-tenancy features.
StoreOnce has federated deduplication and "data is deduplicated once using a single technology, without being rehydrated or uncompacted in as it moves between different HP StoreOnce based systems."
The StoreOnce VSA and StoreOnce Catalyst have been integrated with HP's Data Protector product to provide dedupe at the application source, backup server or target system level. StoreOnce VSA and Catalyst are also, HP says, integrated with Symantec's NetBackup and BackupExec to support dedupe on the backup server
DataProtector 8
The eighth version of HP's data protector software can run "as many as 100,000 sessions per day," according to HP. It can:-
Manage up to 1 trillion unique file names
Protect up to 50,000 clients in a single management environment
Delivers up to 144TB/hour data throughput performance
Supports the StoreOnce VSA.
It also has a bandwidth control capability that allows administrators to configure a maximum bandwidth limit for the backup process. This means you can stop it using up all the available network bandwidth it has access to and so avoid having a dedicated backup network.
HP has extended Data Protector's Zero Downtime Backup (ZDB) capability to Oracle and SAP on HP-UX, using snapshot management to protect application data. VMware environment protection has been enhanced with virtual machines restorable as new instances, "without needing to overwrite the existing virtual machine."
HP claims Data Protector 8 smart caching on the backup host provides an improvement greater than 20 per cent on VMware backup performance.
Pricing and availability
The 3PAR StoreServ 7450 arrays available immediately at a starting price of $99,000. The Priority Optimization Software, Data At Rest Encryption and Recovery Manager for Hyper-V will be available in late June. StoreFront Mobile is available at no charge from the Android app store.
StoreFabric SN6500B Fibre Channel switches are available now in four configurations, starting at $73,999 for the base one.
HP's StoreOnce VSA will be available on July 22 at $3,500 for 10 TB of capacity.
The HP StoreEver MSL6480 scalable base module is available immediately at an entry price of $30,000. HP Data Protector 8 is available at a starting price of $1,238. ®