This article is more than 1 year old
Chrome and Firefox are planet-wreckers, IE cuddles dolphins
Microsoft-commissioned study finds IE sucks less power than rival browsers
Every one of us can do their bit to "save the planet", whatever that means, and Microsoft has jumped aboard that bandwagon by commissioning a new study that investigates just how much electricity browsers consume when running on desktop and notebook computers.
The Fraunhofer Center for Sustainable Energy Systems put its name to the document, titled "The impact of internet browsers on computer energy consumption" (PDF).
The reason for the study, other than Microsoft sending some cash The Fraunhofer Centre's way, is stated as being that "Internet browsing represents a large fraction of home computer use, so if computer power draw depends significantly on browser selection, this could have an appreciable impact on the unit electricity consumption (UEC) and annual electricity consumption (AEC) of home computers."
To measure the impact, the Fraunhofer team "installed three popular browsers, Google Chrome, Microsoft Internet Explorer, and Mozilla Firefox, on six new notebook and four desktop computers running Windows 8."
"We then measured the average power draw over one-second intervals for a six-minute period with each of the individual browsers open, for each of the ten most-visited websites in the U.S. In addition, we also measured power draw for both the Flash and HTML5 versions of an online video, as well as the Fishbowl HTML5 benchmark."
The results – which will surprise nobody – found that Internet Explorer is indeed the least watt-sucking browser of the three tested.
Here's the top-line finding.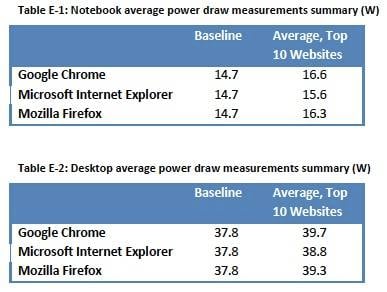 Internet Explorer is the best-performing browser, albeit by one watt, which will gladden battery-dependent laptop users. Whether they'll be able to understand the benefits of that saved watt, given most laptops measure battery capacity in milliamp-hours, is anyone's guess.
The study also contains some interesting Y-axis treatments, as can be seen below in the depiction of browser performance when accessing popular websites.
Here's the notebook graph: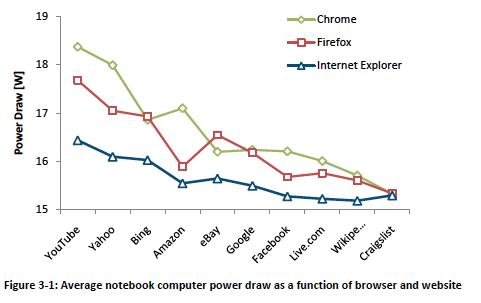 And here's the graph for browser power sucking on desktops.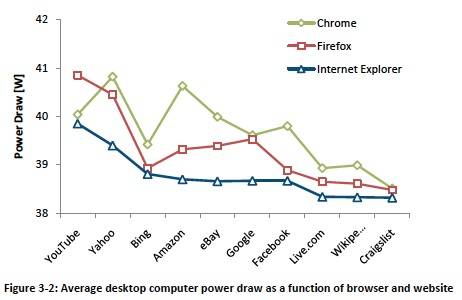 IE's always doing well, until one squints at the Y-axis and notices it's doing just a watt or two better. With the test notebook on top of the study's list, the Samsung Series 5 Ultrabook, packing a 40w power supply, even two watts of better performance means just a five per cent smaller draw. Even that assumes the power supply is varying the amount of power it sends the PC to within that tolerance.
Either way, it's hard to imagine switching to IE is going to make a big difference to household bills.
It may also be worth noting the mention of "home" computers, which we call out because a more efficient browser would make sense in the context of a big corporate PC fleet in which a lot of small improvements add up to a decent eventual reduction in electricity bills. Will home users really change browsers for the chance to save pennies?
Do let us know if this study will change your browsing behaviour in order to save the planet. ®