Apple's next iteration of its workstation-class Mac Pro will use PCIe flash memory, as will the new MacBook Air. Cupertino's move towards flash memory could set a precedent other consumer manufacturers may follow.
The Mac Pro format changes from a boring rectangular tower, albeit one with alloy handles, legs and mesh screen work, to a relatively short (at just under 10 inches), and thick cylinder: one-eighth of the previous tower's volume.
It looks like an austere black flower vase, with the Ivy Bridge Xeon E5 processing cards arranged around a central heatsink and a fan at the top of the box, past a perimeter shaped to form an inset carrying handle.
Mac Pro looks like a classy vase. Or maybe a desk tidy.
With up to 12 processing cores, dual AMD FirePro GPUs, and 4-channel DDR3 memory, Apple's cylindrical power station "is up to 2.5 times faster than the current Mac Pro and delivers up to an amazing 7 teraflops of compute power."
It will be able to run three 4K-class displays simultaneously. This is one hot box, er, cylinder. It's probably going to be likened to desktop supercomputer.
De-skinning the Mac Pro reveals a round frame full of components that reminds me of something …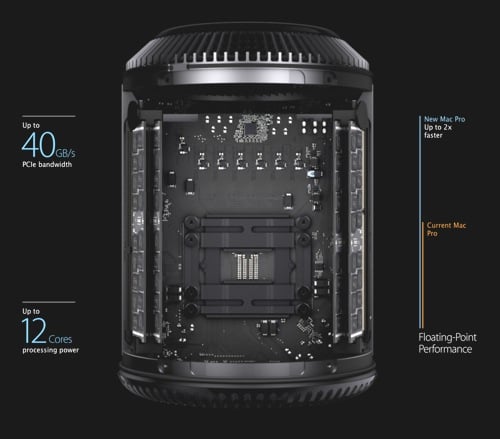 Deskinned Mac Pro. Reminds me of something...
… ah yes, add robot arms and legs and a domed head and we would have R2D2: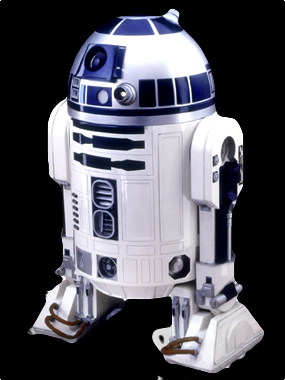 ...R2D2, also known as Steve Jobs' SECRET HELPER from BEYOND THE GRAVE
PCIe flash is closer to the system's processors than SATA or SAS-connected SSDs, and thus data transfer is faster. Apple says the Mac Pro will use third-generation PCIe architecture and its flash memory will be "up to 10 times faster than conventional desktop hard drives."
El Reg understands speeds will likely be 1.25GB/sec for reads and 1.0GB/sec for writes, but we don't know the data block size used to calculate these numbers.
The flash is likely to be expensive and there are several Thunderbolt ports, so external disk drives could be used for bulk storage.
The new MacBook Air also uses PCIe flash; it comes with either 128GB or 256GB of it. Anandtech describes a PCIe Gen 2 interface with sequential read/write performance of almost 800MB/sec. The report says it is a Samsung controller flash card – possibly a version of the 2-bit MLC 840 Pro – with SanDisk having a product for Apple as well.
Tech-stripping website iFixit dismantled a new MacBook Air and found:
Samsung S4LN053X01-8030 (ARM) flash controller
8 x Samsung K9LDGY8SIC-XCK0 16GB flash storage
512MB of Samsung RAM
Previously, iFixit says, a Toshiba SATA SSD was used.
Apple is one of Fusion-io's biggest customers for its PCIe card-format flash memory, but it looks like Fusion-io is not being used for MacBook Air PCIe flash – and possibly not for the Mac Pro flash either.
If Fusion-io is supplying memory for the Mac Pro, that would be a great win for the flash firm. Fusion-io's 825GB ioScale model manages 1.4GB/sec reading and 1.1GB/sec writing using PCIe 2.0 x4. Again, we don't know the block size but the speeds are fairly close to Apple's quoted I/O specs – for what that's worth.
Fusion's chief scientist is Apple co-founder Steve Wozniak but we don't know how much pull he has in Apple HQ right now. Probably not a lot. If Apple is not using Fusion-io flash in the Mac Pro then Fusion-io might rue the day it didn't win that supply contest.
Other PCIe flash card vendors would just love to supply Apple as a flagship OEM. Doubtless suppliers like LSI, Micron and sTec have all been banging hard on Cupertino's door while trying to get the PCIe flash card supply deal. ®