Planetary Resources may upgrade crowdfunded satellite into alien-finder
'Just give us another million dollars'
The Kickstarter campaign to build a satellite for public use is going better than expected, according to asteroid mining company Planetary Resources, and so it has extended its revenue target to help fund hardware upgrades to enable the orbital platform to search for exoplanets.
The campaign, which seeks to partially fund an Arkyd 100 space telescope that can be used by schools and allow images of the general public to be photographed in space, has currently raised $859,880 of its million-dollar target in the 13 days since launch. The company has now extended the goal to $2m if the extra features are to be added.
"While the ARKYD won't rival NASA's US$600 million Kepler spacecraft, which may have to end its mission due to a recent equipment failure, the enhanced ARKYD will be a huge step toward important new scientific discoveries enabled by citizen scientists," said Chris Lewicki, president and chief engineer of the firm.
The updated goals commit the company to building a second satellite downlink station for the Arkyd 100 in an educational institution, which would double the bandwidth the orbital telescope has to play with. But if the target of $2m is reached, the satellite's stability mechanisms will be improved to make it possible to scan for exoplanets using two different techniques devised by MIT.
First, the telescope can be pointed at stars to catch the effects of planets as they transit in front of them. The second method will be to use gravitational lensing, deducing the existence of a foreign planet by noting the effects it has on light waves.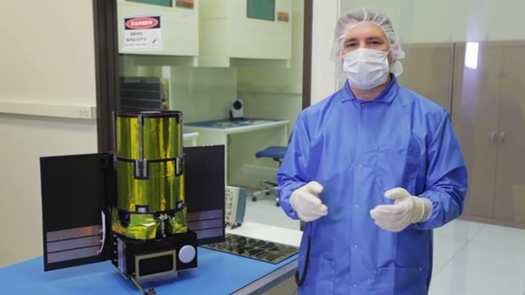 Lewicki with the pocket telescope
"We're excited about this game-changing approach that could transform how we do science in the future," said Dr. Sara Seager, Professor of Physics and Planetary Science at MIT. "It's not just about advanced technology in a small satellite, but a crowdfunded approach to space science that could be revolutionary."
"The enhanced version of the ARKYD telescope will be an important source of data for exoplanets that can only be obtained from space, above the blurring effects of Earth's turbulent atmosphere," she said.
So far over 9,500 cash pledges have been made for the telescope, the vast majority of those paying $25 so that they can have their picture displayed on a screen on the side of the satellite and photographed with the Earth in the background. But there have been some larger donations.
The most expensive package, the $10,000 "Grand Benefactor and Education Ambassador" pledge that includes having an asteroid named after you, has attracted 11 buyers. A further 26 people have signed up to become "Planetary Advocates" for $1,000, which buys them a visit to see the satellite being made.
With any luck, the satellite will be launched in 2015 and begin operations shortly afterwards. The crowdfunded system won't be the first satellite Planetary Resources fires into orbit, but it could well be the most popular spacecraft in years. ®