The annual Red Hat Summit is underway in Boston this week, and the cloud is at the center of everything that Shadowman is doing these days. Like everyone else peddling IT products, Red Hat is hoping to catch its next wave of growth from the move to clouds, but as we all know, there will be more losers than winners in this next IT phase change. Red Hat intends to be one of the winners.
To that end, the company is rolling out its own implementation of the OpenStack cloud controller, which Paul Cormier, president of products and technologies at Shadowman, said is second to none after more than two years of development.
Cormier is paid to say he would put the Linux-KVM-OpenStack-CloudForms stack up against their equivalents from Microsoft or VMware, of course. Those are the two other contenders who have a shot of delivering a complete private and public cloud platform.
And if you want to include operating systems for running applications in that stack, as Red Hat surely does, then it comes down to Redmond versus Shadowman – unless VMware suddenly wakes up, buys Canonical, and takes all of its code open source. (This is so unlikely as to be comical.)
Red Hat did not announce the awaited Enterprise Linux 7 preview, which could happen tomorrow or not, but it did kick out a new version of its commercial grade KVM hypervisor, called Red Hat Enterprise Virtualization, with a 3.2 release. It has released two bundles of software that include its implementation of the "Grizzly" release of the OpenStack cloud controller, too.
There will no doubt also be mumbling at the shindig this week about how the Gluster file system, which is commercially available as Red Hat Storage, will play a part in this evolving stack of code aimed at running applications certified against RHEL on bare metal, private clouds, and public clouds.
Shadowman's KVM for the enterprise
Let's start with RHEV 3.2, which has been tweaked to support the current Xeon E3 v3 processors (code-named "Haswell" by Intel) and which will support the impending Xeon E5 and Xeon E7 Haswell variants expected in the third and fourth quarters of this year, respectively.
Red Hat also said that its KVM hypervisor has been updated to support the "Opteron G5" processors. This should mean the "Piledriver" Opteron 6300 chips announced last November for two-socket and four-socket machines and the Opteron 3300 and 4300 chips that made their debut for single-socket and two-socket machines a month later. But this server hack has never seen them called Opteron G5 as a family.
IBM announced yesterday that it would be porting KVM to its Power7+ processor and would be offering RHEV as an option to its own PowerVM hypervisor for customers buying its PowerLinux machines, which are only allowed to run Red Hat Enterprise Linux or SUSE Linux Enterprise Server. If RHEV 3.2 is supported on Power7+ chips in a tech preview form, no one said anything about it. IBM plans to roll out KVM on PowerLinux machines next year, so probably not.
RHEV 3.2 now has storage live migration, which allows for the virtual machine image on a running virtual machine to be teleported from one domain on a storage device to another domain on another storage device without taking that virtual machine offline.
The release notes were not available at press time, but have been subsequently posted here. We don't know the nature of this storage live migration in terms of the supported hardware yet. Radesh Balikrishnan, general manager for virtualization at Red Hat, says that the company is working to certify the usual suspects of internal disk arrays, network filers, and storage area networks.
Interestingly, Balikrishnan says that Shadowman may, after feedback from customers, do away with a separate desktop version of RHEV and only distribute a combined desktop/server version, given the uptake of virtual desktop infrastructure running back on servers these days. No decision has been made yet on that, however.
Another big feature in RHEV 3.2 is a framework for allowing third-party plug-ins for the hypervisor management console. NetApp has cooked up a plug-in called Virtual Storage Console for RHEV, Symantec has a plug-in for its Veritas Cluster Server, and Hewlett-Packard has a plug-in for Insight Control server administration tool.
Stacking up against Microsoft and VMware
OpenStack is being woven into two different Red Hat products, aimed at slightly different use cases. The names are not particularly memorable, but marketeering is what it is.
The first OpenStack-based product from Shadowman is called Red Hat Enterprise Linux OpenStack Platform – presumably abbreviated as RHELOSP, but man is that ugly. And as the name suggests, it takes Linux, rolls OpenStack on top of it, and uses KVM as the virtualization layer for the virtual machines that comprise a basic infrastructure cloud.
Although precise pricing was not announced, Cormier said in a briefing with the press that the OpenStack Platform license would include an unlimited number of RHEL guest licenses. That is something that only Red Hat and Microsoft can do among the cloud infrastructure players, and that unlimited RHEL is sure to be popular among private and public cloud builders alike, provided the OpenStack and KVM licenses are not too expensive.
For those who want to graduate from basic infrastructure clouds to a cloud with more sophisticated policy-based, services-oriented orchestration, then Red Hat Cloud Infrastructure is the answer, says Cormier. This layers the CloudForms hodge-podge of self-service, metering, monitoring, and orchestration tools on top of the RHEL-RHEV-OpenStack infrastructure cloud.
This stack of code includes the ManageIQ cloud control freakage that Red Hat shelled out $104m back in December to acquire before one of its rivals did. Red Hat Cloud Infrastructure will have RHEL guest licenses in one set of bundles and will be RHEL-free in another.
Both of these OpenStack products will also be available in July, and as Red Hat has explained before, the OpenStack parts of the code will generally lag two or three months behind the OpenStack community releases. The RHEL and RHEV parts of the stack will move at their own paces as well, and a much slower one at that, given the maturity of Linux these days.
Pricing for these new OpenStack products was not divulged, but Cormier hinted at it a bit in his presentation: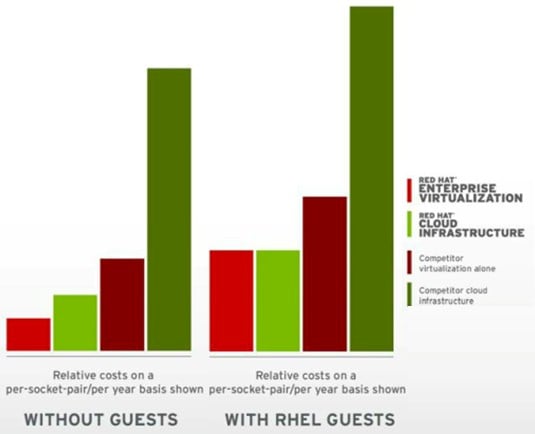 How Red Hat stacks up its cloudy software against VMware
The basic idea conveyed here is how RHEV and Cloud Infrastructure compete against VMware's vSphere and vCloud alternatives for its ESXi hypervisor.
"We think this gets RHEV very competitive with vSphere," explained Cormier. "We have been talking for some time about cloud for the price of virt. Now we are delivering on that."
Later on in the question and answer session, when asked if Red Hat Cloud Infrastructure will compete against VMware's vCloud control freak, Cormier was blunt. "Yes. But at a third of the cost."
And as for Microsoft, Cormier admitted that Redmond is a tough competitor and owns its entire stack as well as a public cloud, but said that the more than 100,000 projects that feed into all of Red Hat's various products keep them moving ahead quickly, while Microsoft customers have to move at Redmond's pace. To be fair, Microsoft has become more agile in recent years, putting out more and less filling updates to its code. ®
Similar topics