This article is more than 1 year old
Asus FonePad: You may feel a bit of a spanner
The smartphone that thinks it's a tablet - and a bloody good job too
Review Do you really need a smartphone and a tablet? One overly expensive device with a screen and a battery that are both just a bit too small for comfort in this day and age to use for voice calls and cellular data, and a larger, Wi-Fi-connected gadget with a 7- or 8-inch screen for browsing the web, reading ebooks and watching movies?
Asus clearly thinks the answer to that question may be in the negative because its new FonePad is being pitched as an affordable replacement for a smartphone. The device is not, the company insists, just another 3G fondleslab.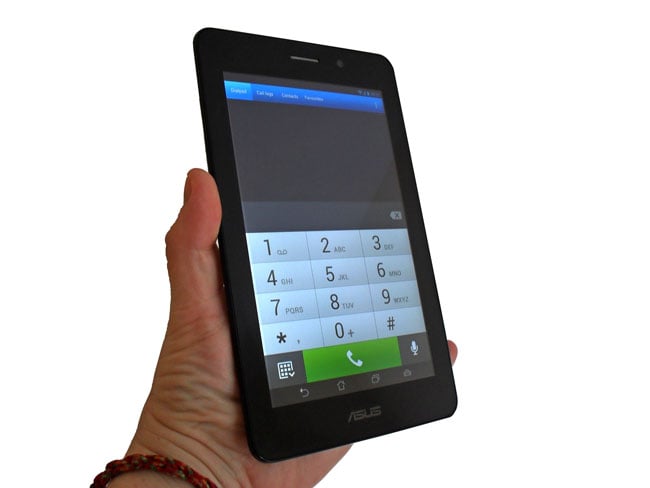 Yes, the Asus FonePad is a bit of a handful...
Affordable? What else would you call £180 unlocked? That's £60 less than the LG-made Nexus 4 and £70 less than a PAYG Sony Xperia SP which are my top choices for a good smartphone that won't break the bank. An unlocked 3G Nexus 7 will set you back £240, but out of the box it has no support for voice calling and there's no ear speaker.
Before we get into the benefits and drawbacks of living with a 7-inch tablet as a smartphone let's take a quick shufty at what sort of hardware your hundred and eighty notes will get you.
The Gorilla Glass screen is a 1280 x 800 IPS LCD affair with a 216dpi pixel density. That's the same density as the Nexus 7 and a darned sight higher than the iPad Mini. It can't match the absolute clarity of similar resolution panels measuring 4.6 or 5 inches between the corners, let alone the latest 1920 x 1080 mobile displays, but I reckon it's more than adequate for most users and uses.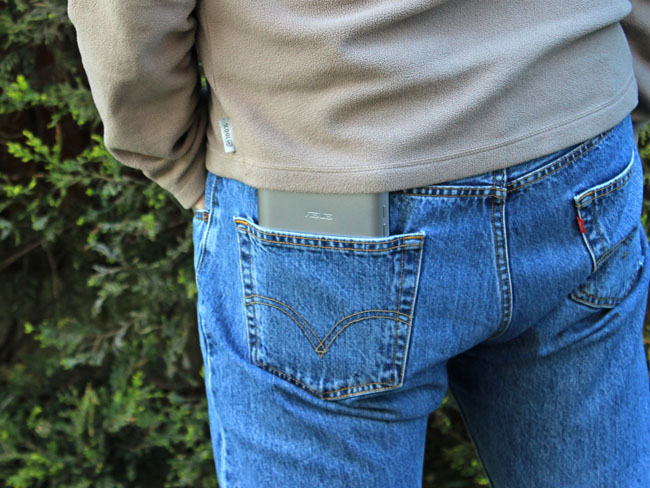 ...but it's certainly not an enemy of pockets
It's a good quality screen, too: bright and colourful - it has the usual Asus Outdoor super-bright mode and a comprehensive colour balance app called, ahem, Splendid - with robust viewing angles and good levels of contrast. It's actually rather better than the Nexus 7's screen, which is no mongrel.
Inside you'll find a new single-core and hyper-threading Intel Atom Z2420 chip [PDF] clocked at 1.2GHz, a rather old PowerVR SGX540 GPU, 1GB of RAM and a 4270mAh battery. With 16GB of storage, USB On-The-Go and a Micro SD slot, finding room for files isn't a problem.
The FonePad only supports 3G but data speeds of 21Mbps down and 5.76Mbps up are catered for, which should be sufficient for most folk. Beyond that you get single-band (2.4GHz) 802.11n Wi-Fi and Bluetooth 3.0 but no NFC.
Running the show is a lightly skinned version of Android 4.1.2, but Asus has confirmed to me verbally that a 4.2 update will be rolled out at some point in the not-too-distant future.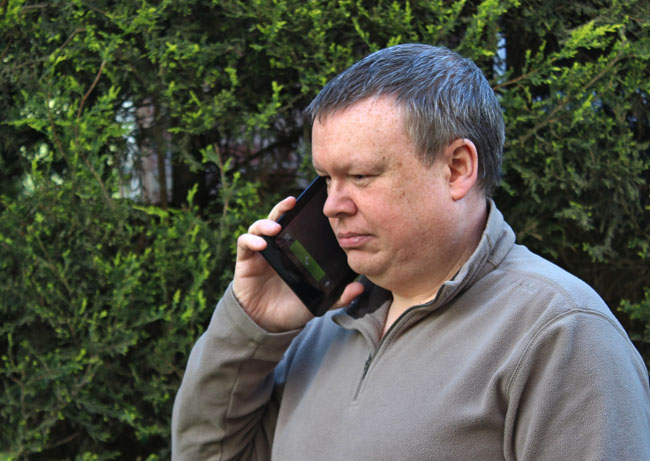 You may feel a bit of a spanner using it as a phone, though
The Atom CPU in the FonePad is less powerful than the one used in the Motorola Razr i - the only other big-brand Intel-powered smartphone currently on the market and a device I use every day - and frankly it doesn't make much of a case for itself in benchmark tests. The AnTuTu score of just over 9000 is well shy of what the Nexus 7 can manage, while the SunSpider browser score of 1800ms in Chrome is no excuse to ring up the grandkids, either.