Only a mere 10 per cent of Americans have "a great deal" or "quite a lot" of confidence in the US Congress, a new Gallup poll has found.
"This is the lowest level of confidence Gallup has found, not only for Congress, but for any institution on record," the pollsters observe.
Gallup posed a simple question to a random sample of 1,529 adults – 18 and older – in all 50 states and the District of Columbia. "I am going to read you a list of institutions in American society. Please tell us how much confidence you, yourself, have in each one – a great deal, quite a lot, some, or very little?"
The pollsters claim that their data can be relied upon with 95 per cent confidence to plus or minus three percentage points. If their numbers are correct, Americans don't think much of their elected representatives and senators.
Confidence in Congress, Gallup reports, peaked in 1973 at 42 per cent and has been trending downward since, with occasional peaks such as a 41 per cent uptick in 1986. Now it's not only in the proverbial toilet, but members of both major parties are in rare agreement – nobody likes 'em.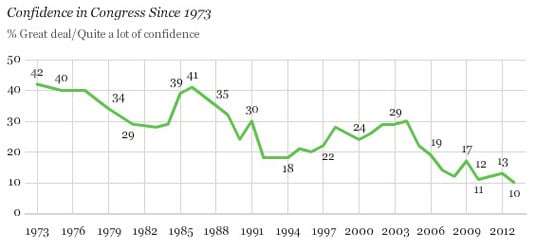 1973's 'Oil Crisis' apparently didn't dampen American's confidence in Congress by much
Republicans and Democrats have diverged greatly in their levels of confidence in Congress over the years, but now their distaste is shared, and exceeded only by the lack of confidence expressed by Independents.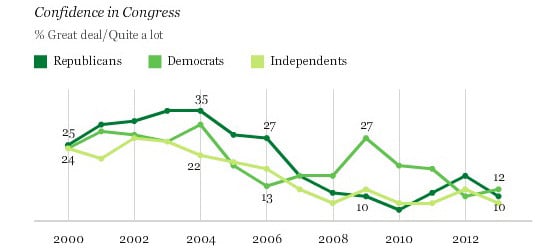 Republicans, Democrats, and Independents have finally found consensus
The presidency – as an institution, remember – scored far better than did Congress, although it slipped one percentage point in the past year, from 33 per cent to 32 per cent.
The institution in which Americans have most confidence, the poll found, remains the US military, whose ranking rose from 75 per cent in 2012 to 76 per cent this year. Other high-ranking institutions include small business (65 per cent), the police (57 per cent), and "The church or organized religion" (48 per cent).
A related poll, Gallup reports, shows that "Nearly four in five Americans in June, 78 per cent, disapprove of the way Congress is handling its job, marking the 45th consecutive month that more than two-thirds of Americans have given Congress the thumbs down."
And yet, as OpenSecrets.org points out, "Few things in life are more predictable than the chances of an incumbent member of the US House of Representatives winning reelection" – 90 per cent of reps held onto their seats in the 2012 election.
As has been true for so many years, "My elected representative is great; yours sucks" is the predominant point of view of a highly polarized American electorate. ®