This article is more than 1 year old
Review: Belkin Thunderbolt Express Dock
Missing Mac ports reunited, for a price
Apple WWDC If the word from the Apple WWDC is to be believed, we're just months away from hooking up all our peripherals using Thunderbolt 2 cables. Funny that, as I thought this was supposed to happen when the original Thunderbolt ports appeared on Macs back in 2011.
Even though this Apple-Intel interface love-in can be found on PCs too, albeit a rare sight, the range of peripherals supporting Thunderbolt is shockingly low for this two-year-old high-speed interface, which is capable of 10Gbps transfer rates, a figure that's set to double later this year.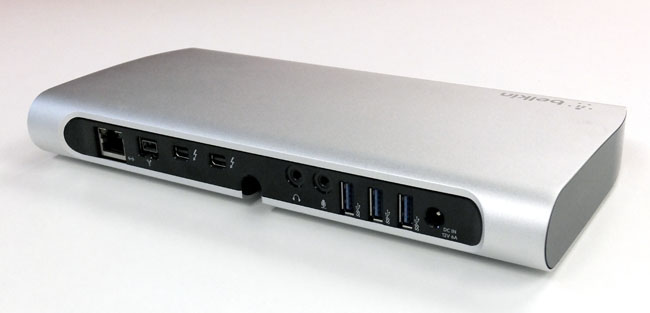 Belkin Thunderbolt Express Dock brings the interfacing you've been missing
In essence, Thunderbolt is an interesting mix of PCI Express bus data and DisplayPort (DP) signals wrapped up in a mini DP connector. It's unsurprising that Apple's own 27in Thunderbolt display appeared as one of the earliest hardware examples to demonstrate the interface's flexibility, besides the fast and furious Pegasus RAID storage from Promise. Not only did a single cable deliver the picture on the screen but round the back was an array of different ports amounting to an extremely versatile hub: USB, FireWire, Ethernet and another Thunderbolt port for daisy-chaining.
Forget the monitor, this is what we want and, indeed, this is what we've got and more with the Belkin Express Dock.
For those MacBook users bemoaning the loss of FireWire and Ethernet, who could do with some extra USB 3.0 ports, the Belkin Express Dock seems like an answer to a prayer, but it has been a long time coming. Belkin announced the Express Dock at the Intel Developer Forum in 2011. A redesign was unveiled at Computex in June 2012 with worldwide availability set for September 2012, which at CES this year shifted to Q1 2013. It's only just started shipping in Europe which seems to be the way with Thunderbolt products. External hard drives only really came on stream from the likes of G-RAID, WD and LaCie last year, again after a long wait too.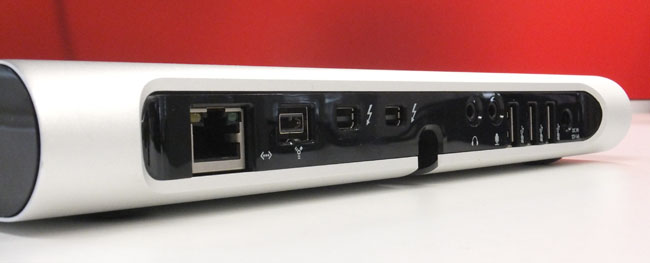 In the centre at the bottom is a channel to feed cables through to the front, if that suits you
Given what the Express Dock promises, it's likely to have caused a few headaches for Belkin as it has three USB 3.0 ports, unlike Apple's Thunderbolt Display which has three USB 2.0 ports. Incidentally, the Apple monitor also features a high-definition webcam, mic and speakers. As far as AV goes, Belkin includes separate mic and headphone sockets for 3.5mm jacks. A webcam is absent, of course. After all, the Express Dock is aimed at MacBook users, many of whom will welcome the gigabit Ethernet and the FireWire 800 port for legacy gear.
There are two Thunderbolt ports, one to hook up to the host device and the other to link up to other Thunderbolt peripherals - you can daisy-chain up to five more devices. It's like SCSI FireWire all over again, sort of. The unit needs quite a sizeable power supply that delivers a hefty 6A output at 12V; that's more than enough to keep those USB ports happy. Somewhat predictably, a Thunderbolt cable is not included in the box.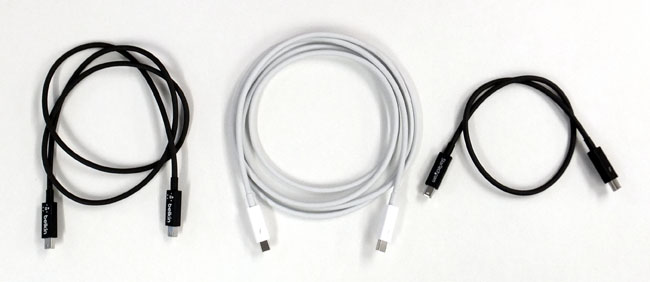 Thunderbolt cables from Belkin, Apple and StarTech: total cost £100. Perhaps another reason perhaps for the dearth of peripherals?
At £35 a throw, Belkin, just like every other Thunderbolt device manufacturer, does not want to hike the price of the product for the sake of improving the out-of-the-box customer experience by including a cable. Those unfamiliar with Thunderbolt's cable costs are in for a nasty surprise: not only when they open the box but when they discover there's no such thing as a cheap Thunderbolt cable. Shop around and you'll find Startech's offering is probably your best bet at the moment at £30 on Amazon.