Express concerns
There were no problems with the Plextor drive though: DVD playback was glitch free with the audio playing from the Express Dock's stereo output. If you're a muso you'll no doubt be disappointed by the mic input: that's mono only and I gave it try with a stereo mic just to be sure. For both input and output, the sample rates available are 44.1kHz and 48kHz with a 16-bit resolution, so we're effectively in CD audio territory here.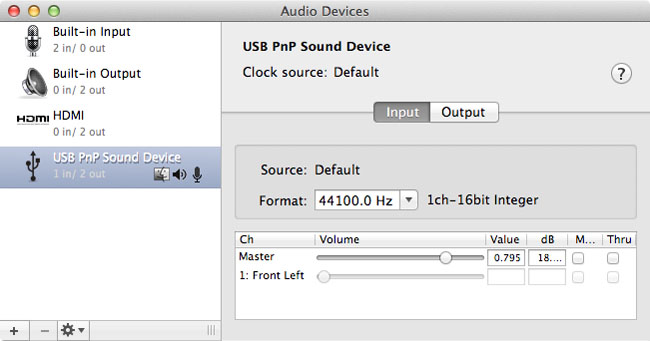 Mic input details in Apple's Audio MIDI Setup Utility
Still, the most frustrating part of all of this is how the audio sockets are housed on the Express Dock. Instead of being flush on the panel, the mini-jack inputs are recessed which means that unless you have 3.5mm jack plugs with a super slim barrel diameter, they won't fit. I managed to get some headphones attached to check for stereo, but when connecting a Pure Jongo speaker to the Express Dock with a bog-standard mini-jack lead I found it could only be inserted far enough to make contact with one output channel.
The disappearance of the Ethernet port on the MacBook Pro has led many to question its "Pro" moniker. The Express Dock remedies this, though, with its gigabit Ethernet port delivering fuss-free connectivity. A Broadcom 57762-A1 controller does the business here, and while I didn't get to max out the connection, I didn't experience problems with browsing, video on the BBC iPlayer or downloads.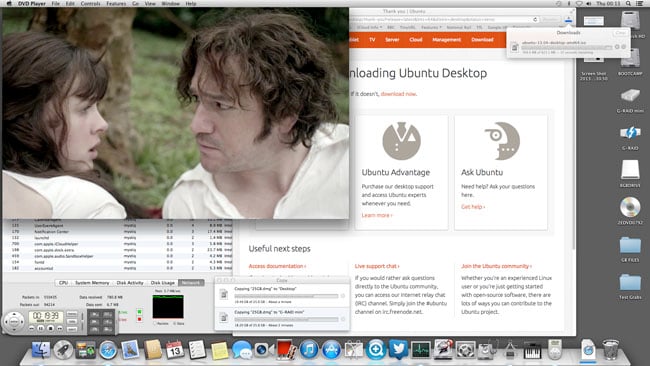 Simultaneous 2 x 25GB transfers from Thunderbolt G-RAID to FireWire 800 G-RAID and Mac HDD; DVD and audio playback over USB and a Ubuntu ISO download using the Ethernet port
Click for a larger image
Just to see how well the Express Dock fared with some heavy lifting I simultaneously copied two 25GB files from the G-RAID Thunderbolt drive – one to the FireWire 800 G-RAID and the other to the Mac Mini hard disk. Also, at the same time, I watched a DVD over USB with the audio playing out of the Express dock while downloading Ubuntu Linux via the device's Ethernet port. And whaddya know? It all worked just fine with decent copy speeds akin to earlier tests and a download speed of about 30Mb/s from a 60Mb/s Virgin Media internet connection.
While this scenario doesn't test the full 10Gbps bandwidth of Thunderbolt, it does at least show that it has plenty of capacity to handle multiple data streams with gusto. Incidentally, without the other loads going on, the download speed was pretty much full whack and even using Windows 8 from Boot Camp the connection was over 30Mb/s.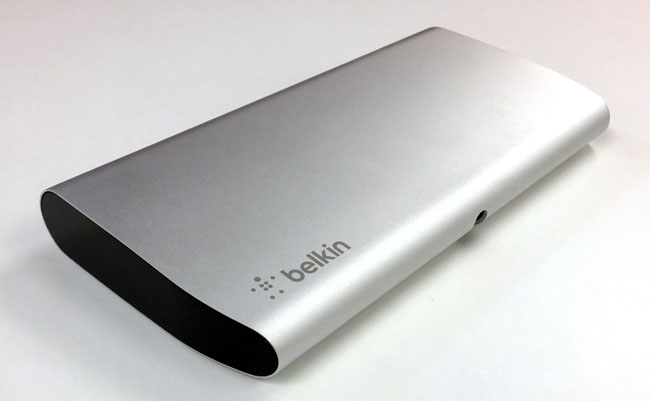 Thunderbolt interfacing: so much promise but is it a price worth paying?
The Reg Verdict
So Belkin has pulled it off at last, but at £250 what you seem to be paying for is a lot of stuff you used to have once upon a time – FireWire 800, Ethernet, multiple USB ports. Lest we forget, just daisy-chaining the Express Dock to a Thunderbolt drive, as I did, involves two cables, so that's another £70 gone. As an adapter living on a desktop, it's certainly ideal for MacBook users running 10.8.3 or later who want to make the most of their machine. Yet given the cost of this technology, Thunderbolt still seems like an indulgence that few will afford partake in. ®
Thanks to Square Group for the use of the Mac Mini.

Review: Belkin Thunderbolt Express Dock
Versatile Thunderbolt adapter that gives MacBooks all the interfacing that Apple took away.
Price:
£249 (Thunderbolt cable not included) RRP