This article is more than 1 year old
Fusion-io opens trenchcoat, flashes cheap PCIe cards
Wants to slurp up R&D cash and spaff it on ioScales
PCIe card-flasher Fusion-io has been talking to financial analysts about killing off its "wasteful" research projects and building OEM momentum for its cost-reduced ioScale card.
The message is that costs are about to go down and revenues will climb.
Stifel Nicolaus analyst Aaron Rakers noted that Fusion is working on a third generation of its ioDrive technology, ioDrive 3, and could be introducing 20nm multi-layer cell (MLC) flash card technology later this year. This would allow more capacity on its cards than its current technology, which it describes as 2X, meaning a NAND cell size between 29 and 20 nanometres (it is understood to be around 25nm).
Fusion's chief financial officer Dennis Wolf said the firm would move to its second generation 1Y technology in Q3 this year and that its technology and engineers are working to ensure Fusion products can use any type of NAND available. The new tech will be succeeded by 1Z technology in late 2014.
We understand that the next-gen 1Y technology will be smaller than 1X, although the actual boundary is fluid. We are assuming that 1X is somewhere between 19 - 15nm and the next-gen 1Y stuff is 14 - 10nm, although the cross-over point from 1X to 1Y could be 17nm or 16nm or some other number. Fusion says it works with multiple NAND suppliers so it could theoretically end up with two different 1Y technologies - a 17nm one and a 15nm one for example.
Wall Street analyst Jason Ader noted Wolf's presentation at the William Blair's Growth Stock Conference on 12 June and said Fusion's ioScale platform, a cost-reduced PCIe flash card product introduced in January, has ramped up well. Eight of the company's 12 largest customers had ordered the product in the most recent quarter, he added. The ioScale product will likely represent the majority of sales in the June quarter "and its popularity is allowing Fusion to add new webscale customers, such as Spotify and price-sensitive webscale customers in Asia."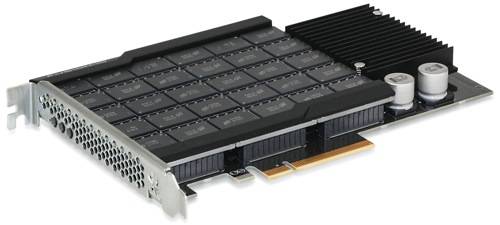 ioScale card
Spotify's global digital music service uses Fusion's ioMemory platform in its data centres to deliver music from its Apache Cassandra database to listeners as fast as it can.
Ader notes "Fusion's software and product diversification strategy (largely M&A driven) has been slow to gain traction. In our view, Fusion must quickly introduce 2Y- and 1Y-based NAND PCIe products to solidify its technical lead over competitors."
Fusion-io could be developing 2.5in form factor SSDs. Rakers said: "Conversations [at HP Discover] suggested that Fusion-io is also working on 2.5in form factor solutions (possible rollout over next 6-12 months)." That is relatively unexpected.
We want profitable growth
According to Ader, Fusion CFO Wolf said the firm wants profitable growth. In the past it has had growth but not much profits, as the chart shows.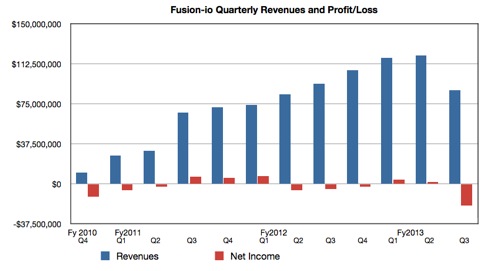 Fusion-io quarterly revenue and profit history
Newly appointed Fusion-io CEO Shane Robison is canning a large number of science-type research and development projects that started under Flynn's CEO-ship with little prospect of any good return on the capital employed (ROI) . He will focus R&D on fewer projects with a better ROI prospect.
Fusion-io and OEMs
Rakers says Fusion's sales partnership with Cisco is "gaining traction," and its other unions - with Dell, HP and IBM - are strong.
The firm bragged about the positive effects of its ION Data Accelerator software at last week's HP Discover conference in Las Vegas. HP is Fusion's biggest OEM partner. The ION technology provided 24.2GB/sec of throughput and in excess of 2 million IOPS for an Oracle database application environment running on a ProLiant DL980 server.
It was networked to three ProLiant DL380 servers in a 16Gbit/s Fibre Channel SAN setup with Brocade switchgear and QLogic HBAs. Four HP IO Accelerators, OEM'ed from Fusion-io, were deployed with 2.4TB capacity each. HP stated "Fusion-io engineering developed optimisation scripts to leverage terabytes of shared Fusion ioMemory capacity."
ProLiant servers with an ION Data Accelerator shared storage system achieved number one VMmark 2.5 two-node results across the two-processor, four-processor and eight-processor server categories as well.
Management changes
New broom Robison is firmly in control at Fusion, being chairman of the board and president as well as CEO. He has made some management changes:
Richard Boberg, EVP for strategic business development and general manager of caching solutions, is retiring in September.
Worldwide sales VP James Dawson is promoted to chief sales officer. He will, according to Rakers, still be the boss of the global sales team.
Jeffrey Treuhaft moves from SVP for corporate development to EVP of products.
The previous SVP for products, Gary Orenstein, becomes the EVP for marketing.
Stifel's Raker notes that Wolf "stated that some executives are more finely tuned for relatively larger companies with detailed processes, roadmaps, [and] return-on-capital maps."
Fusion-io co-founder Rick White, previously the firm's chief marketing officer has resigned from Fusion-io's board. He resigned as CMO back when fellow co-founder and then CEO David Flynn departed in May. The company said White would stay on the board in an advisory capacity until May 2014. Flynn is still on the board.
It's still a mystery why Flynn went. Wall St analyst Ader thinks "we have to believe that the [CEO] changes were prompted by a major strategic disagreement between David Flynn and the board." The storage desk here at El Reg thinks it was due to artistic differences, where some wished to retain a start-up ethos, while others - especially share-owning execs on the board - wanted profitable growth and a rising share price. Naturally, investors want Fusion to make money instead of pushing and pushing at the bleeding edge of flash software technology.
One way of judging whether the CEO change was justified is looking at Fusion's results, and Robison is lining up his staffing, cost-control, product development and OEM ducks to do his best to ensure that the results fly. ®