Samsung wins Apple MacBook contract, starts spitting out PCIe SSDs
Small-time card-shufflers are toast
Blocks and Files Ask not for whom the bell tolls, third-party PCIe flash card suppliers, it tolls for thee. It looks like Samsung, Intel/Micron and SanDisk/Toshiba will be the only ones left standing when this whole PCIe flash clash is over.
In the wake of its massive win with a contract to furnish Apple's upgraded MacBook Air as well as the future MacBook Pros, Samsung has begun mass-producing PCIe SSDs for ultra-thin notebooks.
The product is called the XP941 and comes in three capacity points: 128GB, 256GB and 512GB. Its sequential read performance is 1.4GB/sec, the highest ever, Samsung says, from a PCIe 2.0 interface NAND solid state device, and more than 2.5 times faster, it assures us, than a SATA SSD. El Reg doesn't know its sequential write performance or its IOPS numbers for random reads and writes.
Here's a canned quote from Young-Hyun Jun, Samsung Electronics' EVP for memory sales and marketing: "We have become the first to provide the highest performance PCIe SSD to global PC makers so that they can launch leading-edge ultra-slim notebook PCs this year. Samsung plans to continue timely delivery of the most advanced PCIe SSD solutions with higher density and performance, and support global IT companies."
It aims to increase the performance and the capacity of its PCIe SSDs simultaneously as new products are developed. El Reg storage desk is fairly confident this means 1TB capacity products are coming, and probably bigger ones still. Get this:
Samsung intends to continuously expand its production volumes of high-performance 10-nanometer class NAND flash memory, in helping the company to maintain its lead in PCIe SSDs for ultra-slim PCs and notebook PCs. Furthermore, Samsung plans to introduce next-generation enterprise NVMe SSDs in a timely manner to also take the lead in that high-density SSD market, adding to its competitive edge.
The meaning of 10nm class is a NAND process technology node somewhere between 10 and 20 nanometers. This is also known as 1X technology.
The device is small, as the picture indicates.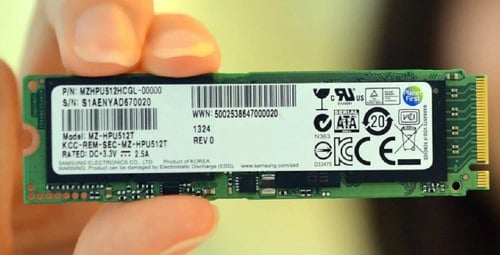 Samsung XP941 PCIe SSD
It is in an M.2 form factor of 80mm x 22mm and weighs approximately six grams, about a ninth of the 54g of a SATA-based 2.5 inch SSD, and occupies a seventh of the space of a 2.5-inch SSD.
A question: why and how did the hard disk drive industry consolidate to three players: Seagate, Toshiba and Western Digital? It was through vertical integration of production.
A second question: why won't SSD production, including PCIe flash production, go the same way?
It will, won't it? And the vertical integration will start from the foundries upwards because no one, but no one, is going to start at a higher layer and integrate downwards by buying flash fabs – ridiculous, humungous amounts of money would be involved.
Unless flash product suppliers have a level of integration up to and including ownership, with flash foundry suppliers they are doomed to ultimately fail in mass solid state markets and be pushed into niches, such as upper layer software, or exit the business. Surety of chip supply and chip:controller integration will be key. Flash fab linkups are the only way, long-term, to get chip supply certainty and the ones who know the chips best will tend to build the best controllers.
The long-term survivors in the SSD business are going to be Micron (and Intel), Samsung, SanDisk and Toshiba. The others, including LSI, OCZ, Plextor and sTec for example, will find it increasingly difficult to withstand the Flash Foundry Foursome.
The XP941 started shipping earlier this quarter. ®