'Smart ring' revealed by upstart Chinese mobe-maker
Kiss the ring to your mobe and you'll unlock something to share
Glasses and smartwatches dominate talk about wearable technology, but there's a new piece of binary bling to consider: a smart ring from new Chinese mobe-maker Geak.
The little-known company yesterday introduced the Android-powered Mars and Eye smartphones alongside the Geak Watch and Geak Ring.
The wearable devices serve as companions to the phones. The ring, for example, unlocks the phone with a simple tap on its chassis. Kissing the ring against another Geak owner's phone will allow sharing of photos and contact information, the Geaks say.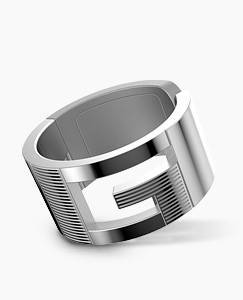 A Google Translated version of the Geak web site refers to the ring's "unique chip", "powerful algorithms" and "proprietary technology" but we're assured from TechInAsia that there's no hard info on exactly how it works.
The Android 4.1-based Geak Watch, on the other hand, includes Bluetooth 4.0 and Wi-Fi support and features weather updates, pulse and heartbeat monitoring, and various notifications from the smartphone.
At the moment there's no English web site for this Shanghai start-up and delivery is confined to China, although pricing is competitive on paper.
The flagship 5.8in Mars phone will sell for 2,999 yuan (£310) with the Geak Watch at 1999 (£200) and the Ring at 199 (£20). ®