Interview Is "fifth-generation Fibre Channel" marketing-speak or a useful term?
Earlier this year the "Gen 5 Fibre Channel" term popped up from Brocade, which used it to describe 16GBit/s Fibre Channel, the computer network technology's highest available speed.
And Brocade started using the Gen 5 term around the time Cisco finally launched its own 16Gbit/s Fibre Channel switchgear in April 2013 - some two years behind Brocade's first 16-gig FC product introduction.
Cisco took exception to the new label, and its blogger J Metz led the charge, blasting:
The idea that we're going to simply call 16G Fibre Channel something other than 16G Fibre Channel, and pretend that people will not figure out that [Gen-5 Fibre Channel] is really just 16G Fibre Channel is, well, amusing!
When we wrote up the Brocade Gen-5 story, we also noted that faster Fibre Channel is coming: a 32Gbit/s is expected to arrive in 2014, and presumably Brocade will call that the "Gen-6" standard. Metz harrumphed:
This is a huge problem, because there is no such thing as a Gen 6 standard. To conflate Brocade's marketing campaign with a standard is an outright falsehood. While it is true that Brocade holds the chair of the INCITS T11 Technical Committee, Mellor's reporting implies that 'Gen-6' is being promoted within the standards body. However, this simply isn't true.

From a marketing perspective, Brocade is free to say whatever it wants, of course. If they wish to bend reality a bit, it's their prerogative.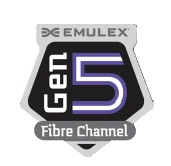 The Emulex Gen 5 logo
Server interconnect maker Emulex has started talking about Gen-5 FC as well. It appears Brocade has successfully managed to evangelise its Gen-5 Fibre Channel marketing idea to other companies in the 16-gig FC business.
We had a conversation with Brocade director Scott Shimomura about Brocade's Gen-5 FC branding. He looks after storage area network marketing at Brocade and here's what he said:
El Reg: Why did Brocade start the Gen-5 FC messaging?
Scott Shimomura: After speaking with many customers, partners, and our sales organization, it was clear to us that our value messaging was getting lost with the speed-based naming convention. We came to the conclusion that we finally needed to make a change to the category/technology naming and go to a naming convention that de-emphasized speed and put the focus either on Fibre Channel (as the category) or value-added technology (new capabilities and features). The obvious challenge is that Fibre Channel is perceived as mature technology that's not new, compelling, or interesting from a news, social media, or discussion standpoint. We viewed Gen-based naming convention as a way to put energy, interest, and in some cases controversy back into this industry.
El Reg: What was the background to this?
Scott Shimomura: From the very beginning, we believed this was an important change for Brocade and the rest of the industry. Given all of the alternatives for storage networking (iSCSI, FCoE, NAS, IB, etc.), we wanted to make sure Fibre Channel stayed top-of-mind and relevant. We viewed it as important for the switching industry (Brocade, Cisco, and QLogic (at least until recently), the adapter industry (QLogic, Emulex, and Brocade), and the storage industry (EMC, IBM, HP, HDS, Dell, Fujitsu, NetApp, Oracle, etc.) for our industry to continue to grow and thrive.
El Reg: What were the problems you encountered?
Scott Shimomura: We knew getting industry-wide adoption would be challenging for several reasons: · We had already launched our initial products through our OEMs in 2011
· The adapter companies had already launched their 16 Gbps HBAs
· The switch and adapter companies would perceive this as a "Brocade" initiative
· The FCIA (our industry association for marketing Fibre Channel technology) wasn't likely to change the naming for current technology
So we took the basic strategy of starting the transition on our own, encouraging others to follow our lead, and then push the industry through the FCIA to adopt gen-based naming for 32Gbit/s Fibre Channel (currently in process).
El Reg: How did Emulex come on board the Gen-5 FC train?
Scott Shimomura: Emulex saw our marketing efforts and liked the name change for many of the same reasons as us. We had some initial conversations and there was a little trepidation at first because while we are ecosystem partners, we also compete against each other with adapters. They also had reservations because they had already launched their products and were worried that this was a Brocade-only initiative. We had several discussions to clarify questions around the naming convention and our interest in having them adopt the name. They viewed it as a great opportunity to promote Fibre Channel as well as their differentiated technology and capabilities. They went off on their own and renamed and re-launched their adapters based on the Gen 5 Fibre Channel name.
Is Gen 5 messaging here to stay?
Shimomura wrote a blog for Emulex when it launched its Gen-5 initiative, in which he wrote: "Our message is that Fibre Channel is not just about speeds and feeds; it's about a new class of technology defined by innovation and unique capabilities that solve customer challenges."
Brocade OEMs such as Dell, HP and IBM, are, Shimomura says, receptive to the Gen-5 messaging.
Will fellow FC HBA and/or switch shippers Cisco and QLogic follow suit and join Emulex and Cisco? El Reg wouldn't bet on it, not with the strength of competition between Cisco and Brocade on the one hand, and Emulex and QLogic on the other. But, never say we don't hedge our bets, we wouldn't rule it out either. ®
Similar topics