This article is more than 1 year old
Micron posts first quarterly profit for two YEARS
Trebles all round for the Boys from Boise
Hip hip hooray! Flash and memory fab operator Micron has made a quarterly profit, its first for eight quarters.
Micron saw revenues of $2.3bn in its third fiscal 2013 quarter, ended 30 May 2013. This was agreeably larger than the previous quarter's $2.1bn and also the year-ago quarter's $2.2bn.
Last quarter it made a loss of $286m; a year ago the quarterly loss was $320 million. In its third quarter this year Micron made a profit of $43m. Not much on revenues of $2.3bn - just 1.9 per cent - but, hey, it was a profit.
Obviously the boosted sales revenue enabled that profit, but where did this quarter's extra revenue come from?
Micron says DRAM sales volume was up six per cent compared to the preceding quarter and, glory be, there was a 16 per cent increase in the average selling price (ASP), making the bean counters happy. There was also an increase of 8 per cent in what Micron calls the Trade NAND Flash average selling price, leading to a 7 per cent increase in NAND product sales.
Micron CEO Mark Durcan said both the DRAM and NAND markets showed an improvement in their fundamentals. He reckons the purchase of the distressed Japanese DRAM fabricator Elpida will complete in the fourth quarter, giving Micron more clout in the DRAM market.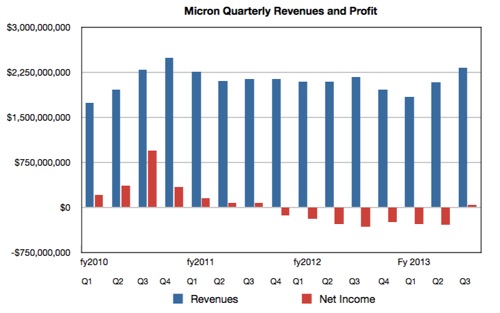 Micron quarterly revenues to Q3 FY 2013
Stifel Nicolaus analyst Aaron Rakers said "Micron expects a ramping transition to 20nm MLC NAND over the coming quarters … followed by a faster transition to 16nm MLC looking into 2014."
The company is progressing with the development of 3D NAND, with sampling expected during the next few quarters with possible general availability in 2015.
MLC is multi-layer cell NAND; slower than SLC but less expensive, as it has 2 bits per cell instead of SLC's one. Rakers expects Micron to introduce NVMe interface SSDs later this year. These connect directly to a host server's PCIe bus, and Rakers also notes SanDisk should follow suit soon.
Micron thinks that unit volume for DRAM and NAND, expressed as the number of bits, will grow in the high single digits in the current quarter. It expects DRAM's ASP to grow in the mid- to high single-digit range, whereas Trade NAND's ASP will fall in the mid single digits area. DRAM cost/bit should be the same as this quarter in the next quarter, whereas NAND's cost/bit should down, perhaps into the high single digits.
El Reg thinks we could be looking at a bumper fourth quarter for Micron, based on these latest numbers, with revenues possibly around $2.5bn and profits in the low hundreds of millions. Potentially, this could make full year revenues of $8.5bn achievable, with a full year loss in the low hundreds of millions. ®