Toshiba has put its hybrid flash-disk drive on a diet - and a new, slimmer device has emerged with just one spinning platter.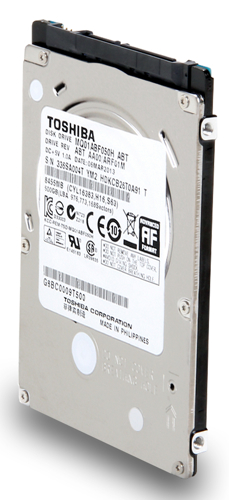 Toshiba's 7mm hybrid disk drive
The new MQ01ABFH is a single-plate version of the existing MQ01ABDH, and is available in 320GB and 500GB capacities. The earlier two-platter MQ01ABDH is 9.5mm thick whereas its little slim sister is just 7mm.
The included NAND flash cache bumps up its performance: Tosh claims its "PCMark Vantage Average HDD Score, the established industry method for measuring SSHD read/write performance and responsiveness, for the MQ01ABF500H is approximately 20,000, surpassing the 16,000 industry standard result."
Apart from that we get no more technical details. We can assume that features from its wider-waisted sibling are carried through, and that will give us an 8GB NAND flash cache, 32MB DRAM cache, 6Gbit/s SATA interface, and a 5,400rpm rotation speed.
With its skinny profile it is clearly going to be targeted at tablet and ultra-thin notebook devices; gaming devices and ordinary notebooks will be ancillary markets.
The competition will generally include Seagate's Laptop Thin SSHD, a single-platter flash hybrid spinning at 7,200rpm and a 500GB capacity. Western Digital also has its Black UltraSlim SSHD with the same capacity but in a 5mm thick enclosure, and, we presume, a 7,200rpm spin speed too. It's possible Toshiba is using fast SLC NAND whereas Seagate and Western Digital use the slower, and cheaper, MLC flavour of NAND. That might compensate for the Toshiba drive's slower spin speed.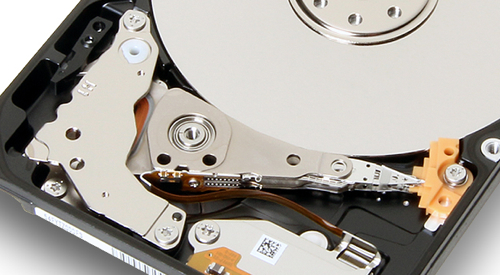 Inside the Toshiba 7mm SSHD
Tosh says it will offer samples from 28 June, and there is no word on price, but if it's competing against faster-spinning solid-state mutant drives then it ought to be cheaper. ®