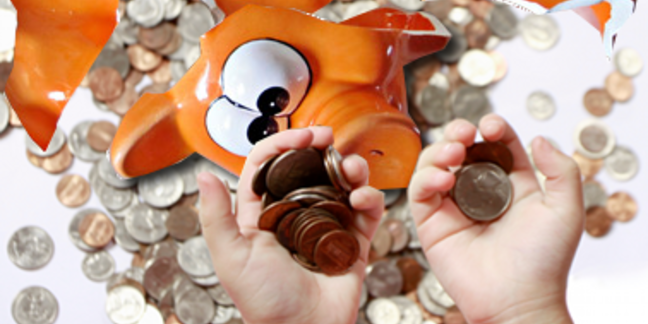 Investors in Apple's record $17bn bond offering who didn't hedge their bets have seen millions in value wiped off their investment.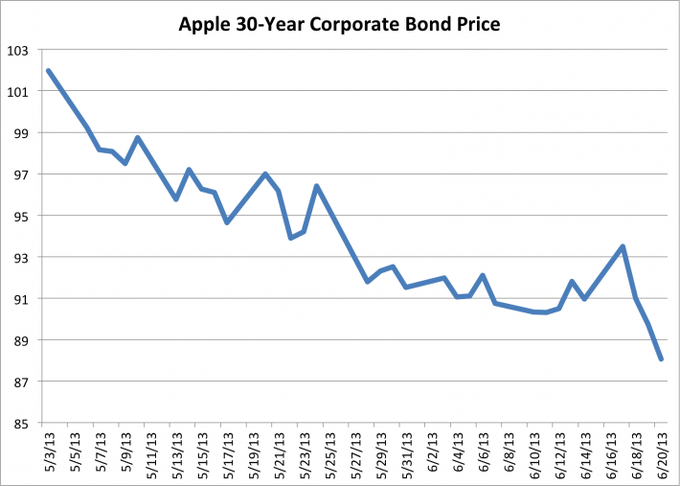 Apple 30-year Corporate Bond Price. Credit: Business Insider/Steven Perlberg, data from Bloomberg
The fruity firm sold off the huge amount of debt back in April, despite the fact that it has well over $100bn in cash just lying around overseas somewhere, when it got an incredibly cheap 2.4 per cent interest rate for ten-year and 3.9 per cent for 30-year bonds. Times were good for anything viewed as fixed income, like a nice, safe, solid firm such as Apple. But since then the market has reversed, Business Insider, the FT and others reported.
Of course, that's not bad for Apple, it's the poor folks who financed the firm's neat little tax dance that are getting sc***ed - if they didn't make hedge investments to offset the possibility of changes in the market.
"Basically if you own this paper, you're sitting on it for three years or selling at a loss," Rajeev Sharma, senior portfolio manager at First Investors Management, told Reuters.
Earlier this month, the market price of the bonds had fallen to 90 per cent of face value, although folks who bought when they first went on sale spent up to 102 per cent on the popular debt instruments, when there were many times as many orders as available bonds.
Interest rates have changed because the Federal Reserve has suggested that it might start to slow its purchase of government debt, causing interest rates on Treasury bonds to rise and reducing the attraction of corporate bonds, even for high-credit-rating firms like Apple.
However, Ashish Shah, head of global credit at AllianceBernstein, told the FT that it was possible the price falls in Apple bonds were just temporary.
"The most recent new issues tend to be the most dislocated in a sell-off as they are still quite liquid," he said.
"Historically we have not had this level of retail investor participation in the market. When retail start losing money, they sell, but institutional money is waiting to buy once the market has backed up to higher yields."
Other corporate bonds from the UK's Vodafone and Petrobras of Brazil have also seen their bond prices drop. ®
Sponsored: Webcast: Ransomware has gone nuclear