This article is more than 1 year old
New super maxed out on first day of operations
Sometimes 57,472 Sandy Bridge cores and 160 TB of memory aren't enough
How long does it take to fill a supercomputer? A day, if you're the new Raijin machine at the National Computing Infrastructure (NCI) at the Australian National University.
Formally opened to user traffic on Monday, Raijin is a Fujitsu Primergy system with 57,472 SandyBridge cores, 160 TB of main memory, 10 PB of usable high-speed filesystem space, hooked together with Mellanox FDR interconnect. Two thirds of its nodes have 32 GB of memory, nearly one-third has 64 GB, and two percent of the nodes have 128 GB.
The facility says its peak performance is 1.2 Pflops, and it achieved a six-fold improvement in filesystem performance compared to its predecessor, dubbed Vayu, a Sun Constellation whose 11,936 Xeon cores could only limp along at 140 Tflops.
At fire-up, the NCI says Raijin became Australia's number one supercomputer and number 24 in he TOP500 supercomputer list.
And how long did it take users to peak the system? One day, according to the NCI's Ben Evans on Twitter.
"Finally released the new NCI Raijin supercomputer for general access earlier this week. Less than 1 day for users to spike to full capacity", he posted.
Half of that consumption was down to one job, as the NCI told El Reg. ARC Future Fellow, Associate Professor Evatt Hawkes, had a code running on 32,769 cores - over half the system.
Hawkes' work uses detailed, first-principles simulations to answer fundamental scientific questions relating to combustion in next generation engines and combustion of new fuels.
"NCI is supplying researchers with both the infrastructure and world class expertise required to push the boundaries of innovative research in key disciplines that are of national importance to Australia - amongst these are climate and earth systems science", said NCI director, Professor Lindsay Botten.
First-week jobs to run on Raijin included:
Extreme climate simulations for the Bureau of Meteorology, Geoscience Australia and other Australian centres of excellence;
Quantum chromodynamics runs for a group led by Professor Derek Leinweber of the University of Adelaide;
Black hole studies for ANU's Professor Geoff Bricknell; and
A Queensland University study into the self-assembly and interaction of biomolecules in a membrane.
The system's admins are now in the process of porting software from Vayu to Raijin.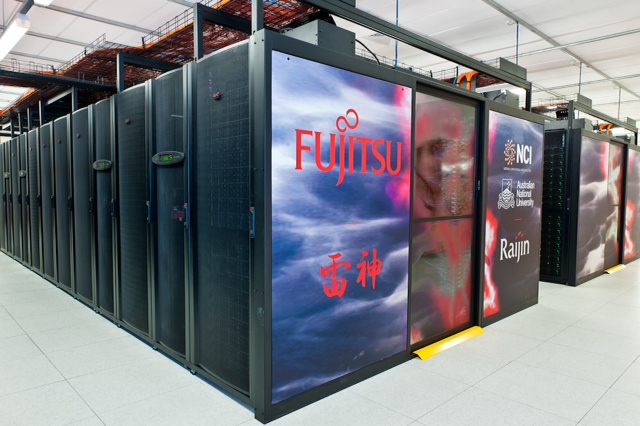 Welcome to the new boss: Raijin at the NCI
Raijin's clients include the ANU, the Bureau of Meteorology, Geoscience Australia, the Australian Research Council, and six research universities. ®