This article is more than 1 year old
Gartner magicians conjure technological TUBE MAP
Quadrants are too square for marketroids
Gartner's Magic Qudrants are beloved by vendors (when they appear in its best bits) but often draw disapproving doubts from Reg readers, who doubt their independence
What, then, to make of the analyst outfit's latest visualisation, the "Digital Marketing Transit Map" with its promise to help viewers "Find your digital direction—master the technology landscape and chart a course for success."
The concept's been dreamed up in aid of a webinar digital marketing, a market we'll happily contend is increasingly in the firm's sights by citing a big increase of marketing-related posts on the company's blog. Gartner's not alone in doing so: the likes of EMC are very keen on flogging Big Data rigs to chief marketing officers these days, arguing that if marketers don't stand up their own number-crunchers IT will never get around to it. The software-as-a-service crowd also likes anyone outside the IT department and uses more or less the same argument.
But enough of this justifying. Let's look at the map!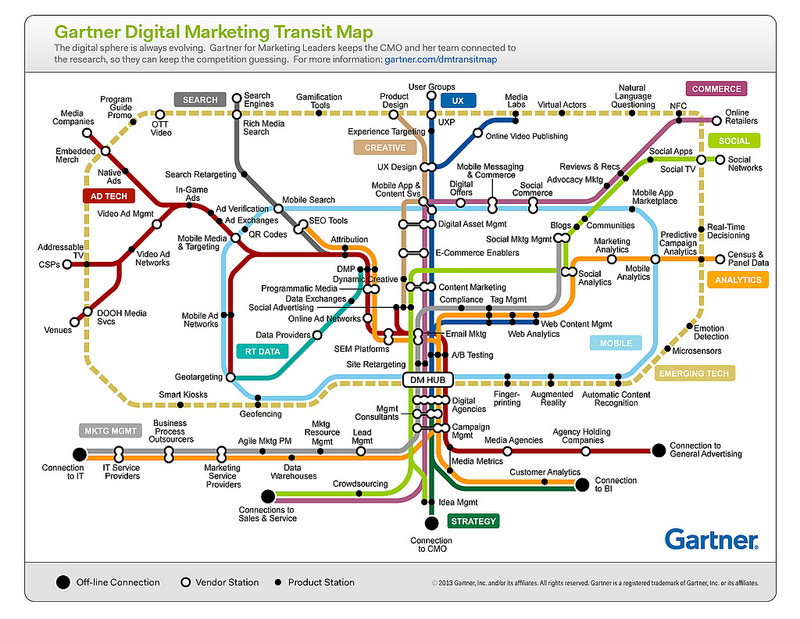 Gartner's Digital Marketing Transmit Map. Click to enlarge so you can make sense of it
You'll probably want to click to enlarge it: squeezing into a Reg-story-sized space doesn't do it justice.
One interpretation of the map could suggest the Mobile Line goes around in endless circles and that the stops on the mooted Emerging Tech orbital are unlikely to be built as currently envisaged.
We've asked Gartner if the firm intends to apply this visualisation methodology to other markets, as we'd love to see an operating system map that tells us where the Windows 8 line ends or a silicon map that reveals whether the Intel line will ever converge with the mobile devices line.
Do feel free to imagine your own maps in the comments. Or if you want to play with the map, the online version is moderately interactive. ®