Sony set to launch smartwatch in Shanghai next week
Let's see if this fad has legs
Next week Sony will unveil its latest attempt to build a smartwatch market at the Mobile Asia Expo 2013 in Shanghai, according to hints as subtle as an enraged rhinoceros on the company's Twitter feed.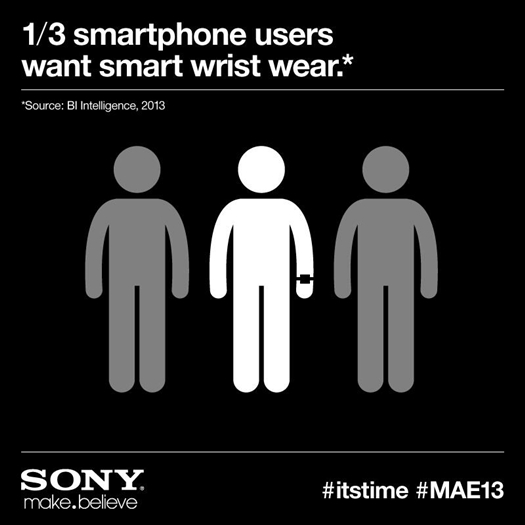 Are you Sony's one in three?
"One in three smartphone users want smart wrist wear," reads one message with the hashtags #itstime and #MAE13, citing statistics from a recent BI Intelligence analyst's report. "Wearable tech is in our DNA. Remember WALKMAN, now...?" reads another, accompanied by a picture of a 1980s Sports Walkman strapped onto a young lady.
Sony already has a smartish watch that links via Bluetooth to Android handsets – the $100 SmartWatch it launched in 2007 – but the wristwear hasn't exactly set the world alight. This El Reg hack has one and it's currently gathering dust at home in the cardboard box of unwanted tech goods, as it's ugly as a Monday-morning hangover and about as much use.
The source code for the current model was opened up by Sony earlier this month to give developers a chance to make some alterations, and next week's announcement could be a second-generation model for which the company would be keen to develop a third-party apps market.
The launch in China gives Sony prime-time coverage in the fastest growing smartphone market in the world, although as a Japanese company is faces a certain historical hurdle of dislike with some Middle Kingdom markets. But it's not alone in wanting to get ahead in the fashion for wearable computing.
There are already a slew of startups vying to be the first to break the smartwatch market. Pebble is trying to become the next Patek Philippe (the company that pioneered the modern wristwatches and now sells timepieces for millions), and there are persistent rumors that Apple will try its luck with an iWatch of sorts.
Some Apple users already have such a devices; there's many an iPod Nano seen on a wrist strap these days, and attempts to find an electronic replacement for the horologist's art have been tried for over 40 years, since digital watches first come on the scene.
She's a 20th Century clock
The very concept of a wristwatch is a largely 20th century phenomenon. Pocket watches had been around for centuries before manufacturers developed the materials and skill required to build an accurate timepiece that was small enough to be worn on the wrist.
Originally marketed as a device for women – who were obviously too frail to carry weighty pocket watch, in the view of the time – the mass-produced wristwatch came into fashion during the First World War for coordinating attacks and reducing the need to get shot while fishing around for a tucked-away timepiece.
After the war, the practice spread and the pocket watch became the holdout of the stuffy and old fashioned. But the advent of digital watches, which replaced delicately balanced mechanical movements with cheaper and more reliable electronics, has left the most advanced timepieces reduced to the status of fashion items for the wealthy.
It's a logical shift to take electronics further in the wristwatch, but despite efforts stretching back to the 1980s, that shift has always been hampered with two fundamental flaws in the form factor. Firstly, computers require batteries that last to function effectively, and secondly that the screen size that can be comfortably (and fashionably) worn on the wrist is so small.
Sony's special sauce
Sony's Twitter hints, and the open-sourcing of its existing code base for current SmartWatches, indicates that the company is making a serious play to overcome these problems. Getting good software for a wearable computer is going to be essential for the success of the platform.
Palm showed the way in the 1990s by fostering a thriving developer community to support its handheld computers. While Apple's success in creating the tablet market was initially more about looks than apps, the role of developers in the success of the platform has been crucial.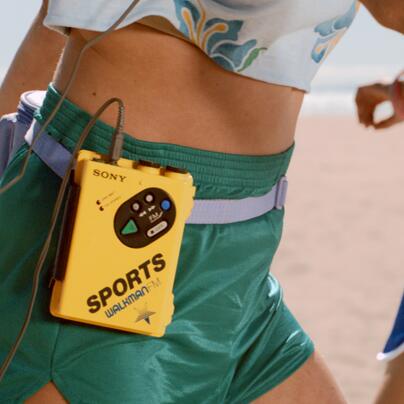 Sony's nostalgia for the 1980s
While progress in battery technology remains limited to incremental improvements, there have been a major advances in screen technology. Curvy, backlight-free OLED displays and power-sipping e-ink screens have given developers more screen acreage and designers more flexibility. But we've yet to see a smart watch out there that uses this hardware to its best advantage at an economically viable price point.
So could Sony shock the world with its design? Probably not, in this hack's opinion. While the company has had some design successes, it's no Apple, and next week's announcement will probably be an incremental stage in the smartwatch's development.
But the technology is coming, in one fashion or another. As processors and memory continue to shrink in size, the ability to have a fully functioning computer on your wrist will be easily achievable. If Sony can inspire the Chinese to try its system, then the rest of the world might follow. ®