With preparations now almost complete for the start of Saturday's 90th anniversary 24 Hours of Le Mans endurance race, Nissan has surprised the petro-heads by showing off a fully electric car that it will be entering into the competition next year.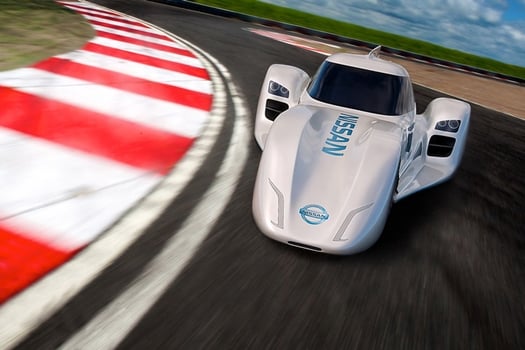 Nissan goes to the home of motor sport to take on the carbon-heads
While Tesla might get most of the attention, Nissan's Leaf is the world's best-selling all-electric car, and the company has shifted over 65,000 of the little hatchbacks. Now it's taking on one of the world's most prestigious motor races with the ZEOD RC (Zero Emission On Demand Racing Car), which the company claims is the fastest electric racing car in the world.
"We've invested over $5bn in battery technology with the Leaf," said Nissan VP Andy Palmer. "But we're not resting on our laurels and we take that technology and take it to the limit."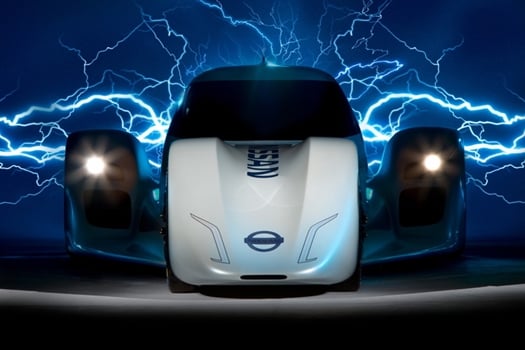 'Kneel before ZEOD'
The Nissan engineers will spend this year testing new drive train and battery designs to wring the maximum amount of speed out of the 700kg vehicle while maintaining the car's ability to be competitive in pit stops. There's as yet no data on the ZEOD RC's range, but it's likely that the racing team will have to replace batteries rather than try and recharge during the race proper.
Le Mans differs from most racing in that winning is not just about speed, but also reliability and fuel efficiency. The fastest car is often not the winner, rather it is the team that can pit their cars quickly and as little as possible, while keeping the drivers in fit enough condition to race.
The track also has some benefits that an electric car can take advantage on. The high-speed Le Mans circuit has few tight corners and so cars designers concentrate less on developing downforce and more on being aerodynamically stable enough to build higher speeds on the long straight sections of track – so much so that some drivers take off from the road in spectacular crashes.
There have been hybrid electric cars competing in the race for the last four years and they now dominate the race, since fuel efficiency means much less time spent visiting the pits. But the ZEOD RC will be the first electric-only entry and in 2014 won't be racing in a specific class, but as an example of possible technology for future races.
"We're trying to show what is possible, to learn what we can maybe achieve. We want to demonstrate that performance can be extraordinary," said Nissan ZEOD RC designer Ben Bowlby. "I believe at the end of Le Mans 2014 we will have changed people's perception of electric vehicles forever." ®