WD catches falling flash star, slurps up sTec
Moshayedis move on
Western Digital has entered into a definitive merger agreement with sTec, formerly known as STEC, under which its subsidiary, HGST, will buy sTec for $340m in cash. This gives HGST a significant leg-up in the supply of enterprise SSDs and an entry into the server flash card market.
El Reg's storage desk thinks this will be a much-welcomed exit by the Moshayedi brothers, who founded sTec, took it to a $2bn-plus valuation when it was the monopoly supplier of Fibre Channel SSDs to EMC and then saw it decline into near irrelevance as an enterprise supplier. The fall of the flash star happened as SAS SSDs took over the flash role in storage arrays and PCIe flash opened up a server flash card market. The company's revenues, as a result, declined, as did its share price, and it made significant losses.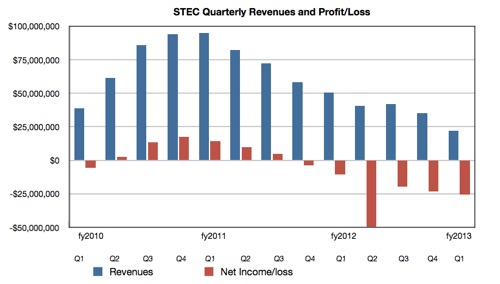 sTec revenue and profits history
In the wake of the collapse of the share price after EMC revealed it had over-ordered sTEc FC SSDs, the then-CEO, Manouche Moshayedi, was charged with insider selling by the SEC. The US securities watchdog alleged at the time that he had knowingly sold shares that were over-priced. Manouche strongly denies this, but stepped down from the CEO role while his brother, Mark Moshayedi, took it on.
The company later paid out $36m to settle a class action lawsuit over allegations it had given an "inflated impression" of STEC's revenue growth and of conditions before the share price drop.
Hedge fund investor Balch Hill has been agitating for CEO-level change at sTEc as well. Latterly sTec has been building up a direct sales capability to augment its historic reliance on OEMs, aiming for a 50:50 split between OEM and direct sales. It has also launched its own flash storage array, the s3000 appliance. Interestingly HGST parent WD has invested in flash array startup Skyera.
Ironically, but maybe not, HGST was the only enterprise SSD supplier to directly compete with sTec in the FC SSD market, using technology co-developed with Intel. Now it is getting sTec IP, in the form of 55 patents and 78 pending patents.
So HGST will soon have its own in-house SSD-making business. What next? The company said it "remains committed to its highly successful joint development program with Intel Corp. and will continue to deliver current and future SAS-based SSD products with Intel." That will be bulked out with sTec's own IP and engineering talent. It's understood by Stifel Nicolaus analyst Aaron Rakers that HGST is the SSD supplier for HP's all-flash 3PAR 7450 array.
WD CEO and president Steve Milligan, HGST's CEO when WD took it over last year, said: "Solid state storage in the enterprise will play an increasingly strategic role in the future of Western Digital. This acquisition is one more building block in our strategy to capitalise on the dramatic changes within the storage industry by investing in SSDs and other high-growth storage products."
More acquisitions may take place in the future. HGST said that the sTec and HGST product offerings are largely complementary and it "intends to participate in the PCIe segment of the enterprise SSD space".
Mark Moshayedi, sTec president and CEO was pleased with the deal: "sTec is excited to consummate this transaction. It will be an important next step in proliferating many of the innovative products and technologies that sTec has been known for throughout its 23-year history and provides immediate value for our shareholders and a strong future for our employees and customers. This merger will enable our world-class engineering team and IP to continue to make a significant contribution to the high-performance enterprise SSD space that has long been sTec's focus."
The board of sTec unanimously voted in favour of the deal, and why not? It gets the firm out of a tremendous hole, especially after bolshy investor Balch Hill helped dig it in even deeper. That hedge fund will make a nice return on its investment.
The acquisition, net of sTec's cash, represents $207m in enterprise value at a price of $6.85/share. The value of sTec shares immediately shot up, from $3.29 on Friday to $6.72 today. The shares peaked just above $40 in the 2009 glory year, when EMC briefly made sTec's fortunes shine like burnished gold. But what EMC gave, it took away and the shares sank and sank and sank to the lowly sub-$10 area, until today.
It's anticipated that the merger/acquisition will close by the end of the year. Certain regulatory approvals are needed but not that of the Chinese regulator MOFCOM - which is monitoring the operations of WD and HGST after WD bought HGST last year to ensure compliance with its conditions. The two Moshayedi brothers will walk away, with no ongoing role in the company they founded.
Regarding any liability concerning the SEC lawsuit against Manouche Moshayedi, HGST said:
As a former officer of sTec, Manouch Moshayedi has an indemnification agreement with sTec. Under this agreement, sTec is advancing Manouch Moshayedi's legal fees in the pending SEC action, and these payments will continue to be made after the transaction closes for the duration of the SEC action. At the same time, WDC and Manouch Moshayedi have separately agreed that, for any liability resulting from the SEC action, the maximum exposure to sTec and WDC will be limited.
Regarding HGST support of sTec products, HGST said: "HGST will continue to support existing sTec products and collaborate with its customers to understand their future requirements. There will be no change to sTec product availability through the close of the acquisition. Upon close, we will evaluate programs on a case-by-case basis to determine the go-forward strategy."
HGST parent WD has a relationship with SanDisk for the supply of NAND caches for its hybrid SSHD products. and this continues. If HGST and WD successfully exit MOFCOM regulation in 2014, then the two flash operations are likely to be combined, with supplier consolidation likely. A result of the acquisition is that WD-Seagate competition in the flash space will intensify and Fusion-io will see more competition in the server flash space. It is also likely that the acquired sTec will benefit from HGST's OEM relationships - and the direct sales model it has been building up may, we stress may, may be watered down.
The El Reg storage desk thinks this is a good deal all round, and sTec customers can be reassured that their product supply and support will continue and that their flash supplier is now very, very much stronger. Other troubled SSD suppliers like OCZ now face a more uncertain future as the number of potential buyers for their products just shrank in number. ®