This article is more than 1 year old
Microsoft: Half of all organizations will use 'Facebook-like' tools
One year after Yammer buy, sees social behind every shrub
Exactly one year to the day since Microsoft's $1.2bn acquisition of Yammer, Redmond says its plan to bring social collaboration to the enterprise has only just begun.
Yammer now has almost eight million registered users, Microsoft's SharePoint head Jared Spataro said in a blog post on Tuesday. That's an increase of 55 per cent in the last year, he said, and the number is only expected to increase.
Redmond predicts that by 2016, 50 per cent of large organizations will be running internal, "Facebook-like" social networks, and that 30 per cent of these "will be considered as essential as email and telephones are today."
To that end, Redmond says, "Microsoft and Yammer plan to weave social into the work people do every day, combining it with collaboration, email, instant messaging, voice, video and line-of-business applications."
Big talk. But so far, customers have seen precious little of the promised integration of Yammer with SharePoint, Office 365, and other Microsoft properties.
Earlier this month, Microsoft gave a slight nod to Yammer-SharePoint integration by allowing Office 365 subscribers whose plans include SharePoint to replace the SharePoint Newsfeed with a feed from Yammer. But on Tuesday, Spataro said there is plenty more to come.
A Yammer app for SharePoint will arrive this summer, he said, and Microsoft will publish guidance on how to integrate the hosted Yammer service with an on premise SharePoint 2013 server.
Single sign-on between Yammer and Office 365, which will make navigating between the two services more seamless, is still on track to arrive by the fall, as previously announced. Also due around the same time are Office 365/Yammer profile-picture synchronization and a number of UI enhancements.
Within the next six to eight months, Spataro said, customers will be able to use SharePoint's search box to search Yammer conversations, and the Yammer app for SharePoint will allow admins to replace SharePoint site feeds with feeds from Yammer groups.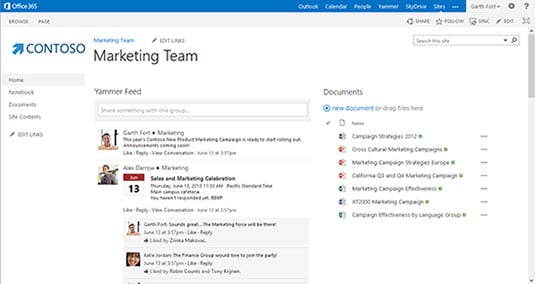 The Yammer app for SharePoint will allow SharePoint sites to play host to Yammer feeds
The Yammer team will also be working on improving Yammer's messaging UI to make it easier to use the service as a primary communication tool, including making it easier to add parties from outside the organization to Yammer conversations, and adding the ability to follow Yammer conversations over email.
Microsoft is also localizing the Yammer interface into more languages, which should help to broaden its market around the world.
But as for what else Microsoft and Yammer might have in store beyond the next eight months, however, Spataro said he literally couldn't say.
"Because of the way we develop Yammer, even we don't know exactly what that will look like," Spataro wrote, referring to the company's unusual, iterative development model. "But what we can tell you is that we have an initial set of features we're working on today, and we'll test and iterate our way to enhancements that will make working with others easier than ever before."
Microsoft is expected to give further details on its plans for SharePoint and Yammer at its annual Build developer conference, which kicks off in San Francisco on Wednesday. ®