Salesforce.com and Oracle are to integrate their clouds at application, platform and infrastructure levels, the companies announced today.
Salesforce is standardising on Oracle Linux, Exadata hardware, the Oracle Database and Java Middleware. Oracle will integrate Salesforce.com with Oracle's Fusion HCM and Financial Cloud. And Salesforce is to be a customer for those enterprise apps. We have no news yet on what if anything is to happen to Oracle's own CRM application.
For two companies that seemed to dislike each other, the nine-year deal appears to represent an astonishing turn of events. But despite the occasional public spat between Salesforce CEO Marc Benioff and Oracle chief Larry Ellison, Salesforce is already a major customer of Oracle (as last week Jack Clark, El Reg cloud correspondent wrote in a perceptive article, predicting this tie-up).
Also, Oracle and Salesforce are looking at a cloudy world where Amazon and Google have established an early dominance. By nailing its colours to Oracle's mast, Salesforce can at least ensure that the big platform players will not grow any stronger, on its account.
The two CEOs have some choice quotes on the tie-in.
""Salesforce.com's CRM integrated with Oracle's Fusion HCM and Financial Cloud is the best of both worlds: the simplicity of Salesforce.com combined with the power of Oracle," says Benioff.
Now for Ellison's turn: "When customers choose cloud applications they expect rapid low-cost implementations; they also expect application integrations to work right out of the box – even when the applications are from different vendors. That's why Marc and I believe it's important that our two companies work together to make it happen, and integrate the Salesforce.com and Oracle Clouds."
Benioff, a one-time Oracle employee, was slated to give a keynote at OracleWorld in October 2011. His slot was cancelled, giving plenty of opportunity for mischief-making, as you can see from the photo below.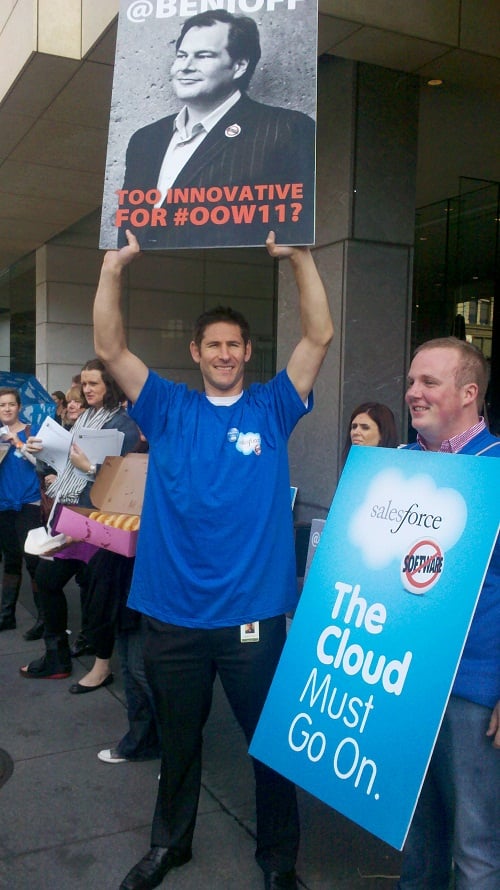 ®