WD HAMRs down shingles on disk drive road map
What sort of nightmares do CTOs have?
Analysis Twenty years ago a myriad of hard drive vendors pushing essentially the same technology fought themselves into oblivion.
Over the coming years the remaining players will be pushing traditional technology to its limits to extend the life of hard disk technology. While the industry is pretty much standardised on perpendicular magnetic recording (PMR) at present, in a couple of years there will be more fundamental hard drive technologies co-existing in the market than there are hard drive vendors.
WD chose Istanbul to sketch out its technology plans earlier this month, with CTO Bill Cain updating us on expected debuts for shingling and heat-assisted magnetic recording (HAMR), and detailing in which storage tiers the technologies are likely to land. He also told us what stops him from sleeping at night.
First up is shingling, which will see more data being crammed onto the platters in disk drives, by overlapping the tracks in which data is written - as with the "shingles" on an American roof. Cain's presentation (see below) showed the technology kicking in around 2014.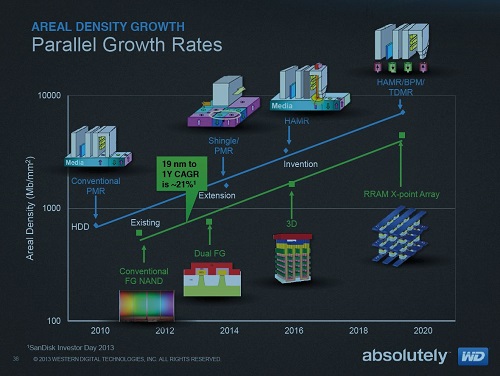 "It sounds like most of the industry is in roughly the same time frame," he says.
Once OEMs and customers have gotten over the roofing and chickenpox jokes they will have to get to grips with the two different approaches covered by the shingling banner.
Type 1 shingling "fully emulates a traditional drive [with] the shingling done under the covers so you could use that in any kind of a client application so we're working on products that would be suitable for that."
Type 2 shingling: "instead of hiding from the host the fact that it is an SMR device, it actually is used in an application where the host is aware."
As for what the application is, WD is working with Seagate, Toshiba, and Hitachi, "to better define what that might be".
The firm is also working with key end customers to identify potential applications, with Cain listing "cold storage, archival storage where again the host system being aware of the device and doing some of that management is important."
Asked if that positioned Type 2 shingled drives as a replacement for tape, Cain said, "that's one of the possibilities. There's more than just tape replacement you can use it for. It's for an application that's probably more sequential writes by nature archival."
He added, "In enterprise systems, predictability of performance is very important - the drives making those tasks visible to the host can end up having a better performance."
HAMR appeared to be slotted in for 2016 according to Cain's slide. "We're continuing to move along with the technology getting the fundamentals developed. It's more of a traditional extension of conventional recording that allows us to be able to push the linear and areal density in a more traditional way."
An extension with the slight complication of adding that heating element, which poses more challenges around head reliability.
As for progress to date, Cain said "We're working on prototype drives that are functioning with that technology [and] making progress towards the productisation. I view that it's a little bit further out in time and I think that's consistent with the messaging from rest of the industry."
Of course, once you've invested in a major step in technology, you're going to want to milk that tech for as long as possible. So what do you do if you've made two big steps?
First of all, said Cain, "you can think of shingling as not quite the same as the transition from longitudinal recording to perpendicular recording".
"You could have shingled an LMR drive. We will shingle PMR drives. You can shingle a HAMR drive," said Cain.
"The sequence would be perpendicular [magnetic recording] then we would use shingling in pertinent applications to extend the perpendicular. Then we'll produce HAMR, to do the same thing.
"I'd say they will coexist for some period of time," he said, giving the vendor plenty of scope for segmenting its products... or at least its marketing.
"For applications that care about the same throughput and that kind of performance attribute then HAMR is definitely the way to go. In other applications where that's less important and capacity overall is more important than SMR, PMR is probably a better solution," he explained. "Both technologies will be available at a particular capacity point then which technology goes into a particular market segment will depend on those attributes."