HGST: Enough of those mutant hybrids. We'll do an Apple, thanks
We don't care what the other HDD guys are doing
HGST has said "no" to hybrids, it would seem. While Seagate, Toshiba and WD are all pushing the idea of hybrid drives, SSHDs, with a flash cache added to the spinning disks, HGST prefers a different approach: separate flash and disk drives.
HGST, the wholly owned but separately operating subsidiary of Western Digital, has a different idea for the notebook use case, and Nigel Edwards, its senior director for EMES sales and channel marketing, explained it:
HGST believes the primary value-add for the hard disk drive in a notebook PC is to provide cost-effective, space-efficient storage in higher capacities. We understand that there are situations where more performance is desired, closer to that of an SSD.
Vendors talking up the advantages of hybrids say that by putting the most actively accessed data on a disk drive into a NAND cache, it can be read quicker and so overall drive data access performance increased. Seagate, Toshiba and WD are all putting 4 to 6 to 8GB of NAND flash on hybrid drives and seeing three potential markets:
Tablets and ultra-thin notebooks needing data access speed, capacity and thinness. A single platter hybrid offering up to 500GB with near-SSD speed will help deliver affordable devices capable of storing lots of photos, videos and music.
Desktop PCs with hybrids poised to offer traditional desktop drive capacity but near-SSD speed for startup, shut down and application load.
Enterprise 2.5-inch drives to give them even faster data access speed without the cost of a full-scale SSD replacement strategy. This is a Seagate-only strategy at present.
HGST's Edwards adds
"Hybrid" HDDs … are being heavily promoted by some HDD suppliers and have some advantages relative to integration of the cache into the HDD form factor, HGST believes that, on balance, dual drive hybrid storage utilising an HDD plus a separate small SSD module is a better solution at this time.

This approach allows the system OEM to select the absolute "best of breed" HDD and cache solutions and combine them in a flexible "mix and match" fashion. The dual drive solution also has inherent performance advantages due to the fact that each drive has a separate high speed interface to the host and the caching algorithm is being managed by a robust software driver with full access to the processing power and resources of the host PC.
The disadvantages of the hybrid drive approach he sees are:
Inadequate speed as data delivery comes from the SSHD's single interface instead from separate, and parallel, flash device and disk drive interfaces.
Better caching algorithm software due to it running on the host's processor rather than in the SSHD's more limited internal processor.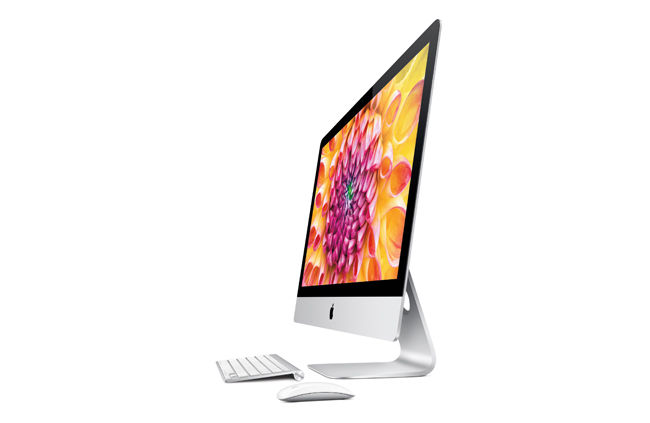 Fusion drive-using Apple iMac
Apple has implemented separate disk and solid state drives in its Fusion scheme with its iMac desktop Macs. These two devices are presented to the user as a single storage resource.
With HGST buying SSD supplier sTec and shipping SSDs co-developed with Intel, the stage is set for HGST to be able to offer Fusion drive-like bundles to its OEMs, a disk drive and SSD combination. El Reg wonders if any OEMs will take up such an offering. ®