5,936 glass valves sitting on a wall...
Flowers, who overcame resistance from colleagues, was right and oversaw builds of the first Colossus, which used 1,500 custom vacuum tubes, or valves, as well as the second, which used 2,400. EDSAC used 3,000 tubes and consumed 12 kW of power. The LEO 1 used 5,936 valves with hundreds more in external units, and had a total power consumption of 30kW.
Wilkes had first encountered thermionic valves through his work on radar during WWII and incorporated them into the build of EDSAC.
But, just as electromechanical relays were gradually replaced throughout the 1950s by vacuum tubes, so these too succumbed to technological progress and were themselves usurped as the logic of choice in a new generation of computers.
Although Flowers convincingly proved that vacuum tubes managed sufficient stability to create previously unimaginable electronic computers and Wilkes used the lessons learned to make huge leaps in processing power, vacuum tubes or valves were never entirely practical for commercial usage. In the early 1950s, Lyons technicians had to replace on average s whopping 50 of these valves each week in LEO I – the business sibling of EDSAC.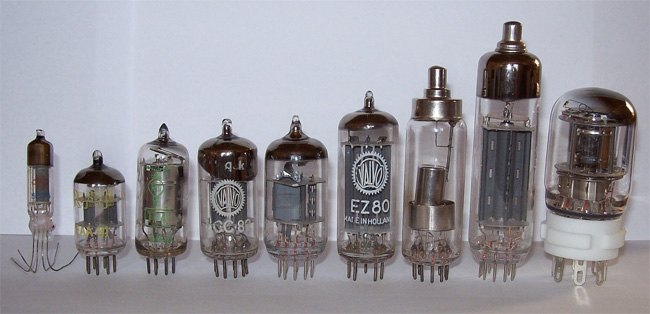 Seems logical: vacuum tubes, thermionic valves, electron tubes on display. Photo credit: Stefan Riepl
In the late 1950s and early 1960s, vacuum tubes made way for semiconductor diodes, and transistor circuitry evolved from the first experimental transistors of the late 1940s. "Solid-state" electronics confined charge carriers within solid materials, rather than a vacuum.
As solid-state research progressed, it became clear that it could be used to build devices that were smaller, more efficient, more reliable, cheaper, lasted longer than tubes, and didn't need time to warm up. The UNIVAC, one of the very first solid-state computers, was created in 1958 and used 700 transistors and 3,000 magnetic amplifiers for logic (although it still relied on 20 vacuum tubes to control power).
Transistors and printed circuit boards transformed the computing world in the 1960s but it was Jack Kilby and Robert Noyce's development of the integrated circuit (IC) or microchip (a technology which had been in research since the heyday of vacuum tube computing) that really revolutionised the industry. Chips exponentially increased processing power and made minicomputers a genuine option for mainstream businesses seeking an edge over competitors.
Intel joined the fray in 1971 with 4004, the world's first commercial microprocessor. 4004 was capable of 60,000 instructions per second, compared to the rather remarkable 100,000 instructions made possible by the 18,000 valves in the ENIAC. Modern chips built around largely the same integration can offer processing and storage capabilities that Maurice Wilkes would only have dreamed about. Just last week China's Tianhe-2 supercomputer became the world's most powerful, posting a peak performance figure of 33.86 petaflops.
Vacuum tubes are gone from computers but remain used in a number of relatively niche areas mostly out of preference today - notably in audiophile sound equipment as well as some radio transmitters. They are believed to provide a "better" or "more unique" sound or to be reliable. Because of this, vacuum tubes are still produced, and there is a thriving online in new old stock (NOS) tubes dating back as far as the 1920s.
Don't rule out a return of the tube to computers, though. NOS stocks may become even more valuable one day, such as in the event of a massive attack on the critical computing infrastructure. That's because vacuum tubes are far less susceptible to damage from nuclear explosions and electromagnetic pulses, unlike today's transistors and ICs - which would get fried in a second. ®
Bootnote
There's a rich history of vacuum tube and valve computing and plenty of readers with hands-on experience of either working with valves or decommissioning the machines that used them. Please share your experiences and anecdotes in the forum topic on this subject..
Sponsored: Webcast: Discover and secure all of your attack surface