Microsoft talks up devices, Windows 8.1 at developer shindig
Win8's long awaited overhaul is here, but will it satisfy?
---
Build 2013 Everything is beautiful at Microsoft's Build developer conference this year. Beautiful, gorgeous, delightful, beautiful, absolutely beautiful.
These days, Redmond's mouthpieces seem to stammer out the word "beautiful" about as often as most speakers say "uh." But beyond all the disingenuous awe and self-congratulation, Wednesday morning's Build keynote showed off some welcome product updates and demonstrated a reinvigorated Microsoft that's determined not to rest on its laurels.
"Rapid release," Microsoft CEO Steve Ballmer bellowed as he took the stage at San Francisco's Moscone Center. "Rapid release!"
Reminding attendees that it's only been eight months since Windows 8 launched, Ballmer talked up the big announcement for this year's Build show – Windows 8.1 – and said that such short upgrade cycles would be "the new norm" for Microsoft, beyond just Windows.
"Rapid release cadence is absolutely fundamental to what we're doing – and, frankly, the way we need to mobilize our ecosystem of hardware and software development partners," Ballmer said.
Windows, Windows everywhere...
To demonstrate how hardware OEMs have been keeping up with Microsoft's cadence, Ballmer showed off a range of Windows devices in a variety of form factors, including several that didn't exist before the Windows 8 launch.
Holding up an 8.1-inch Acer Iconia tablet, Ballmer described it as a new kind of device – one that he said he "wouldn't call a Windows PC," but that still runs full Windows 8 and is part of the larger Windows ecosystem.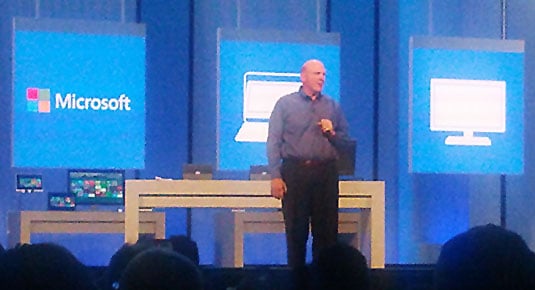 Ballmer showed off the diverse range of Windows devices in his Build 2013 keynote
"This is innovation that had to be unlocked," Ballmer said. "We had to do work on Windows, and our partners had to do work in the semiconductors and in the system designs to really bring the small tablet form factor to light."
Incidentally, Build attendees will all be able to poke and prod at that innovation for themselves, as each will be getting an Iconia tablet, as well as a Surface Pro.
Ballmer also showed off what he described as "workhorse two-in-one tablets," dockable touchscreen devices that include high-powered Intel processors and other hardware features that previously had been reserved for more traditional form factors.
"Should we call that a PC? Should we call it a tablet?" Ballmer asked, positioning for the inevitable punch line. "I call it all Windows, all the time."
One thing that all of the devices onstage shared in common was that they were all touch-enabled – a feature that Ballmer admitted was sorely lacking from most devices that were available when Windows 8 launched.
"Customers who have Windows 8 on touch systems are much, much happier than other Windows 8 customers," Ballmer emphasized, "and in fact they're even happier than our Windows 7 customers."
The Microsoft boss said to expect "literally an outpouring" of new touch devices from Redmond's OEM partners, including ones in the traditional PC form factors, where Ballmer said touch was still "incredibly valuable."
Later in the keynote, Windows VP Antoine Leblond emphasized that these devices would be available at the full range of price points, too. By way of example, he offered a forthcoming Acer notebook and a convertible tablet from Dell, each of which he said was priced under $400.
But all of this talk about hardware was really just the appetizer. Windows 8.1 was what attendees really wanted to hear about – would it really do anything to fix any of customers' grumbles about Windows 8? Fortunately, Microsoft does seem to have made some worthwhile improvements, albeit mostly incremental ones.