Windows 8.1, here at last
Yes, there is a Start button. We knew about that. We also knew that it would be no big deal – just an onscreen version of the Windows key you already have on your keyboard. There's also an option to skip the Start Screen and boot directly to the desktop, as promised, if you know where to find it. Both features earned cheers at the Build keynote.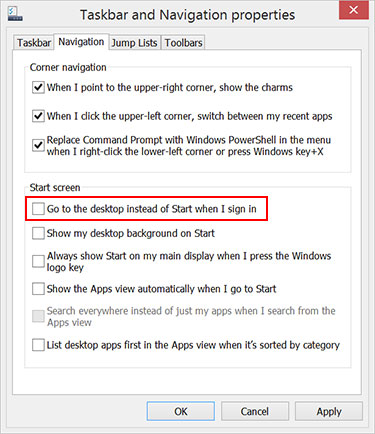 Looking for the boot-to-desktop option? Here's a hint
Even more interesting, however, were the other changes Microsoft has made to make the desktop and The Interface Formerly Known as Metro (TIFKAM) UIs into more equal siblings in Windows 8.1, as well as to make working with TIFKAM apps more attractive to people who are more accustomed to old-style apps.
"We got a lot of feedback from users of those millions of desktop applications that said, if I was to put it in coffee terms, 'Why don't you go refine the blend here?'"
Among Microsoft's refinements, gone are the arbitrary restrictions on how much screen real estate Windows Store apps must fill. In place of Windows 8's awkward and frustrating Snap feature, TIFKAM apps can now be scaled to arbitrary sizes, and you can run more of them at once – Windows chief Julie Larson-Green demonstrated eight of them running on a dual-monitor machine.
It's also now much easier to access the All Apps view to launch applications, which Larson-Green pointed out shows you more icons than the old Start menu ever did.
Beyond those up-front changes, however, Microsoft has sprinkled a generous helping of improvements across many aspects of the OS. The Search Charm, for example, has been enhanced with results from Bing, so that it becomes "the one box that does it all" when you want to find anything, from your own apps and documents to Wikipedia articles and maps.
Various of the built-in Windows Store apps have been updated, including Mail and the Photos app, and Microsoft has rolled out a few new ones to coincide with the Windows 8.1 Preview, including Bing Food & Drink and Bing Health & Fitness. And Windows Store apps now update automatically in Windows 8.1 – no more navigating to the store and updating them by hand.
Perhaps more important, Microsoft has been lobbying major online companies to release Windows 8 versions of their mobile apps, apparently with some success. Soon you won't need to launch a browser to access Facebook on a Windows 8 device, Ballmer said – though he gave no hint as to when a Facebook app might actually appear in the Windows Store.
Other user-facing enhancements include a much-improved onscreen keyboard that has word auto-completion and helpful gestures; new options for the login screen, the lock screen, and the Start Screen background; and, of course, the debut of Internet Explorer 11, which introduces support for WebGL and MPEG DASH.
Still other changes have been made under the hood, such as support for tiled resources for 3D graphics, which allows for incredibly high-resolution 3D rendered images. In fact, Leblond said there are literally 5,000 new APIs in Windows 8.1 – a staggering figure, and one we plan to explore in detail in the future.
Where to get it
You'll hear much more about all of these aspects of Windows 8.1 from The Register soon, in fact, including a detailed review after we've had a chance to properly kick the tires.
In the meantime, current Windows 8 users can get the update here. You'll need to install a small patch and then restart, after which you'll be guided to the Windows Store to grab the Windows 8.1 Preview bits themselves.
Installing the Windows 8.1 Preview works a little differently than most updates (click to enlarge)
Alternatively, if you're on an earlier version of Windows, a version of Windows in an unsupported language, or you just don't want to install from the Windows Store, you will soon be able to download an ISO file for a clean install. The ISO image wasn't available on Wednesday, but Microsoft's website says it will appear in the coming days.
Be warned, however – Microsoft's servers seemed to be heavily burdened on Wednesday, and installing the update on a Surface Pro took around two hours. Also, be advised that if you do install the Preview, you will need to reinstall all of your Windows Store apps once you update to the final version of Windows 8.1, which isn't due until later this year.
But if you're brave, go ahead and take it out for a spin. We'll be interested to hear whether you think everything about Windows 8.1 is as "beautiful" as Microsoft employees think it is. ®