Mint gets MATE
Cinnamon 1.8 offers a much better integrated system settings panel. Previously some system settings were part of the Cinnamon system setting panel and some the GNOME settings panel, which was confusing and annoying. Thankfully, everything is in one place now. The panel itself is largely unchanged, but given that one of the major appeals of Mint over desktops like Unity or GNOME Shell is the ease of customization, the unification gives Cinnamon a much more focused, integrated feel and will go a long way toward helping newcomers get to terms with the desktop and tweak it to their liking.
Another nice new bit of integration in this release involves what Cinnamon calls "Spices" - little applets, desklets, themes and extensions that enhance the desktop. Previously Spices were downloaded from a website and installing them was a manual process. In Cinnamon 1.8 the process of finding and installing Spices is all handled within the "extensions" pane of the Cinnamon settings panel.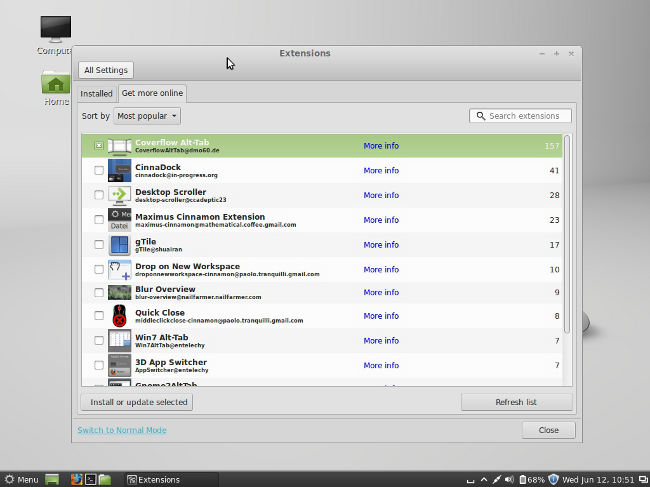 A Cinnamon extensions pane helps spice up your desktop
Other new Cinnamon features include a screensaver that allows for personalized messages and support for "desklets", which are essentially desktop widgets. This release ships with a scant three, which you can find by right-clicking the desktop and selecting the desklets menu item. That will open a panel with a clock, a photo frame and a launcher. A few more can be found by hitting the "Find More Online" button, including an XKCD widget, but look for more desklets options to show up once the community gets to work.
The Mint team also has some new features for those who prefer the MATE desktop. Adhering much more to the look and feel of GNOME 2.x, MATE offers an alternative to GNOME 3's fallback mode. Mint 15 ships with MATE 1.6, which doesn't look all that different from its predecessors, but offers a ton of under-the-hood improvements. The file manager has been slightly overhauled, offering some of the same sidebar features found in Nemo, and there are some new settings options as well.
Mint 15 is all about polish, not just in Cinnamon and MATE, but in everything from the login screen, which can now be customized with themes that use simple HTML and CSS, to the installation menu which helpfully offers to encrypt your disk and install LVM tools if you'd like them.
Mint also packages a few apps you won't find in most distros - extras like VLC and GIMP are included along with standards like Firefox, Thunderbird and LibreOffice. There are two ways to look at that: some will like it since it means you don't have to go download the apps yourself, though others will no doubt think of it as bloatware.
That's the good news for Mint 15. The bad news is that Mint is a very young distro and thus far it tends to take Ubuntu releases part and parcel. Bugs in Ubuntu will hit Mint as well, which means at least some of Mint's appeal - that it's improving on Ubuntu - is lost. It's also a little unclear whether Mint is planning to follow Ubuntu, as the older distro moves further and further away from the Linux mainstream.
While some aspects of Mint's future may be uncertain, for now the Mint project continues to churn out impressive releases. Mint 15 has been rock solid in my testing. It even runs quite well on my underpowered EeePC netbook.
Indeed, Mint 15 manages to succeed at what the Mint project set out to do - take what's good about Ubuntu, fix what's bad about it and add a little polish on top. While previous releases have shown promise, Mint 15 is the first to really deliver on those goals. If the world of GNOME Shell and Unity leave you feeling cold, Mint 15 just might offer a solution. ®