HPC storage supplier Panasas says its DataRunner transfer software can move files between systems and sites up to 16 times faster than standard network transfer protocols, such as FTP and rsync.
Panasas' CMO Barbara Murphy said in a canned quote: "DataRunner assures high-speed, secure data movement while maintaining up to 100 per cent bandwidth utilisation regardless of network conditions, file size, distance or latency."
It optimises both WAN and LAN performance, with parallel streaming to speed data transfer. There is single instance file deduplication, but no deduping inside a file.
Compression is used to lower network bandwidth requirements and DataRunner is fully scriptable. There is block-level data integrity and encryption is also available. Any failed network transfer is resumed at the break-point.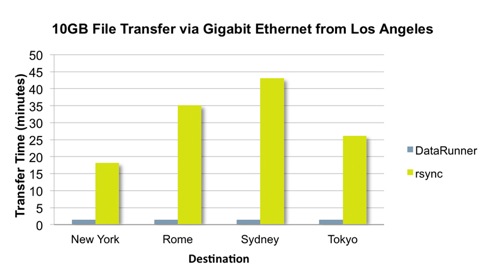 DataRunner's claimed international data transfer times vs rsync.
Each participating file transfer site needs an x64 Intel server with 2GHz or faster processor and a minimum 4GB of memory; 8GB is preferred. The supported operating systems are RHEL, SUSE Linux Enterprise Server, Centos and Mac OS.
Panasas says DataRunner is good for use with its own storage arrays but will also work with other arrays. How it stacks up against other WAN optimisers, like Riverbed's Steelhead, is unknown as yet. It will probably need benchmarking by customers. ®