Would-be world standard
Would the punters prefer that to the then current array of largely incompatible home-grown micros? Sinclair Research's then MD, Nigel Searle, was sceptical. He told Your Computer in 1984 that he believed Microsoft's standardisation drive had come too soon. Better, he said, to wait for the next-generation of home machines based on 16- or 32-bit processors. Prescient thinking or fear-induced bluster?
Meanwhile, the MSX machine began to move. Microsoft announced a MSX-centric version of MS-DOS semi-compatible with Digital Research's CP/M operating system, to be called MSX-DOS of course, in October 1983. It had been put together by MS-DOS' original writer, Tim Paterson, back in Seattle. At the same time, the first six machines from Japanese vendors were introduced at the Japan Data Show.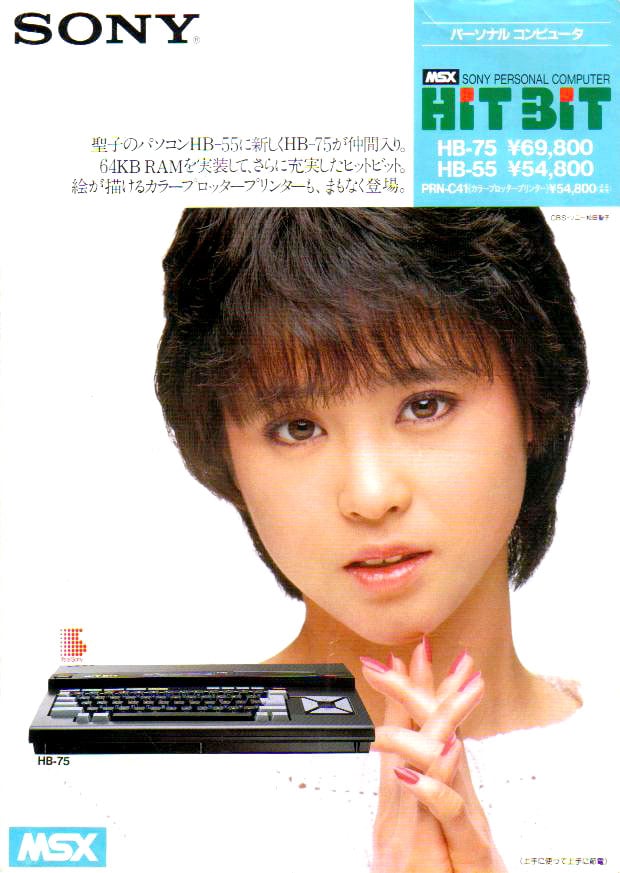 Big in Japan: Sony's MSX machines were among the more popular offerings
US-based Spectravideo had already announced its first MSX machines, in the States at least, and launched them during the latter part of 1983. Its two offerings were the SVI 318 and the SVI 328, the former a £199 micro with a built-in joystick, 32KB of Ram - 16KB of which, remember, was dedicated to the graphics as per the MSX spec - and 32KB of Rom.
The £275 SV328 came with a total of 80KB of Ram and 48KB of Rom. It lacked the cheaper machine's joystick but in keeping with its higher price and emphasis on more serious users, it had a separate numeric pad alongside the keyboard.
Both machines required a dedicated cassette recorder - a trick pioneered by fellow US vendor Commodore - and Spectravideo offered a range of the accessories, including disc drive and Centronics printer interface add-ons, and Ram expansion cards.
All well and good, except that Spectravideo's machines were not fully compatible with the MSX specification. They had, after all, been devised before the MSX specification had been nailed down. When the news made it to the UK, an understandably peeved Tony Noble, head of computer dealer The Gamekeeper, the company retailing the bulk of Spectravideo imports, told PCN: "We nearly sent the whole lot back."
Spectravideo's UK distributor, Weston-Super-Mare based CK Supplies, grumbled that it had been "misinformed" by the manufacturer, which, it said, had proclaimed full MSX compatibility in all of its adverts up to that point.
Spectravideo itself said its machines were true to the MSX specification as originally defined, and that it wasn't the companies fault that the standard had changed after it had put its machines into production. CK promised a £30 adaptor to fix the Rom slot incompatibility. Spectravideo itself would eventually release a fully compatible MSX machine, the 728, in the autumn of 1984.
By January of that year, all of the machines were on sale in Japan, but few had appeared over here yet. They were unveiled to major UK retailers at a special event held early in February alongside the British Toy and Hobby Fair trade show, and it was becoming clear that most of the machines - if not all of them - would not be widely available here for another six or seven months.
Indeed, to help keep the platform in the mind of the public, the array of incoming Sonys, Toshibas, Yamahas et al were once again shown off, this time to the press, in May.
Of course, while the prices of the machines had originally been forecast to be under £200, by now MSX manufacturers were simply saying that prices would be "competitive". But British backers of the standard, gathered together under Toshiba's leadership as the MSX Working Group, were by now claiming all the key UK software vendors, among them Psion, Quicksilva, Virgin, Melbourne House, Thorn EMI, Silversoft and Hewson, were working on games for the platform. Bug-Byte, Kuma, Aligata, Ocean and Ultimate were said to be considering jumping in too.
Some insiders, however, claimed software developers had been bullied into developing MSX games by the platform's fans within major UK retail chains.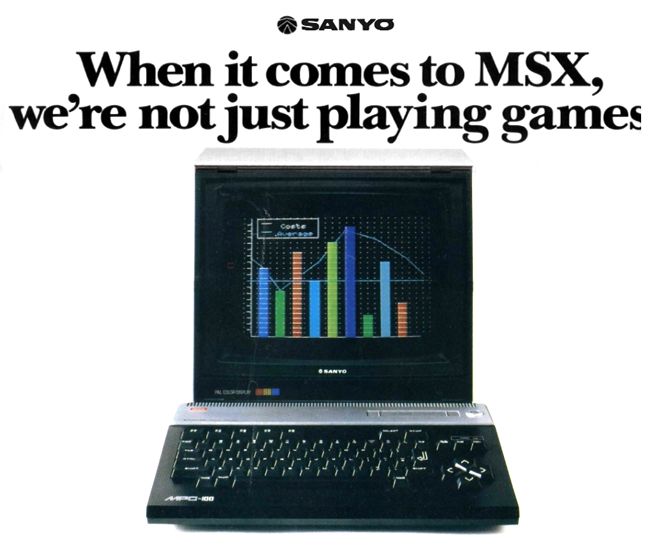 Sanyo pitches its MCP-100
No wonder hardware companies were beginning to wonder whether they should come on board too. There had already been one or two rumours that troubled Welsh micro-maker Dragon Data was planning to release an MSX machine; its parent, GEC, was one of seven other European firms known to be talking to Microsoft about licensing MSX.
"Our view at the moment is that MSX in the way we will go," Dragon marketing executive Kevin Stephens told Popular Computing Weekly. "If so, we will almost certainly also be doing software for MSX."
Within weeks, however, GEC had called the receivers in to administer Dragon Data's sale or closure. GEC indicated it still planned to seek an MSX licence, but such a move would come to nought. In October, GEC said an MSX machine was no longer on the cards while the company considered whether it wanted to be involved in the home computer market at all.
"Originally, we planned to bring out the MSX computer this autumn," GEC Radio and TV marketing manager Dennis Judd told Popular Computing Weekly at the time. "However, we were unable to obtain sufficient supplies and as a result have shelved the whole project."