Favourable reception
Reviewers were generally more favourable toward the MSX machines, praising the platform's implementation of Basic and the platform's mandated software compatibility, but were critical of the ageing hardware specification and its relatively high price.
"Microsoft has done a good job in providing a powerful and clean Basic," wrote Glyn Moody in Your Computer's November 1984 issue. "Everything you would expect from a reasonably structured Basic is there, along with powerful sound, graphics and sprite commands... Editing is carried out simply and efficiently using the cursor, insert and delete keys."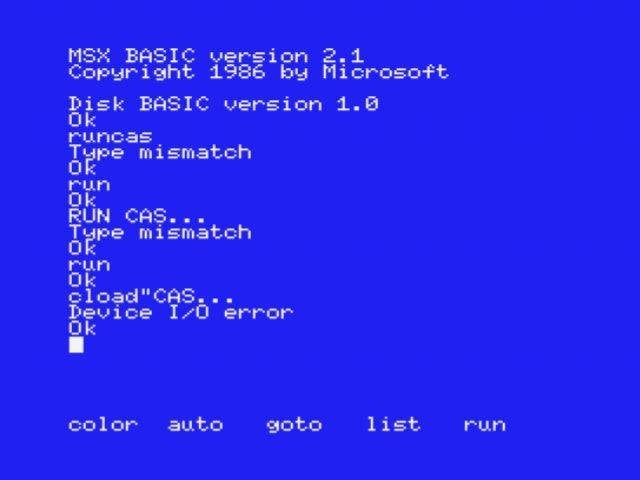 MSX Basic boots
MSX Basic had some novelties, most notably its trigger commands, including INTERVAL, KEY, SPRITE and STRIG, allowing programs to jump to subroutines at, respectively, set time intervals, on joystick trigger presses, on key presses and when sprites collide. A fifth command, STOP, was triggered when the Stop key was pressed.
Separately, VPEEK and VPOKE applied the notion behind the commonplace PEEK and POKE commands to the video Ram.
"In ordinary loops and GOTOs, the MSX machines emerged as about half as fast as the BBC [Micro] and twice as fast as the Spectrum. But in one speed check designed to test the maths routines - such as calculating sines, logs and so on - the MSX micros were markedly slower. This is mostly due to the fact that they work to 14-digit precision. This is hot stuff for a home micro, but the penalty you pay is loss of speed in intensive number crunching activities." Other Basics used ten-digit precision.
Anticipating the imminent arrival of an eager fanbase, UK publishers began to lay out their stalls for MSX titles, among them Argus Specialist Press' MSX User, and What MSX? and MSX Computing, both from Haymarket and published on alternate months.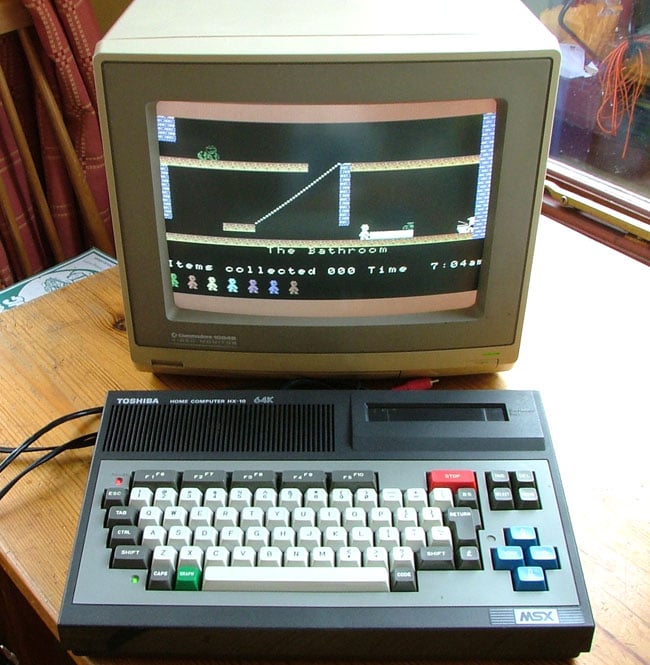 Toshiba's HX-10
Source: Quagmire
"You're going to hear so much about MSX in the future that it will become as much a part of your vocabulary as Hoover, Sellotape or VHS," said What MSX? magazine. "In the not-too-distant future, the MSX computer is going to be as much a part of the home as the telephone, the television and the car."
By the autumn of 1984, a year on from MSX's Japanese launch, the format had about 15 per cent of the Japanese micro market running from home machines to business desktops, based on the number of machines sold, What MSX? reported. According to MSX User, the format's share of the Japanese home computer market stood at almost 40 per cent.
Sony, Matsushita's National, Toshiba and Fujitsu accounted for around 80 per cent of MSX sales, followed by Canon, Yamaha, Hitachi, Sanyo and Mitsubishi, who took most of the rest, leaving a little left over for JVC, Pioneer and others.
Here in the UK, it was very different. Christmas 1984 was tough for all home computer makers and sellers in the UK. There's no readily available sales data for the performance of MSX over the holiday season, but if the likes of Oric, Sinclair and, in particular, Acorn suffered so badly, it's hard to believe that MSX sales were conversely strong.
Of course, the cost model was different. Domestic companies were manufacturers - the UK wings of Sony, Toshiba, Yamaha, Hitachi and co. were simply importing kit built by their parent companies. Sales were strong in Japan. Whatever sales the subsidiaries made in the UK were bonuses.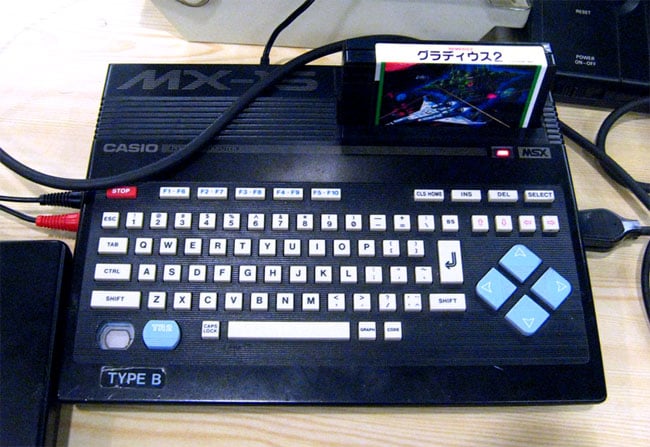 Casio's MX-15
Source: Staffan Vilcans
And MSX itself was already moving on. A second-generation spec, initally called MSX-E, had been discussed as far back as the Japanese MSX launch in 1983, and by spring 1985, vendors were giving private views of their MSX 2 kit with its 512 x 212 hi-res graphics, 80-column text screen, and support for 256 colours and nine sound channels. The improved graphics derived from the addition of a Yamaha V9938 video chip in place of the TI 9918. A new version of MSX-Basic, MSX-Basic 2.0, provided extra commands to make use of the new facilities.
A now sound chip, also from Yamaha, the YM2149, replaced the original General Instrument AY-3-8910. MSX 2 supported 48KB of Rom to encompass an extra 16KB for disk or audio Bios extensions. The memory size was upped to a minimum of 64KB, and the video buffer to 128KB. The already selected 3.5-inch disk format may not have been mandatory, but it was certainly so widely used as to be a de facto standard.
Toshiba, said to have been the most successful MSX backer in Britain, in part thanks to its leadership of the MSX Working Group here, demo'd its HX-33 and HX-34 micros - the latter capable of connecting to a video disc player - though it insisted in public that neither would go on sale before Christmas 1985. Other vendors likewise pointed to an early 1986 launch.