This article is more than 1 year old
MSX: The Japanese are coming! The Japanese are coming!
The first would-be home computing standard... 30 years on
Athletic support
Perhaps the departure of Dragon's core technical team to Thorn EMI, where they would produce the Liberator laptop, had something to do with the decision. Derek Williams, who was Dragon's Technical Director and one of those who jumped from the sinking company to join Thorn, says Dragon did briefly consider the platform but that no development project was ever drawn up. The company was more keen to break into the business market with a 16-bit system based on the Motorola 68000 processor, and focused its energies there.
Oric would later likewise talk up its efforts to develop an MSX machine in the weeks before it went tits up early in 1985. Oric's MSX machine was never seen, but a Dragon MSX prototype was put together. Not by Dragon, but by Hong Kong hardware company Radofin, which had designed the Mattel Aquarius. Several of these are believed to have been assembled for Dragon's subsequent owner, Spain's Eurohard. When Eurohard too when tits up, it handed out its few Dragon MSX boxes to workers in lieu of salaries.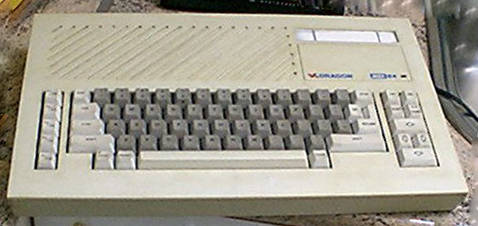 Very rare beast: Eurohard's Radofin-made Dragon MSX
Source: Miguel Durán
Philips was another European company that expressed an interest in MSX, though it kept quiet about it through most of 1983 and 1984. It finally came clean in September that its "MSX machine is now ready", according to company product marketing manager Sixto Rodriguez, who spoke to Popular Computing Weekly. In the end, Philips would stay out of the UK market, releasing its VG 8000 box in the Netherlands, Italy, Germany and France.
Back in Japan, MSX manufacturers agreed to use Sony's 3.5-inch floppy disk format, to be controlled by MSX-DOS. "A disk format standard is a fundamental part of the thinking behind MSX and it is inevitable that one of us has to lose out," admitted Alan Geekie of Hitachi UK, which had been hoping its own, 3-inch floppy format would be selected for MSX.
MSX formally launched in the UK at the end of September 1984, 15 months after MSX's own launch and almost a year after kit began appearing in Japan. Canon, Hitachi, JVC, Mitsubishi, Sanyo, Sony and Toshiba all released kit, but now priced closer to £300 than the £200 price point the platform had originally been pegged to. More than 50 software houses had committed themselves to supporting the platform, the MSX Working Group claimed, including all the big names.
By now, Casio had licensed MSX and released a machine in Japan. Brother and Sharp had also agreed to support the platform. So had Japanese camera company Yashica and even videogames pioneer Sega was getting in one the act, announcing in October 1984 the Yeno DPH-64, the follow-up to its Z80A-based Yeno SC3000, some 120,000 of which were sold in Japan during 1983 though it was never brought to Britain.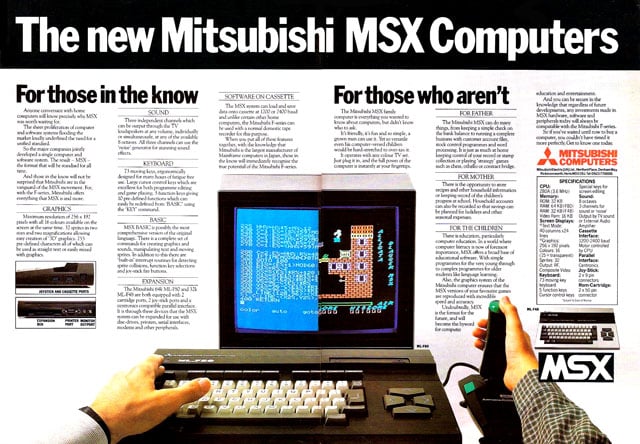 Click for a larger version
UK buyers were offered the Spectravideo SV 728, a version of the 328 updated for full MSX compatibility and released over here in the autumn of 1984. Ditto the Goldstar MSX, brought to the UK by Micro Dealer. Goldstar is now better known as LG.
These two joined the Sanyo MPC 100, Sony Hit-Bit HB-55, Toshiba HX-10 and the Yamaha CX-5. Other backers, including Canon, JVC and Mitsubishi, decided to hold back and release their machines here toward the end of the year, the better to take advantage of pre-Christmas sales and to await the arrival of more games software.
Yamaha offered its CX-5 and, later, YIS 50311 through music shops, making use of a bundled three-and-a-half octave piano keyboard, a MIDI interface and an on-board synthesiser to pitch the computer at musicians.
Sir Clive Sinclair was dismissive: "[MSX is] certainly not a commercial threat to us," he said in response to television's Tony Bastable on 1984 ITV show Data Base. "It's quite clear what has happened here: Japan and America have both, strangely as it may seem, failed to do anything like as well as Britain in the personal computer business... Japanese companies like Sony and many others have tried again and again to enter the British market and succeed here... and they haven't done very well.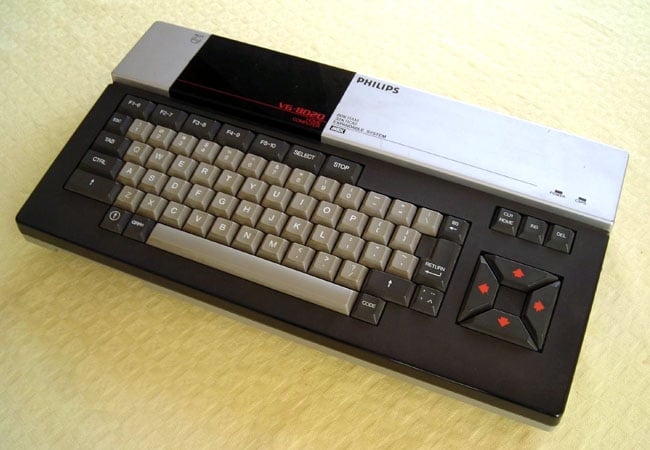 Phillips' VG8020
Source: Audrey and Max
"So they got together to form a common standard, and they've had that common standard in Japan for a year or so [but] what should be realised is that all those companies together, all of them throughout Japan, make fewer computers than Sinclair Research on its own.
"It's like if all the car manufacturers got together and said, 'Let's all have the same engine, the same gearbox, the same axle and let's use the one designed five years ago, wouldn't that be great?'
"Nobody will have to bother about it: they'll all take the same parts, but it'll be a five-year-old card and they'll all be the same."