The UK's amateur radio operators have banded together to insist that Wi-Fi be properly confined to 2.4GHz, in response to Ofcom's suggestion that LTE be allowed to nestle up real close to other bands.
Under the auspices of the Radio Society of Great Britain (RSGB), various ham radio groups have said that the 10MHz immediately below the 2.4GHz ISM band should be kept free of all other transmissions (except a few amateurs who can be trusted to behave themselves, of course) for the sake of Wi-Fi, Bluetooth, ZigBee and all the other protocols using the 2.4GHz band.
Ofcom's call for input (pdf, succinct) was published last month, along with an audit showing just how crowded the 2.4GHz Licence Exempt band is (pdf, longer, but more interesting).
Wi-Fi might be steadily migrating up to 5GHz, where there's more space to play, but Bluetooth, Zigbee, RFID, railway tags and hobbyist audio links are all stuck at 2.4GHz, and might not tolerate new neighbours running 4G telephony.
The band below ISM is owned by the Ministry of Defence, but under Administered Incentive Pricing the MoD has to pay for it even if it's not being used. AIP was brought in to encourage exactly this kind of sell off, fulfilling Ofcom's remit of filling the airwaves to capacity - but packing LTE adjacent to ISM could significantly reduce that capacity.
The amateurs argue (pdf, short and to the point) that LTE can be expected to generate interference 10MHz beyond its allocation (radio signals being bell shaped, the end of the curve inevitably stretches into neighbouring bands) and could therefore take out half of 802.11n and a quarter of 802.11g.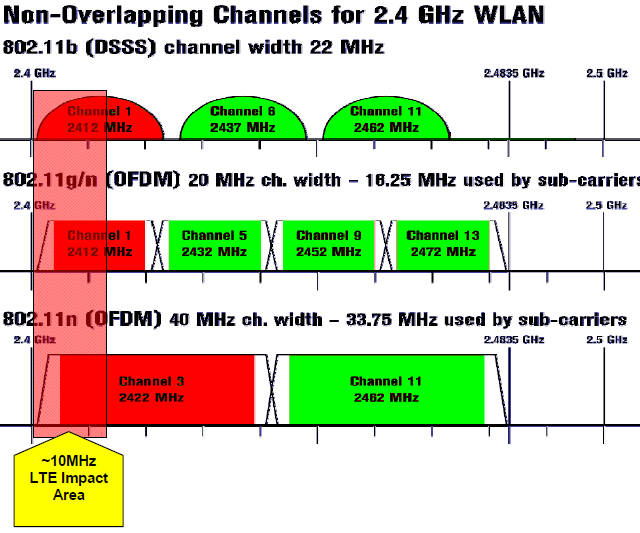 The popular bands and how they'll be hit, if there's no buffer band left in place over to the left
Ofcom is a long way from making a decision; this was only a preliminary consultation to discover what people are using the bands for. Amateur radio operators use it for (licensed) repeaters and satellite communications, and would like to run some TV transmissions there too. Hitching themselves to Wi-Fi makes a much better argument for keeping a decent guard band in place, though.
The ISM band, at 2.4GHz, continues to challenge spectral policy thanks to its enduring popularity and massive utilisation. Regulators around the world, led by Ofcom, auction off radio spectrum on the understanding that he who pays most has the greatest incentive to fill the airwaves efficiently. But the 2.4GHz band is the most utilised in the world - and was given away for nothing - which challenges that understanding.
Ofcom's remit to ensure maximum use of radio spectrum requires that they keep the 2.4GHz band available for unlicensed use, even if that means leaving a 10MHz guard band fallow. There'll be another consultation before any decision is made. ®