This article is more than 1 year old
Kaminario: We can keep it up longer than other flash array bods
Rolls out 7-year guarantee... but read the fine print
Flash array supplier Kaminario says its new K2 arrays will last for seven years - and claims performance drop-off during a system failure will never be more than 25 per cent.
The Performance Consistency Guarantee says Kaminario will send its customers additional array capacity if performance does drop off more than 25 per cent during a system failure.
It's confident its arrays can perform during a system failure because, Kaminario says, they have no one single point of failure. Data integrity is kept intact throughout a failure and its workload performance levels are … well, this is what they told El Reg:
"Kaminario scale-out uses a unique log structure array (LSA) to optimally write to flash with the lowest write amplification in the industry."
We can't see why this has anything to do with sustaining a level of performance during a system failure, but maybe Reg readers can.
In the Kaminario lexicon a "system failure" is a failure of a node component or a full node. Should a node fail, the company says its guarantee applies to customers "with configurations of 1 K-Block or more" purchased with a maintenance contract from June 2013 and beyond.
A K-Block is the minimum K2 array specification. Multiple K-Blocks are aggregated for scale-out capacity and performance. For more info, the K2 datasheet is available here (pdf).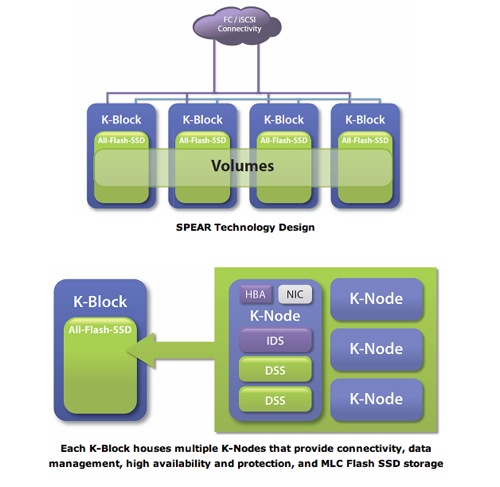 Kaminario K-Block architecture
Each K-Block has multiple nodes - there are four shown in the diagram. If one fails then the other three nodes continue working and, with Kaminario's technology, take up the workload with a drop in performance that is no more than 25 per cent.
Note, though, that multiple node failure in a K-Block is seemingly not covered by the guarantee.
Kaminario says the 7-year endurance is warrantied, with its Flash Endurance Booster programme specifying it applies to all flash drives in a purchased K2 system. The programme started this month and customers must have a maintenance contract whereby Kaminario will replace failed drives - or apply some other remedy, at its discretion.
Kaminario claims its endurance warranty is two to four years longer than those offered by other flash array suppliers. ®