UK sitting on top of at least 50 years of shale gas – report
Hey, let's reverse the pipelines and undercut the Russians!
---
The UK is sitting on a cheap energy economic revolution comparable to the heyday of North Sea Oil, the British Geological Survey suggests.
The Survey's estimate of the potential gas reserves of the Bowland–Hodder shale formation - finally published today – indicate that using today's technology, the rocks should yield 1,329 TCF (trillion cubic feet) or 37.7 TCM (37,631 BCM, or billion cubic metres) of gas.
Bowland Shale is a rock formation stretching from the Irish Sea, across the Midlands and Lancashire, to North Yorkshire. It's just one of several promising rock formations in the UK rich in gas. Others in the West Country, South East England, and Scotland have yet to be surveyed and estimated for their potential.
Nevertheless, the scale of the Bowland shale resource – which rips up the UK's energy reserve estimates – needs to be put in perspective. 1300TCF is equivalent to 47 years of total UK gas consumption, 268 years of UK gas imports, or 90 years of the UK's North Sea gas production.
Last year the world's biggest gas exporter, Russia, produced 592 BCM of gas, or just 1.5 per cent of the Bowland shale field alone.
Some private estimates put the figure even higher. iGas, which has licenses to explore Bowland, reckons up to 170m TCF can be recovered from the area in which it operates.
The UK is also uniquely dense and layered, say gas experts, meaning higher yields, and a lighter footprint.
It's also worth bearing in mind that the figures are based on a 10 per cent recovery rate – a figure likely to increase with technological innovation and know-how.
To sway nervous NIMBYs and other Radio 4 listeners, fearful of an impending frackocalypse, the Government has promised sweeteners of £100,000 worth of "community benefits"* per well site and 1 per cent of revenues at the production stage.
Cheap energy also has knock-on effects for the economy. It's less of a factor for marketing consultancies or search engine optimisation (SEO) boutiques, but rather more important for things like manufacturing, construction, transport and other industries which make and deliver actual stuff, create serious jobs for serious numbers of people and drive exports.
In the USA, shale gas has transformed long-term economic decline, helping industry bring jobs back to the United States that it was losing to overseas rivals for decades. While the USA cannot compete on labour costs with China and other Asian rivals, labour is just one factor in the mix – cheap energy has made manufacturing and heavy industry competitive again.
Meanwhile energy regulator Ofgem today warned (pdf) of an increased risk of power cuts as the UK's diminishing electricity production capacity falls to within 2 per cent of demand – a squeeze Ofgem says has come faster than anticipated.
"Reducing emissions means we have to leave shale gas and other unconventional fuels in the ground," televised wrestling conglomerate hard-green pressure group WWF insisted in a policy statement on shale gas last year.
Good luck with that, chaps. ®
Useful Links
BGS Bowland Gas Survey
DECC Media Summary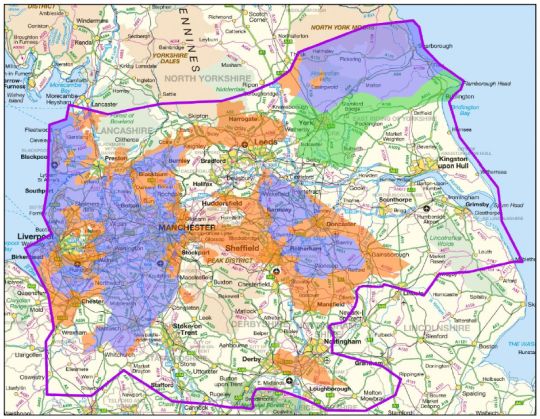 A map of England's recoverable shale gas reserves. Click to enlarge.