This article is more than 1 year old
Acer aims low, gets into BT's trousers
Competing with the smartphone elite 'pointless' apparently
Pics At BT Tower in London this week, Acer was all smiles having secured positions for two of its recent smartphones on the BT Business mobiles roster. The Acer Liquid E1 and Z2 are both Android handsets running Jellybean and are pitched at BT biz customers whose pockets are not so deep.
The Liquid E1 features a 4.5in 540 x 960-pixel screen and a 1GHz dual-core processor whereas the pebble-like Liquid Z2 with its 3.5in 320 x 480-pixel display has just a single 1GHz CPU.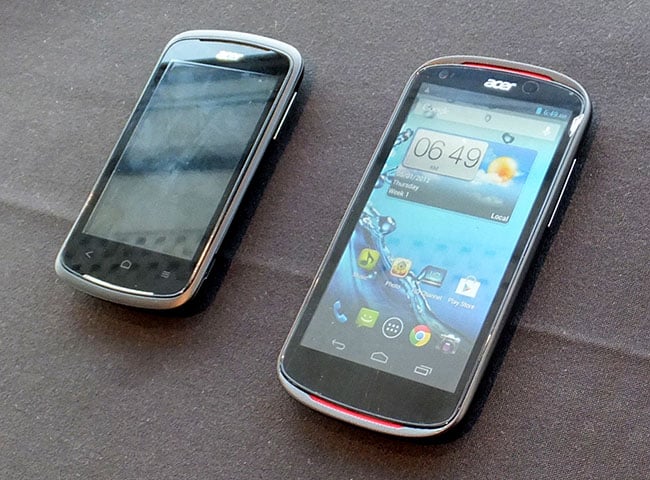 Sidestepping the competition: Acer's looks to affordability to win it friends with the Liquid Z2 and E1
Acer sales manager Ronnie Burnett was keen to stress that although the company had been working with BT for "a few years now" it wanted to get its mobility products accepted too. The only way to do this, it seems, was to aim low.
"There's no two ways about it, we're very, very clear as a business, as a brand where we sit in the mobile devices space. There's no wish or desire to go head-to-head and compete with the established brands, it's pointless," he said.
The sizeable S1 phablet has yet to make it on to the BT Business mobility customer options, but Acer remains optimistic
Few would argue with that; an Acer mobile has never been a must-have on the shopping list of the fashion conscious. Yet where Acer sees its market niche – in the shadow of those high ticket handsets on offer to BT Business customers – is to deliver decent smartphone features for an affordable price. Although Android is the platform of choice here, apparently the company is resisting temptation to tinker with these low-end business mobes.
"Everything's based on Jellybean and our intention is really to keep that UI, that user experience very very simple, we're not going to mess around and play with it," said Burnett.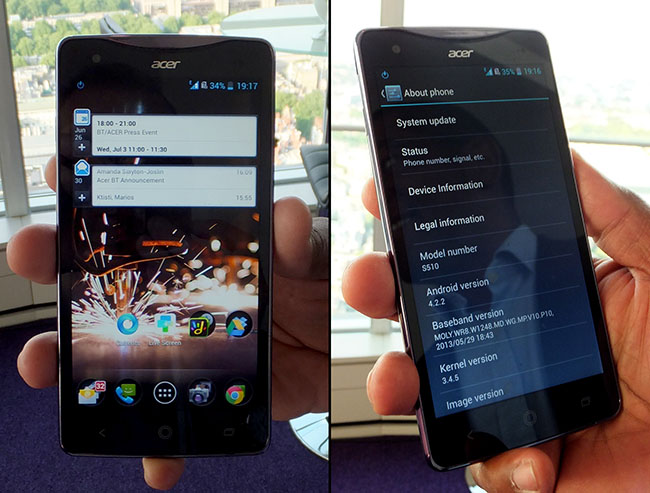 Conversation piece: Acer's Liquid S1 phablet
Acer's Liquid S1 phablet was also on show. Having only just been announced, it is not among the options for BT Biz customers on a budget, who can choose the E1 and Z2 handsets as options in July. Burnett admitted that BT had yet to be persuaded to take on the Liquid S1, a 5.7in, 1280 x 720 resolution handset equipped with a 1.5GHz quad-core CPU.
Available on BT Talk Time and other tariffs, the Liquid E1 and Z2 can also be picked up sim-free for around £150 and £100 respectively. The price of the S1 is expected to be £279.

Acer Aspire R7 does a turn – click for a larger image
The event was also an opportunity to showcase other products announced at Computex recently. Among them, the Aspire R7 Windows 8 notebook with its "Ezel" hinge that enables the 15.6in touchscreen to flip over into four positions. More pocketable was the Iconia W3 Atom-powered 8in tablet, currently touted as the world's smallest Windows 8 device.
The world's smallest Windows 8 device, for now at least
The Aspire P3 tablet-cum-Ultrabook made an appearance too, you can read our full review of it here.
BT Business offers a range of handset tariffs to suit the needs of its one million customers, the current deals are as follows:
BT Talk Time Solo: single user packages for one to five handsets – minutes, text and data with a handset from £17.50 to £35 per month.
BT Talk Time Sharer: shared minutes and SMS packages for five+ handsets with a range of extras covering data, SMS and international roaming. The company also offers bespoke deals and mobile broadband options.
®