One of the most familiar faces of chip giant Intel is CTO Justin Rattner, and he has just announced his departure from the company.
Rattner joined Chipzilla in 1973, and six years later he was the company's first principal engineer. He was named its fourth Intel Fellow in 1988 thanks in large part to his work in parallel computing and network interconnects.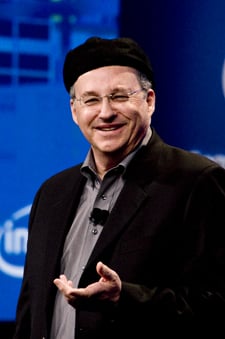 Intel's former CTO Justin Rattner
In 2001, Rattner was among the first group of Senior Fellows named by Intel from its techy ranks, a title that bequeaths a certain amount of leeway to the beholder, and since 2005 he has been Intel's CTO and director of Intel Labs – perhaps one of the most fun jobs on the planet – and has given a keynote address at every Intel Developer Forum shindig.
Rattner got his bachelors and masters degrees in computer science and electrical engineering from Cornell University, and did stints at HP and Xerox before coming to Intel and working mostly from its chip research facilities outside of Beaverton, Oregon.
In a statement released late Thursday, Intel said that Rattner, who is 65, would have had to step down as a corporate officer this year no matter what because of its long-standing policy of not allowing such officers to remain in a top role beyond the age of 65. But there is more to the story than this.
Rattner's somewhat abrupt departure just after hosting an Intel Research event this weekand ahead of the next IDF, to be held in September, is due to a "pressing family matter" and he is taking personal leave immediately. Rattner is expected to return to Intel in some role at a later date.
In the meantime, Intel Labs will report to former software chief and now president Renee James, who is second in command to new CEO Brian Krzanich. ®