This article is more than 1 year old
Microsoft's MoodScope app predicts smartphones users' feelings
Windows Phone 8 and BlackBerry users default to 'lonely'?
A team at Microsoft Research has developed an app for smartphones that they say will accurately gauge the mood of the user based on their activity, location, and time of day.
"Mood sensing can build an interesting digital social ecosystem as users' devices automatically share their moods with close friends and family," the researchers state in their paper MoodScope: Building a Mood Sensor from Smartphone Usage Patterns".
"Privacy concerns aside," they write, "these moods would enhance social networks by allowing users to share mood states automatically. Users would be able to know better how and when to communicate with others."
Microsoft tried out the system with 32 volunteers running the app for a two-month period, and reports that the MoodScope app can estimate a user's mood with 66 per cent accuracy, and with training the software can increase that figure to 93 per cent. No extra sensors are required and the app uses 3.5 milliwatt-hours a day.
The researchers took volunteers from China and the US and got them to log their mood swings, with 75 per cent of the subjects making four entries or more every day using an iOS app. (Could they not find enough Windows Phone 8 users, one wonders?). The researchers then mapped those moods against the 15,683 phone calls, 36,989 SMSes, 13,476 emails, 142,633 instances of application usage, 27,411 web visits, and 1,146 location records from the phones.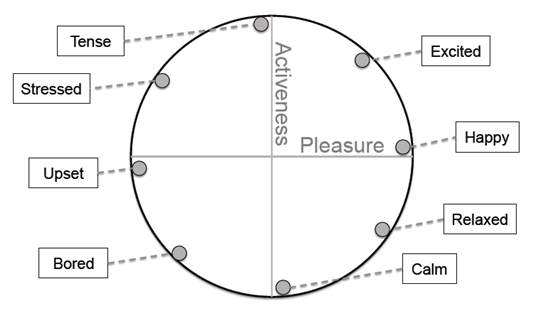 The eight moods of Microsoft
The data showed that people used different applications and displayed altered usage patterns depending on how their mood changed. The team built a mood-inference engine from this data, and used that to customize the user interface to bring up the most likely to be used applications.
The Microsoft researchers acknowledge that the work is its early stages of development, considering the small sample size and limited data set gained so far. There are also unexpected factors that will influence mood, be they deadlines, weather, or unexpected news, but the researchers suggest that with more data sets, the MoodScope could get a lot better.
On a practical note, the researchers said that the MoodScope app could be used to post status updates on social media (because we really need a load more "I'm happy" tweets), warn parents if their offspring are depressed, or advise managers as to the mental state of their employees.
Whether or not people want their smartphones to be that involved in their lives remains to be seen. ®