Something for the Weekend, Sir? Shut up shut up shut up. Some annoying tit is typing away on his laptop as I'm trying to snooze on the train – except it doesn't sound like he's typing so much as rummaging through a bag of Scrabble tiles. It's a horrible clattery, clickety, plasticky noise. Shut up shut up shut up, you twat.
I'm on the train heading home after attending an industry summer ball at a swanky central London hotel. I confess that the industry in question was not related to IT. Actually, if you'd been there with me, you could have guessed straight away that it wasn't a computing event: there were women in attendance. I'm not talking about a few token fe-nerds, either, but a good 60-70 per cent of the revellers, most of them CEOs and senior managers in their businesses, accompanied by their male staff underlings.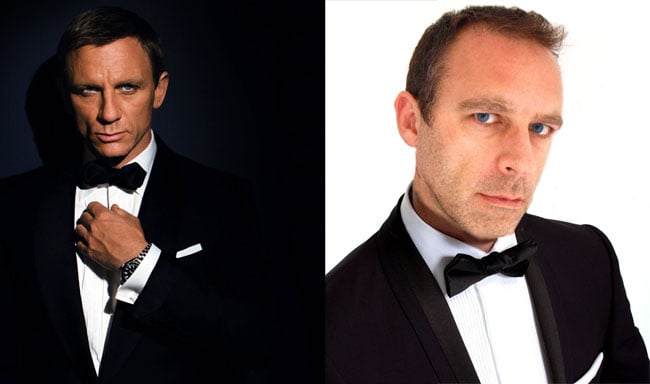 Separated at birth?
Oh, the world outside the computer trade is an interesting one indeed.
The organisers had chosen to give a 'James Bond' theme to the event, which is pretty easy for us blokes in black tie. A smattering of bald blokes chose white tuxedos and carried fluffy toy cats, thus transforming themselves effortlessly into Ernst Stavro Blofeld.
It turns out that, dressed up in an evening suit and dickie, I muster a passing resemblance to Daniel Craig. Either that or a bunch of random people who'd never met each other before had spontaneously chosen to take the piss. Anyway, the 20th person to tell me this ends up sitting next to me after we boarded my train home. He then launches into a loud, five-minute monologue about the relative merits of every James Bond film.
"Have you read the books?" I ask.
"You sound just like my wife!" he retorts.
"Quite a deep voice for a woman," I note. "Does she look like Daniel Craig too?"
This brings the one-sided chat to a close, allowing me to slouch into silence, perchance to kip. I have already staked out my surroundings: practically everyone is fiddling with their mobiles of course, but thankfully they are all touchscreen iPhones and Androids and none of those Blackberrys with their excruciating snippety snappity buttons.
Two minutes into a peculiar reverie involving a sinister Mollie Sugden as a kind of Mrs Slocombe/Blofeld crossbreed, stroking her pussy menacingly, I am awoken by the aforementioned computer user clattering away at his laptop keys like he's stacking Mah Jong bricks – right behind me, at top volume, at 11:45pm.
Why do people attack their keyboards in such peculiar ways? I work with a guy who types slowly but with perfectly regular taps. It's like someone set off a metronome in the office and left it ticking for up to 15 minutes at a time. This only slightly offsets the whack-a-mole colleague whom I have mentioned before in this column.
Perhaps it's how they were taught, or not taught, to deal with keyboards in general. Older geezers tend to be quite violent, I suspect, because they learnt using rusty Petite typewriters. Personally, I try to be as soft as possible, in rebellion against my mum's overly physical teaching method while giving me piano lessons when I was a kid. If I hit a bum note, she'd shout "No, not there!" and grab the offending finger before insisting "Here!" while hammering it repeatedly on the correct key dang-dang-dang-dang.
That said, geezers get the job done and it's usually spelt correctly. Youngsters have the disadvantage of having learnt to type using their thumbs, which explains a great deal when you think about it. One wonders how the heck they manage to cope with the two kinds of numeric keypad: the one on their computers with 7-8-9 on the top row and the one on their phones with 1-2-3. Boring them shitless with tales of the origins of counting machines is not going to help.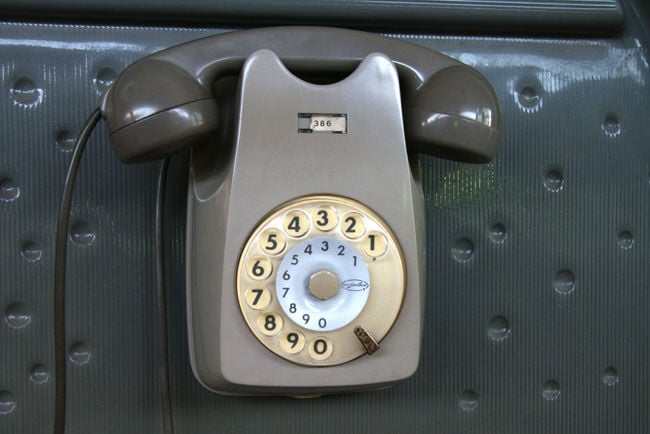 WTF?!?!?
Source: Romana Klee
Illustrating the challenge was an incident observed at first hand this week. A clunky old mail franking machine refused to load up with more credit and we suspected a problem with the online connection. To cut a dull story to its tedious essentials, the machine housed an appropriately ancient modem so customer support suggested we test the line with an analogue-only phone.
Rooting around the hoarded junk still blighting the office, we found an old dial phone. The office boy took one look at it and pronounced it to be unusable as it was "some kind of special handset". He failed to see how we could tap in a phone number without any number keys. I kid you not, he was goggle-eyed as I dialled. I rather enjoyed the retro experience, to be honest, telling the lad this was how all home phones used to be when I was little. He just shook his head and said: "Unbelievable."
He's right, it is - or was. This was also the first time I noticed that the numbers are arranged anti-clockwise around the dial, which makes even less sense than designing counting machines to have 7-8-9 on the top row. Clearly, in the old days, product design for numeric-entry devices was pants and no one knew what they were doing.
Not like now, eh? ®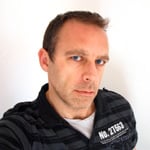 Alistair Dabbs is a freelance technology tart, juggling IT journalism, editorial training and digital publishing. Dealing with numbers has always challenged him. At a Jonathan Coulton concert he attended last year, the audience was invited to clap once, then twice, then "Pi" times. In theory, this particular clap might still be taking place as you read this. Or should it?