Voyager 1 'close' to breaking through to DEEP SPACE - boffins
Humanity's match-in-the-dark set to fall off the solar highway soon
---
Boffins still aren't sure just when the deep-space Voyager probe will cross the line into interstellar space, but new data from the spacecraft makes them believe it's close.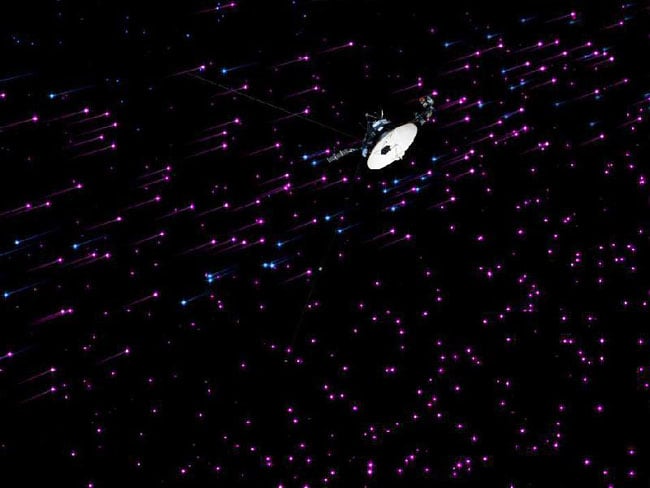 Voyager 1, which is now more than 18 billion kilometres from the sun, has now experienced two out of the three signs of arriving in interstellar space that scientists hoped to see, according to latest data as published in Science magazine.
The craft has experienced charged particles disappearing as they zoom away along the Sun's magnetic field, and cosmic rays from outside zooming in. But it hasn't yet seen an abrupt change in the direction of the magnetic field, which would prove it's reached interstellar space and left the Sun's field behind.
"This strange, last region before interstellar space is coming into focus, thanks to Voyager 1, humankind's most distant scout," said Ed Stone, Voyager project scientist at the California Institute of Technology.
"If you looked at the cosmic ray and energetic particle data in isolation, you might think Voyager had reached interstellar space, but the team feels Voyager 1 has not yet gotten there because we are still within the domain of the sun's magnetic field," Stone added.
Boffins still don't know exactly how far the craft has to travel to reach deep space. It could take days, weeks, months or even years - although researchers do think Voyager is close.
The Sun's influence, marked by the heliosphere, extends at least 13 billion kilometres beyond all the planets in our solar system. It is filled with the solar magnetic field and an ionised wind blowing from our star. Beyond it lies the interstellar magnetic field present in the nearby region of the Milky Way and matter from other stars.
The latest data from Voyager 1's cosmic ray, low-energy charge particle and magnetometer sensors, taken between May and September 2012, with additional information up to April this year, show that spacecraft is in the magnetic highway. This region allows charged particles to move into and out of the heliosphere, along a smooth magnetic field line, and it was here that boffins first detected cosmic rays coming in from dying stars.
"We saw a dramatic and rapid disappearance of the solar-originating particles. They decreased in intensity by more than 1,000 times, as if there was a huge vacuum pump at the entrance ramp onto the magnetic highway," said Stamatios Krimigis, the low-energy charged particle instrument's principal investigator at the Johns Hopkins University Applied Physics Laboratory. "We have never witnessed such a decrease before, except when Voyager 1 exited the giant magnetosphere of Jupiter, some 34 years ago."
Voyager 1 and its twin, Voyager 2, were launched in 1977. They toured Jupiter, Saturn, Uranus and Neptune before gunning their engines for the edge of our solar System in 1990. ®
Similar topics
Broader topics