Review Following approximately one year after the release to manufacturing of Windows 8.0, which incorporated some radical changes, based around a new tablet platform running alongside the traditional desktop environment, Windows 8.1 is a critical release.
Most Windows users have not warmed to the platform variously called Metro, Modern or Windows Runtime. Microsoft designed Windows 8.0 so that users cannot altogether ignore the Modern environment, even if they run only desktop applications. Moves like replacing the familiar Start menu with a Start screen and putting essential features like Shutdown in a somewhat hidden Charms menu were confusing and added little value to users without touch screens.
Neither has the new app platform been a storming success, with a shortage of high quality apps. Desktop users have been puzzled by the chunky, blocky graphics which characterise the Modern platform and which look out of place on large screens controlled by keyboard and mouse.
Microsoft's task with Windows 8.1 is to make the operating system more accommodating to users with no interest in Metro, while also improving the tablet side to inject some life into the struggling Modern app ecosystem. Although that seems a big ask, it is worth noting that Windows 8.0 shares the same core code as the well-regarded Windows Server 2012, suggesting that there is a solid base. Further, if you disregard the noise of Start menu debates, there is obvious merit in concepts like sandboxed apps easily deployed from an app store, and a platform designed from the beginning for touch control.
This review is written on one of the Surface Pro devices given to Build attendees and upgraded to Windows 8.1 preview.
A better desktop experience
Even those who love the Modern user interface (and there are examples here at Build) will admit that most real work currently has to take place in the traditional desktop environment, where apps like Microsoft Office and Visual Studio run.
Changes in Windows 8.1 mean that desktop users get a smoother experience. Right-click the taskbar, choose properties, and you can set options to boot directly to the desktop, and to show desktop applications first in the Start screen. You can also default to a grouped view in the Start screen which is close to the old Start menu application groups, though names are annoyingly truncated (I have three identical shortcuts called "VS2013 Preview x...", for example).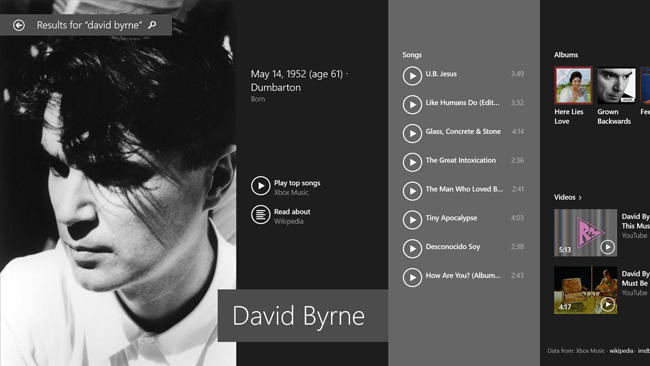 More than ever, search is the primary means of navigation and there's integration with Bing APIs
More significant is that many searches no longer require a full-screen view. Imagine you are running Word, for example, and wish to launch Excel. Both are desktop apps, so showing the Start screen is jarring. Now you can press Win-S, type Excel, and select the app from a right-hand panel without leaving the desktop.
The Start button is now always visible, but still takes you to the Start screen, so it is a point of familiarity for new users rather than a major UI change. The Win-X administrative menu, also available by right-clicking the Start button, now includes Shut down and PowerShell.
Enough to placate desktop-only users? It is a smoother experience, but Start menu replacements will still find a market.
Live Tiles and search
Microsoft's publicity has made much of Windows 8 Live Tiles, though I am not a fan. You rarely see them, and when you do they are as likely to be annoying as useful. In Windows 8.1 you will see them even less often, since apps do not install Tiles on the Start menu by default, but only when promoted from the All Apps view by the user. In other words, it is now a kind of favourites list, which means less clutter. There are also new size options for Live Tiles, and it is easier to customize with your own named groups.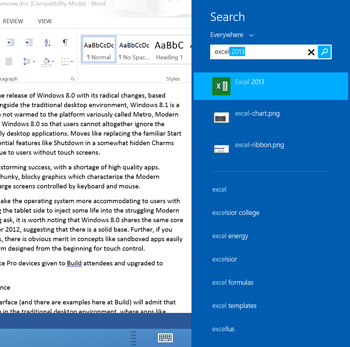 The Search panel lets you launch most apps without the Start screen
In Windows 8.1 though, Search is more than ever the primary means of navigation. There is a new Search app which forms a demonstration of Microsoft's concept of Bing as a platform, introduced here at Build, meaning that any application can now call Bing APIs. The Search app is the easiest way to find apps, documents, settings, and to search the web. Search scope defaults to Everywhere, which sounds confusing but turns out to be a natural way to find your stuff. Apps that are searchable, such as that for Wikipedia, are included.
The Search app also constructs a rich presentation on the fly, so that if you search for a pop star, you will get photos, biography and multimedia in the results. That is fluff, but integrated search across local and web results is genuinely useful. The effort is spoilt by oddities like the fact that the Calendar app is not searchable, so you will not see your appointments in a search.
A consequence of this change is that searching within an app from the Charms menu is more difficult. Microsoft has introduced an in-app search control, so you can expect searchable apps to include search within the visible user interface rather than relying on the system search option.