App platform changes
If Windows 8.1 is judged by its desktop features, it will have failed. Here at Build, it is clear that Microsoft's strategy remains centered on the Modern platform. You can say I suppose that this is now version 1.1 rather than 1.0, and it is considerably refined. In Windows 8.0 apps display in fixed sizes: full screen, or most of the screen, or a snapped view docked to the side. Windows 8.1 abandons the snapped view, allowing you to resize apps freely (but only horizontally). You can display up to four apps side by side per screen, if your screens are large enough. Apps can also support multiple monitors, displaying different views on each. With multiple windows and resizable windows, the Modern platform comes a little closer to the flexibility of the desktop.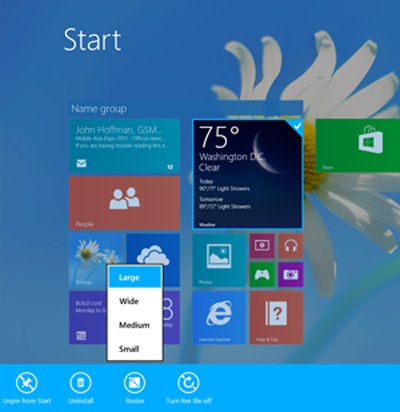 Live Tiles now come in more sizes
The API for the Windows Runtime is considerably extended, including new controls such as Hub, Flyout, CommandBar, DatePicker and Hyperlink. A severe Z-order bug in the Web View has been fixed, raising a cheer from Build attendees. The DirectX API is extended.
Another key change is that apps downloaded from the Windows Store can now update automatically, subject to user control. The Store itself has a new look and easier navigation.
Internet Explorer 11
Delivered as part of Windows 8.1, Internet Explorer 11 supports WebGL, a standard previously opposed by Microsoft on security grounds, enabling hardware accelerated graphics in the browser without a plug-in. DRM support for web video means that sites like Netflix can also deliver content without a plug-in. There are still two browsers in Windows 8.1, one for the desktop and one for the Modern environment, with no integration between them, though they share the same rendering engine. Improved touch support in IE 11 means you can use awkward controls like hover menus. You can open up to 100 tabs per window, with tabs suspended when not in use for efficient use of memory and CPU.
Enterprise features
On the business side, Windows 8.1 packs in a range of new features, some of which depend on Server 2012 R2. Workplace Join gives IT administrators some control over devices accessing business resources without requiring full domain join.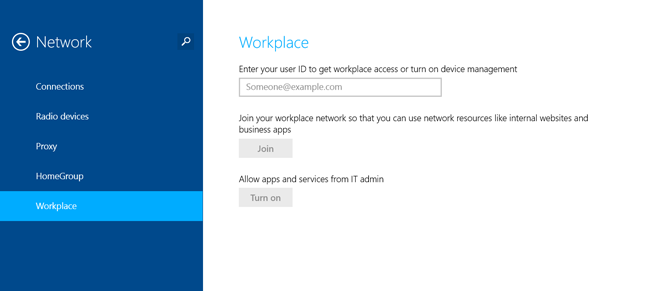 Workplace Join is a middle ground between Domain Join and unmanaged devices
Work folders allow users to synch their user data to machines that are not domain joined, subject to certain policies, and this data can be remote wiped if necessary. There is built-in VPN support for several clients including CheckPoint and Sonicwall. All editions of Windows 8.1 (including consumer) now support device encryption.
Other features
An eye-catching addition to Windows 8.1 is integrated support for 3D printers. The effect is that applications will be able to support 3D printing directly, rather than users having to run a dedicated application for each printer.
SkyDrive, Microsoft's cloud storage service, is now baked more deeply into Windows. Many settings are stored in SkyDrive and roam to other Windows 8 machines which use the same Microsoft account. There is an option to have the File Save dialog always default to SkyDrive. The Modern SkyDrive app now supports offline use, like the desktop version, and shares the same store.
A common Windows 8.0 complaint is that settings are split between the Desktop Control Panel and the Modern UI PC Settings. Microsoft has extended the latter, reducing the need to run Control Panel, though it is still not comprehensive.
Where next for Windows?
Step back from the Build activities and you can observe a disconnect between the content of the sessions, where the Modern platform dominates, and the real-world usage of Windows, where the desktop dominates. That disconnect cannot continue forever. There does not seem to be a plan B, and if Microsoft fails to establish the new platform it is unclear how Windows can progress.
In this context, Windows 8.1 is a smart move. It is a smoother experience for desktop users, which may win over users previously reluctant to move from Windows 7. The operating system as a whole feels more coherent; the dual personality remains, but does not get in the way to the same extent.
At the same time, Microsoft's commitment to the Modern platform does limit the appeal of Windows 8 for users who are content with Desktop apps. Another issue is that Windows 8.x devices will continue to be awkward and expensive hybrids, until the Modern platform is well enough supported that tablet-only usage is viable.
The future of Windows remains hard to predict, but 8.1 is a big improvement and makes the first release feel rough and ready in comparison. You can get Windows 8.1 Preview here, though note Microsoft's warning that this is not intended for general use and in most cases will require an eventual full reinstall. ®