It is neither unkind nor inaccurate to say that for many in the land of the free and the home of the brave, their favorite bit of shiny-shiny is their handgun.
Neither is it off-base to say that there exists another large number of folks whose can't-leave-home-without-it bit of kit is their iPhone.
So what might be the must-have accessory for those who fall into both camps, who don't feel comfortable without their hand clutching their pistol grip and their Cupertinian handset?
The clever minds at Shenzhen, China's Sunsky Ltd., "Wholesalers from China", are ahead of you on that conundrum: behold the Handgun Style Plating Skinning Plastic Shell for iPhone 5 (Silver Grey).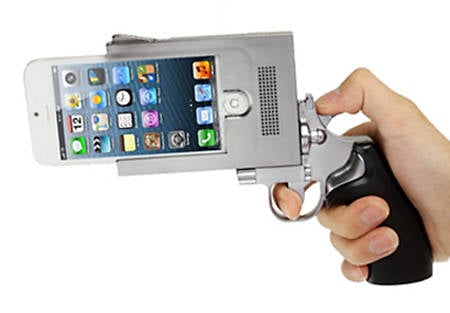 An iPhone case that looks like a handgun – what could possibly go wrong?
For a mere $9.62 you can take home one of these babies. And if you have 99 friends who might also be tickled pink with such a statement – or if you want to make a splash at your next local gun show – a case of 100 is now on sale for a mere $943. Act fast.
But perhaps you don't cotton to silver grey. No problem, 朋友, this li'l item is also available in Black, Golden, and – for the discriminating NRA stylista – a delicate Rose Gold.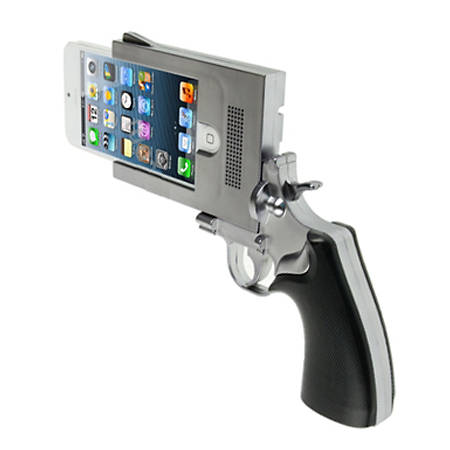 On your iPhone's playlist: "I Shot the Sheriff", "Janie's Got a Gun", "Bullets in the Gun"
But should you not be of the type who would feel comfy with even a fake gun in your pocket or purse – perhaps Mommy didn't let you play with toys guns when you were a nipper, fearing you'd grow up delinquent – those clever Shenzen minds have other goodies to offer, as well.
Fancy knives, instead? Then check out the Knife Handle Style Plating Skinning Plastic Shell for iPhone 5. Concerned about your judgement at closing time? There's an iPhone Alcohol Tester just waiting to help. Simply want to befuddle your friends with an inscrutable iPhone accessory? Don't miss the Happy Elephant Special Lens & Filter Turret with Plastic Case for iPhone 5.
We're sticking with the Handgun Style case, ourselves. As you know, when warm, it brings happiness. ®