Paramount has confirmed it will reboot the Terminator franchise with a fifth film, and the former California governor and Mr. Universe bodybuilder Arnold Schwarzenegger says he will be back in a starring role.
"The studios want me to be in Terminator 5 and to star as the Terminator, which we start shooting in January," he told a Melbourne crowd during a recent motivational-speaking tour of Australia.
The script for the new three-film reboot is reportedly being written by Patrick Lussier (somewhat known as the writer for the three-part Dracula 2000 series) and Laeta Kalogridis, who tried and failed to reboot the Bionic Woman and was a producer on Avatar. Draw your own conclusions.
For those unfamiliar with the Terminator oeuvre, the basic plot doesn't really vary: a killer robot of varying technical sophistication tries to kill/save a member of the Connor family in an artificial intelligence's plan to destroy humanity. The franchise has reaped billions in film rights, games, and media spinoffs, and spawned a persona Schwarzenegger has adopted as his own.
Arnie played the Terminator in James Cameron's original 1985 film, which made the careers of both men and created Schwarzenegger's "I'll be back" catchphrase as a script-writing accident (Arnie wanted to say "I will be back" because of difficulties pronouncing "I'll.")
Since then he has appeared in person in the first three films in the franchise, and as a computer simulation in the fourth, Terminator Salvation, released in 2009, thanks to the ravages of time that strike us all.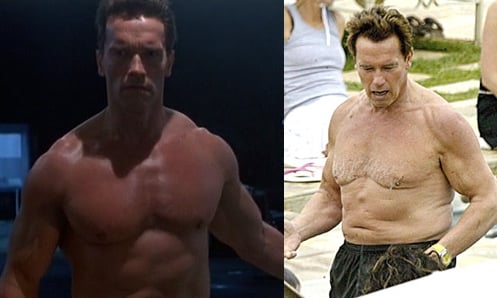 Arnie then and now – some CGI may be required
Schwarzenegger has been touring Down Under as a motivational speaker, with some tickets going for AUS$3,500 ($3,205) per person. In these talks he dispenses such pearls of wisdom as "just sleep faster," if you're lazy enough to prefer eight rather than six hours of pillow time per planetary rotation.
"My career would have ended when I was 15 years old. I would be still yodeling in Austria in the Alps," he said, exhorting the crowd to work harder to achieve their goals.
Arnie also said he'd been approached to reprise his role as a barbarian chief in King Conan and to restart the comedy film series Twins with Danny DeVito. This hack is just praying there isn't another Kindergarten Cop in the works.
Why think when you can reboot?
But that's not beyond the realms of possibility these days. Hollywood is addicted to producing endless sequels and reboots at the moment. Terminator 5 is due to be released next June, in the same season as Independence Day 2, Pirates of the Caribbean 5 and Star Wars - Episode 7, and the situation is getting worse every year.
Of the top 10 grossing US films in 2012, the top three were based on characters first created 50 or more years ago. The Avengers are the spring chickens at the head of the money list, starting in 1963, while James Bond's latest Skyfall character first flowed from Fleming's pen in 1953.
Last year's third-placed Batman movie, The Dark Knight Rises, stems from a character with a 1939 start-date, and all but one of the top 10 films was a franchise or reboot. The Hunger Games was the only exception, but as that's starting a mini-franchise of its own with a best-selling three-book series, it barely counts.
Ten years ago the situation was a little better. The top six US films in 2002 were all franchise flicks, but four out of ten were new. Minority Report, although based on a 1956 Philip K. Dick story, bore little resemblance to the original article, and while Ice Age later became a franchise, it started that year. The glorious My Big Fat Greek Wedding and Mel Gibson vehicle Signs were both originals.
Head back to 1992, when the newest addition to Vulture Annex was still in toilet training, and only half the top 10 US grossing films were part of a franchise or based on existing characters. A decade earlier in 1982, just two movies were based on film franchises – Rocky III and Star Trek II; the rest include such classics as ET, Tootsie and An Officer and a Gentleman.
It's easy to see why Hollywood likes sequels and reboots. Interest in the product is already established, the public doesn't need too much advertising for explanation, and there are enough old storylines to be recycled. But it can't be healthy for a culture to spend so much time reliving old triumphs rather than creating new ones.
Schwarzenegger has lived the Horatio Alger story better than most, and used the Terminator storyline to great effect for both monetary gain and political power. No doubt the new trilogy will reap millions at the box office, but this hack can't help feeling it would be better to let sleeping cyborgs lie. ®