Antique Code Show Prince of Persia was surely one of the most ubiquitous Dixons demo titles of the early 1990s. Mesmerised onlookers gazed at the smooth-moving, cartoon-like animation, while bewildered sales drones looked on wondering whether any of these humans would ever manage to get past level one.
Hang around long enough randomly pressing keys and you'd eventually work out how not to get spiked, sliced or fall to your doom. And for many that was enough Persian excitement for one inconsequential afternoon.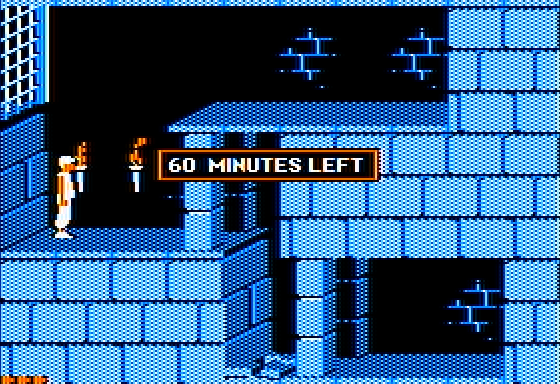 Prince of Persia debuts on the colour Apple II
Smuggle the game home, though, and you'd discover a title that had been put together with great care and attention to detail. Rather than just quick reactions, developer Jordan Mechner had created a more cerebral platformer, with puzzles, secret passages and alternative routes to explore, alongside some satisfying sword fighting.
The plotline set the action up nicely. Nasty vizier Jaffar has nabbed the sultan's daughter and locked her up in a tower, while you – her unnamed lover and true hero – get locked away in the labyrinthine dungeon below. You've got just an hour to escape and stop Jaffar from getting his wicked way.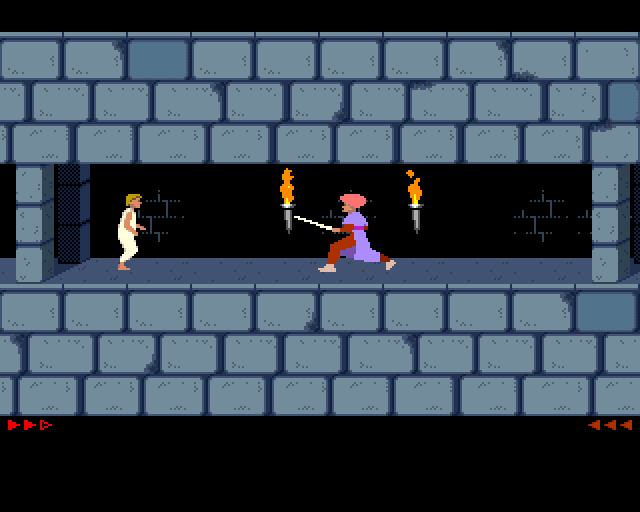 The graphics got better when it shifted to the Amiga
The Persian setting manifests itself furthermore with magic potions – not all of them safe to drink, so watch out! – Arabian musical touches and showdowns with various beturbaned, cloak-wearing villains with curvy swords.
The time limit prevented time wasting, yet the whole well-produced package exuded a calm, contemplative aura, occasionally punctuated by moments of sheer panic. There was something about that one wrong move you made, frustratingly plunging our hero to his death just before reaching a final exit, that had you grinding teeth yet simultaneously itching to get back to it and have another go.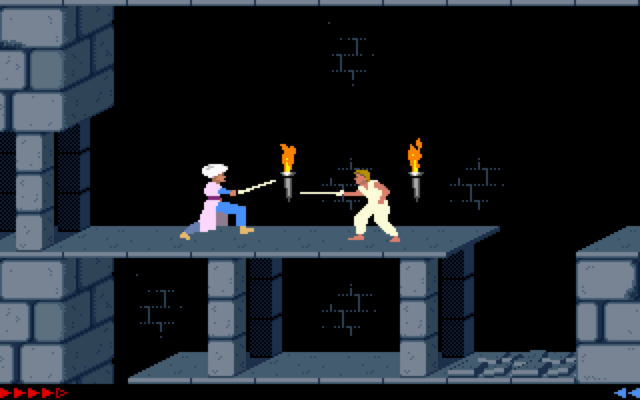 Ditto DOS
Prince of Persia's ground-breaking animation was based around a technique pioneered by Max Fleischer during the first few decades of the 20th Century. His "rotoscoping" machine would project live-action footage onto frosted glass so that it could be traced over and thus transferred into animation.
For Mechner, this meant filming his brother running, leaping and, occasionally, climbing all over a handy bus-shelter, then painstakingly selecting suitable frames to create workable animation for the main character.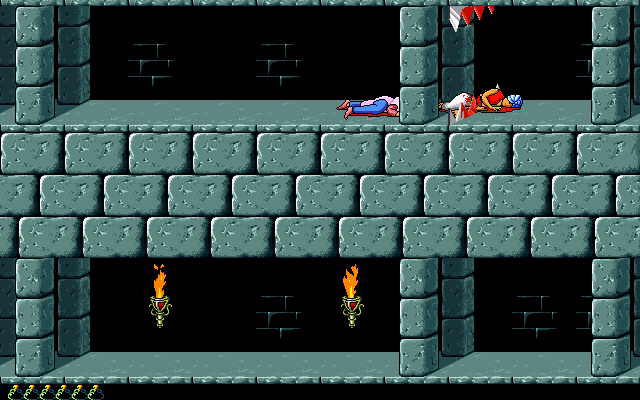 But were better still on the Mac release
Ultimately, this led to Prince of Persia's protagonist gaining plenty more animation frames than your average platform character had, and it was this slower yet more realistic motion that led to the game's distinctive play mechanics, and why more thoughtful gameplay was always going to work best.
A novice Prince of Persia player soon discovers that, on starting each new level, the ability to experiment by tip-toeing and carefully climbing around is essential to conquering it. Our hero can be positioned on the edge of a ledge, or in front of razor-sharp guillotine jaws, with utmost accuracy, leaping across chasms and grasping hold with fingertips at the last moment.